You're on board to work with new EU co-funded Lamb - Tasty Easy Fun campaign - what excites you about it, food wise?
Lamb, for me, is synonymous with home. My mother makes a glorious roast for Sunday lunch, especially if one of my far-flung family has returned, briefly, to the fold. Walking into the house and smelling roasting lamb is an indication that we're all together and sharing this taste of home. That's the traditional side of things but I also love the way I can play with lamb: cumin-spiked lamb burgers stuffed into pita breads and drizzled with sriracha yoghurt; a butterflied leg to cook on a barbecue and serve sweetly pink; seared lamb steaks, sliced and tumbled onto a salad of robust greens; slow-braised shoulder on a bed of meat-juice soaked potatoes. It's a meat that you can take in so many different directions - and I often do!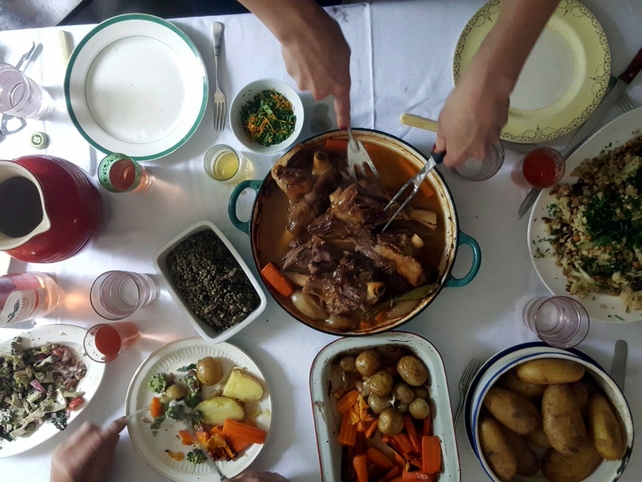 What are you bringing to the table, so to speak?
My love of Irish food! I enjoy celebrating the best of Irish produce and producers.
What's your favourite lamb dish?
I especially love the combination of lamb and dried beans, lentils or chickpeas so something like a lamb and apricot tagine or Moroccan Lamb, Chickpea and Lentil Harira is right up my street. I also have to say that I'm a big fan of lamb kidneys, flash fried, pan deglazed with Irish cider and served up on thick slices of sourdough. Or slices of liver, cooked with caramelised onions and bacon. Mouth-watering! [Departs to find butcher...]
Why do you think the Irish love their lamb so much?
We produce fantastic lamb in this country; it's a real treat for a big meal and can also be an affordable luxury, especially if you go in an offal direction.
How does your food blog stand-out from the crowd and why do you think you were asked to come on board?
I'm a food writer, a broadcaster, a recipe developer and write one of Ireland's longest running food blogs, Bibliocook: All About Food in 2005, which I set up in 2005. It makes life interesting!
There are a wide range of summer lamb BBQ dishes on www.tastyeasylamb.ie.