1. Who are you and what do you do?
We are Patrick Hanlon and Russell Alford, a food and travel blogging duo at GastroGays.com. GastroGays was born on the streets of Dublin but grew up in London, originally a bucket list blog of places to try in Dublin following a move to London it's branched into more of a food-led diary of our lives in London and beyond – from visiting some of London's latest restaurants and bars to one of our quirky recipes (Tayto chicken fillet roll, anyone?), travels across Europe to hotel reviews and city guides. We're also Eurovision obsessives so once May rolls around every year you'll find lots of Eurovision content from us [just as they did a few weeks ago)!

2. Why do you do what you do?
It brings us together – we've never met another person with such similar passions and interests as each of us. Being a couple, naturally we want to spend time together doing what brings us both joy and it just so happens that the blog does that. We adore cookery, love eating out, live to explore and travel; it would be a sin not to document it. We're pretty unique as bloggers in the way we go about things too – we like to call ourselves blogging disruptors as we have a very set way in which we approach reviews, sponsorship, collaboration and working with brands and PRs; in fact one of our most popular posts to date which went viral last year was a 'shattering the illusion'-type post which dispelled many of the myths about blogging and opened up about how much it costs and the effort it takes to produce our content - we wouldn't do it for anything other than the love of it.

3. Describe your audience
We have an incredibly diverse audience. Firstly, since we moved country early in our blogging career, it's interesting as we've managed to actually keep something like a 50/50 split between UK and Irish followers, meaning we have a huge presence in both countries and their respective industries, whilst we've seen a lot of new followers lately from further afield in Europe, North America and Australia as our brand has grown. Our audience ranges from teenagers to pensioners, literally there's space for everyone. We're snapping recipes and glimpses of London daily on Snapchat which attracts a younger audience, we're interviewing some of our idols and really interesting people on our blog which appeals to an older crowd and our recipes and general travel posts really suit a universal audience – there's no limit with what we do.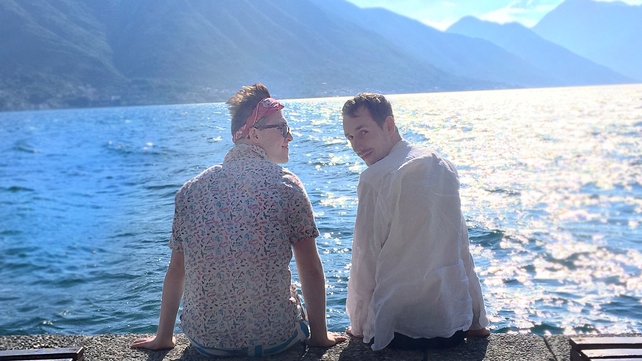 4. What's your media diet (your go to three sources every morning)?
Every morning we'll check Twitter without even barely opening our eyes fully (it's also our busiest platform, so we have to keep up with all our traffic on there from the moment we wake). Russell is far more into current affairs and news, so he'll keep an eye on RTÉ NEWS NOW, The Journal and BBC NEWS apps. But then straight afterwards we'll go into Instagram and Buzzfeed, to balance it all off and keep in tune with what's trending.

5. Three people you respect?
We're going to be cheeky here and do three people each!

Patrick: – In terms of cookery, Dan Lepard is one of my idols and we actually got to meet him and bake with him last year. He's a really genuine guy, incredibly passionate about food and has such an interesting narrative to his life.

What Darina Allen has done for Irish food is incredible, obviously Myrtle paved the way but for my generation it's really Darina who is the passionate mother of Irish cookery and what she's done with Ballymaloe is phenomenal.

And, for me, RuPaul is a really inspiring character. Yes, he's the most famous drag queen in the world, and that's all fabulous but if you listen to what he's actually saying his wisdom shines through. He's incredibly knowledgeable about culture, community and the way we all interact as humans. He's so clued in and if you read his books, listen to his podcasts or tune in to the little pearls of wisdom that he delivers everywhere he can, you'll see someone who really stands up against the status quo and sees colours and sounds that other people can't see.

Russell: – As far as cookery goes, the person I most respect is Nigella Lawson. Her laissez-faire attitude to food; slamming of fad diets; and the fact on social media, in particular on Instagram, she doesn't bother with filters and such, makes me admire her so much. She's the first TV chef that got me interested in food and has remained an inspiration.

I've always respected Senator David Norris for all the work he has done over the years to make two people like us become equal children of Ireland, as well as for the work he has done for the arts and culture.

As a curve ball, a person I respect a lot is Piers Morgan. Now I may be a bit biased here, as I work with him on ITV's Good Morning Britain, so I know him on a personal level too, but I admire how he says it like it is and doesn't suffer fools gladly, even if I don't always agree with everything he may say.

6. What excites you right now and why?
If you follow us on social media, you'll know we have little time for the clean eating brigade which has dominated the food industry for the past few years. Now, what's exciting for us (and may be opening up the industry more to what *we* do) is that the food industry seems to be slowly moving away from this extreme, but still retaining aspects of that way of life, which we actually agree with – embracing fats, whole foods, organic produce, provenance of meat, local suppliers and cooking from scratch as much as possible. We've actually always cooked like this, really our building blocks for recipes, but with this 'wellness' trend that's been delivered with unclear nutritional advice, expensive, far-fetched, premium health products and a 'glow'ingly privileged voice.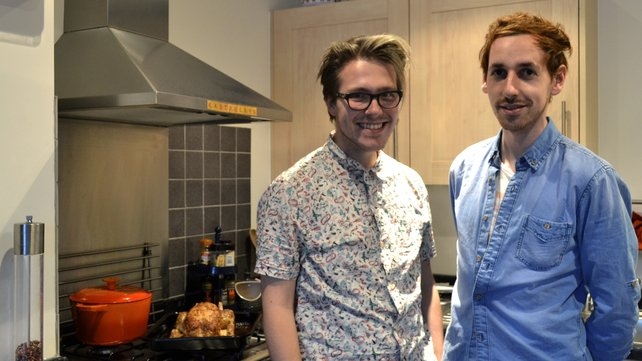 7. Proudest post? Finest moment to date? Most embarrassing moment to date?
We blog because we love to write, but really cookery is at the core too and our recipes are really the things that people engage with the most - asking for advice, sending us pictures of their efforts, begging for recipes from us. One of our most popular and interacted with is our black pepper and garlic buttermilk chicken.

In terms of finest moments, we've been pretty lucky with lots of exposure over the past year from media both at home and abroad. We've written for the UK Independent, Irish Times, Cara and been featured on both BBC and RTÉ radio a couple of times whilst we're also the food columnists for Gay Times Magazine for the past two years. Though our proudest publication has to be our recent travel feature for BBC Good Food all about a foodie weekend in Dublin. It's the UK's biggest cookery title and writing that piece for them combined all our loves – food, travel and our homeland!

We don't have any embarrassing moments per se, but due to our blog name we get all kinds of confusion about it and get about five emails a day opening with 'Hi Gastro' or 'Hey Mr. Gays'!

8. What channels are your fav (twitter/Facebook/Instagram) and why?
Twitter is our most-used social media platform. It's funny, our blog name actually started as a hashtag! We'd simply tweet about restaurants or bars we had discovered in Dublin, signing each one off with #GastroGays and we thought the name was way too punny and unique to give it up – we HAD to make it into it's own thing... and three years later, here we are! So Twitter is our one-stop shop for everything, whether it's news, connecting with readers or other bloggers, making connections with brands and PRs or just having a laugh with like-minded tweeters, it's really all-encompassing.

9. Tell us a secret - something we should know about you?
We may be bloggers but that's not to say we haven't spent time and paid our dues in the thick of the food industry – Patrick worked for Subway for five years whilst Russell gave over five years to M&S in the food halls! We can make a mean sandwich for anyone who wants one!

10. What's the master plan (dream)?
Blogging is the perfect outlet for writers and cooks like us, so naturally we'd love to write a book eventually and have something physical and tangible to hold in our hands and say: 'Look, here's what we can do and here's what we can create together'. That would be really rewarding. We're really growing our travel arm at the minute too, so something combining travel and food (maybe a YouTube series) might not be far off in the future and we're gunning to work more on Eurovision content – we've just spent a week reporting from Stockholm. Really the ultimate aim is to be happy and comfortable enough to support ourselves long-term doing what we love and producing content that's engaging and enjoyable for people.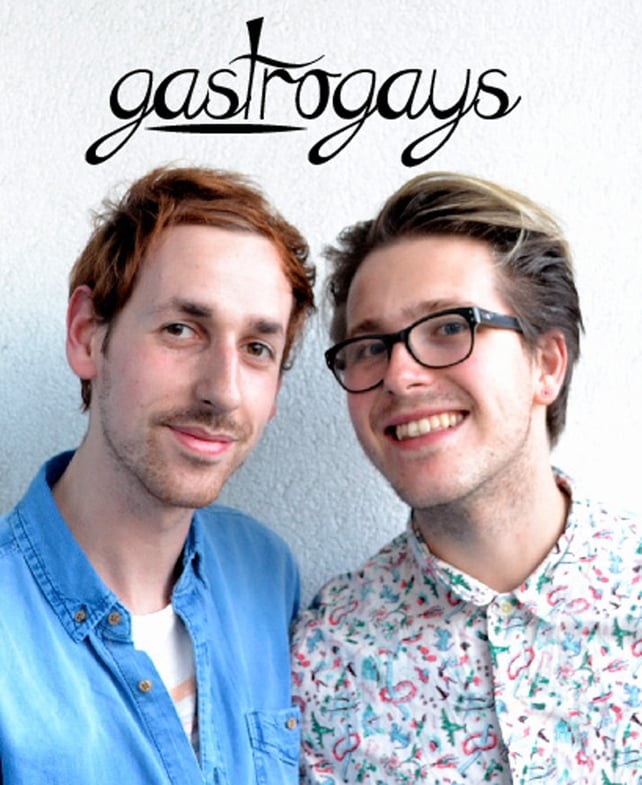 Plug: Where do we find you? (Your platforms)
Where can't you find us! We're across all social media as @GastroGays (Twitter, Facebook, Instagram, Youtube, Snapchat) and we put up at least a post or two a week on GastroGays.com.
Want to share your food site, blog, recipes with us? Or simply want to share the news about anything Irish, Food or LifeStyle (Food, Fashion, Travel, Living or Motors) related what you're working on then get in touch so we can feature you, and your work on RTÉ LifeStyle or RTÉ Food e: rtelifestyle@rte.ie