The idea
Michael O'Meara, chef and proprietor of Oscar's Seafood Bistro in Galway, has written and photographed the many fish and dishes described in this exhaustive volume. He explores, always with an eye to sustainability, 120 varieties of edible fish and shellfish in this impressive catalogue of the many riches to be found in the seas around this island. As is well-documented, for an island nation we are notoriously unadventurous, and often nervous, when it comes to cooking and consuming fish. O'Meara sets out to demystify fish cookery and preparation and to encourage us to try lesser-known and less-familiar seafood.

First impressions
This is a striking book, and at 440 pages it is certainly an authoritative one. O'Meara has clearly considered those aspects of fish cookery that even seasoned cooks can find daunting, so the book begins with a comprehensive chapter on preparation and cooking. This covers what to look for when purchasing fresh fish, how best to store it and, possibly most helpfully of all, how to fillet and prepare fish and shellfish at home. This includes step-by-step photographs so the reader can see exactly what to do. There are also general instructions on the various cooking methods for fish and how to master these. The book then moves on to chapters on different varieties of fish and shellfish, including round white fish, flatfish and oily fish, before finishing with, amongst other things, instructions for preserving seafood and for accompaniments.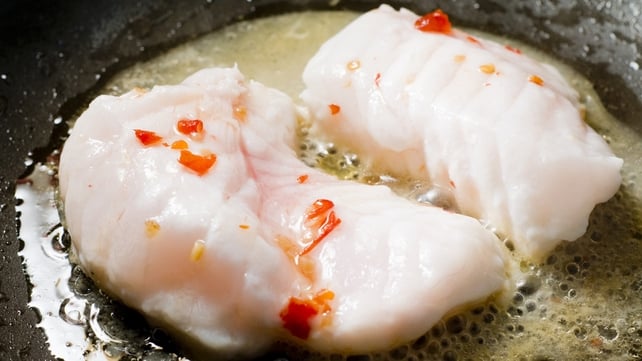 The recipes
Each chapter contains several recipes. In general, these have fairly concise lists of ingredients, which is encouraging, though not all the ingredients are those the home cook would have to hand – and indeed many of the fish included would be nigh impossible to come by for those of us without direct access to fresh-off-the-boat catches. However, within each variety, the fish can often be substituted for one another and there are certainly recipes to suit every taste and skill level. Wild Bass with Thai Flavours is simple and delicious, as is Sardines with Olive Oil and Garlic. Seafood Tagine with Red Mullet is more ambitious, but, as with most of these recipes, the bulk of the work is in the preparation – the actual cooking itself is short and simple.
The takeaway
This is a serious book with a serious mission, but it is also a beautiful book and a practical one. Lack of confidence around fish cookery is probably one of the main reasons for avoiding cooking it at home – instead eating it when out, where a professional can vouch for its freshness and know how best to prepare it. Thus one of the greatest achievements of this book is to make the whole process of fish cookery more accessible and achievable. Covering everything from the familiar, such as ray, coley and hake, to the downright surprising, such as sea cucumber, conger eel and rabbitfish, it showcases in one place the sheer variety of fish available off our shores. But to do so in such impressive style, covering everything from basic preparation to sauces to complementary wines, is truly a feat and makes Sea Gastronomy a must for every fish-loving, or even fish-curious, cook.
Sea Gastronomy of Ireland: Fish & Shellfish of the North Atlantic, Michael O'Meara, Artisan House, 2015.