Good Friday Dinner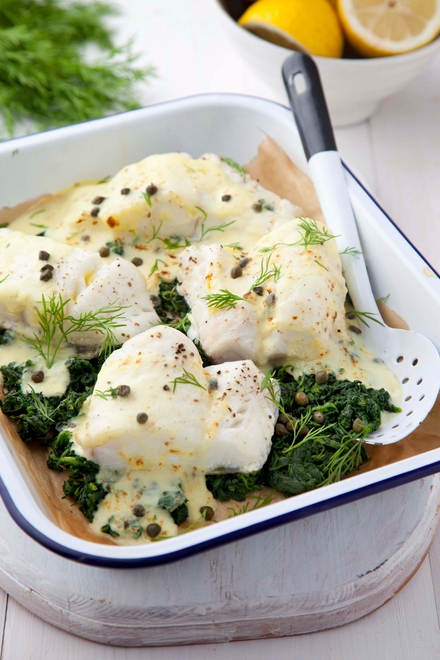 Creamy Mustard and Caper Cod
Rozanne says: Capers are the fruit of flinders rose. I love the tiny nom pareille capers that are salty and delicate and go extremely well with fish, in salads and even on pizza! The larger caper berries on the stem look very attractive in a dish and aren't as salty. Capers come pickled in brine, so make a long lasting Pantry Pal, on hand to jazz up your recipes.
Serves 4
Ingredients:
4 chunky cod fillets (or any firm white fish, fresh or frozen)
450 g frozen spinach
Reduced fat creamy sauce:
50 g butter
50 g flour
1/2 cup lemon juice
400 ml low fat milk
1/2 onion, studded with 3 cloves
2 bay leaves
6 black peppercorns
2 tbsp reduced fat cooking cream (optional for extra creaminess)
1 tsp Dijon mustard
Salt and paper
Garnish
2 tbsp capers
1/3 cup fresh dill, leaves plucked

Method:
Allow the spinach to defrost overnight in the fridge or quickly defrost in the microwave. Squeeze out some of the excess water.
To make the sauce, gently heat the milk with the onion, bay leaves and peppercorns in a saucepan. In another saucepan, melt the butter before adding in the flour to form a paste called a roux, stir well to mix. Slowly start pouring in the milk, stirring constantly. Add the lemon, cream and mustard and season well.
In a large baking dish lined with parchment paper, spread out the spinach. Place the cod on top and season well. Pour over the creamy sauce. Bake at 200'C for 12 to 15 minutes until the cod is opaque and cooked through.
Garnish with capers and fresh dill.

Easter Saturday Brunch
Chicken BLT Salad
Rozanne says: "A BLT salad wouldn't be a BLT with the 'B'. The bacon you choose can make all the difference. Back bacon is more meaty with a thin rind of fat, while streaky bacon has fat running through it. You can also choose from smoked and unsmoked bacon. The most important is to choose a good quality bacon with no phosphates added and ideally has been dry cured. Italian pancetta would be a favourite of mine which I also use as lardons and which freezes well."
Serves 4
Ingredients:
2 chicken breasts
Olive oil
1tsp Dijon mustard
Salt and pepper
4 eggs
2 slices of wholewheat or sourdough bread
8 slices streaky bacon
Small punnet cherry tomatoes, halved
2 baby gem lettuces, shredded and washed
2 avocados
Lemon wedges, to serve
Salad dressing:
1tsp Dijon mustard
1tsp honey
Juice of 1 lemon
100ml olive oil
Salt and pepper
Method:
Mix the salad dressing, season to taste and set aside.
To cook the eggs, place in a pot of cold water. Bring to the boil then simmer vigorously for six minutes. Switch off and rest for a minutes, drain the hot water and cover with cold water. Once cool enough to handle, peel off the shells and halve.
Shred and wash the lettuce and dry in a salad spinner or in a colander.
Coat the chicken in a little olive oil and season with Dijon mustard, salt and pepper.
Heat up a griddle pan and cook the chicken on a high heat on both sides for three minutes. To finish cooking the chicken, place in a 180'C oven for 15 minutes until cooked through. Allow to rest for 5 minutes before slicing.
In the same pan, grill the streaky bacon until crispy on both sides. Remove and drain on some kitchen paper.
Toast the bread on the griddle pan until charred on both sides, cut into long toast fingers or cubes.
Cover a large chopping board with baking parchment. Arrange each ingredient in a row on the board. Just before serving, halve the avocados and place on the board, squeeze over lemon juice and season the whole salad with salt and pepper.

Easter Sunday Dinner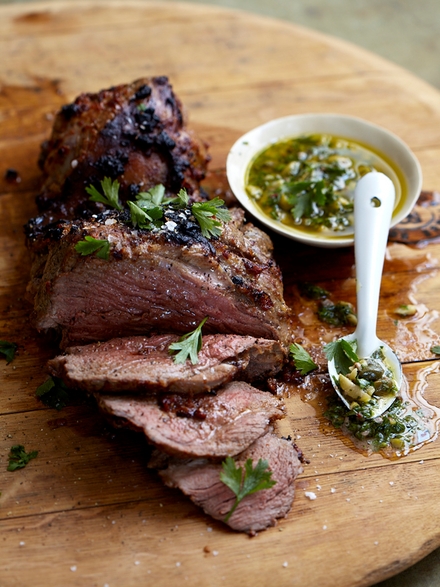 Norman's Butterflied Leg of Lamb with Lively Salsa
Rozanne says: "Anchovies can be bought in tins or glass bottles, preserved in salt and oil. They are an indispensable Pantry Pal in Italian cooking. They melt into dishes, imparting a rich, salty, savoury flavour. Don't be put off, as they aren't fishy and really work like a condiment. Be brave – try them!
My dad is a pro at barbecuing, especially lamb. This may look like a large, daunting piece of meat, but it's actually very simple to cook and a hassle-free way to feed a crowd. The marinade and salsa are based on classic Italian flavour combinations and always work."
Serves 4 - 6
Ingredients:
100g sundried tomatoes, chopped
6 cloves of garlic, crushed
1 small tin of anchovies, roughly chopped
2 tbsp finely chopped fresh rosemary
100ml olive oil
juice and zest of 1 lemon
1.5kg leg of lamb, deboned
Salsa:
12 green olives, roughly chopped
6 tinned anchovy fillets, chopped
1 clove of garlic, crushed
6 tbsp chopped fresh flat leaf parsley
6 tbsp chopped fresh basil
6 tbsp chopped fresh mint
1 tbsp capers
10 tbsp extra virgin olive oil
6 tbsp red wine vinegar
1 tbsp lemon juice
1 tsp Dijon mustard
salt and freshly ground black pepper
Method:
Blitz or mix the sundried tomatoes, garlic, anchovies, rosemary, olive oil and lemon juice together and rub it into the lamb. Cover and refrigerate overnight to marinate.
Mix all the salsa ingredients together, cover and refrigerate.
Place the marinated lamb on a hot grill, fat facing down. Cover with foil and seal well for 5–6 minutes. Turn over, cover with foil and seal the other side for 5–6 minutes.
Cook the lamb for a further 15–20 minutes on each side. Allow to rest, covered in foil, for 10 minutes before serving.
Serve thick slices of the lamb with generous dollops of the lively salsa.

Easter Dessert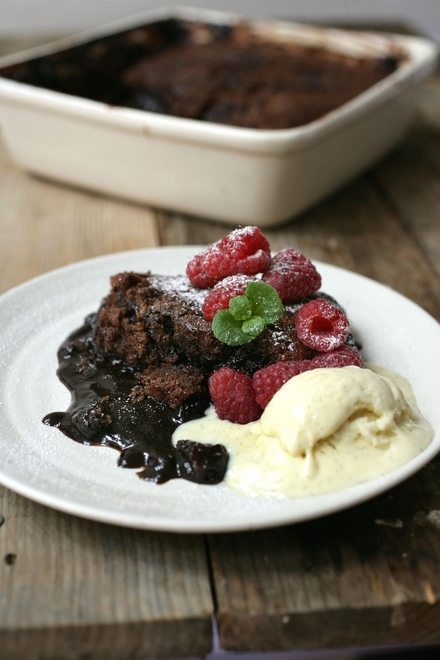 Monica's Magic Molten Chocolate Pudding
Rozanne says: "This is my mom's recipe and it is the easiest, most decadent chocolate pudding. It is like a giant chocolate fondant baked in a lasagne type dish. There are two parts to the recipe, a sponge batter and a sauce. These get made separately and then poured into the dish. They curdle and look strange, but during baking they separate and you get chocolate sponge on the top and a rich dark chocolate sauce underneath. Serve warm with cream or ice cream and fresh or frozen berries.
Some of the solid ingredients are measured by volume in millilitres, so use your measuring spoons for small amounts and your measuring jug for larger quantities."
Serves 8
Ingredients:
Sponge batter:
60 g butter
190 ml sugar
1 tsp vanilla essence
1 egg
190 ml milk
250 ml flour
1 tbsp baking powder
½ tsp salt
2 tbsp cocoa powder
Sauce:
375 ml water
375 ml brown sugar
3 tblsp cocoa powder

Vanilla ice cream and raspberries to serve

Method:
Cream the butter and sugar together till light and fluffy. Beat in the eggs and vanilla extract.
Sift together the flour,salt, baking powder and cocoa powder. Gradually beat into the creamed butter and sugar, alternating with the milk until all mixed in.
Pour the batter into a greased oven dish.
Combine all the sauce ingredients in a pot, stir over a low heat until dissolved then bring to the boil.
Gently pour the hot sauce over the batter. It will separate and curdle, but this is as it should be.
Bake at 200°C for 30 minutes until you have the sponge on top and the sauce underneath. Do not overbake as the sauce will dry up.
Serve with vanilla ice cream and raspberries.

Easter Dessert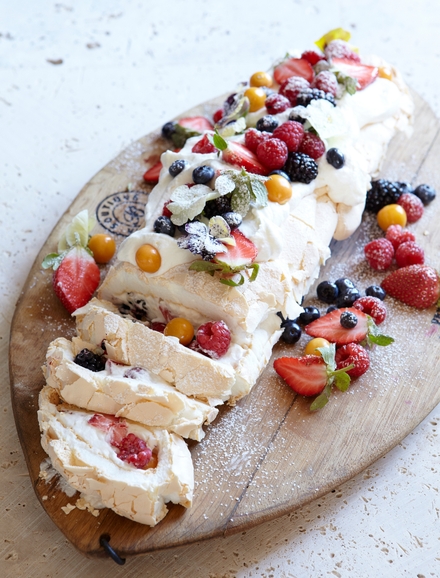 Monica's Berry Baileys Meringue Roulade
Rozanne says: "This is my mom's favourite dessert – a gorgeous confection of marshmallowy meringue, plenty of summer berries and whipped cream. I love adding a good splash of Baileys Irish cream liqueur for a little sophistication."
Serves 10

Ingredients:
Meringue base:
5 egg whites
250 g caster sugar

Baileys cream filling:
500 ml cream, lightly whipped
4 tbsp Baileys Irish cream liqueur
1 tbsp icing sugar

Berry filling:
1 punnet of strawberries, halved
1 punnet of raspberries
1 punnet of blueberries
1 punnet of blackberries
1 punnet of Cape gooseberries

1 slab of white chocolate, to make chocolate curls
icing sugar, to decorate

Method:
Preheat the oven to 150°C. Place a sheet of parchment paper on a baking tray. The paper must overhang the tray so that you can lift it out. You can stick the paper to the tray with sunflower oil. Lightly oil the top of the paper too to make it non-stick.
Whisk the egg whites in a very clean, dry bowl until stiff peaks form. Gradually snow in the caster sugar and continue to whisk until the sugar dissolves – this is key. Rub the mixture between your fingers – if it feels sandy, carry on whisking.
Spread the meringue mixture evenly over the paper. Bake for 25 minutes, until the meringue is crunchy on top. It will still be marshmallowy underneath.
Gently lift the meringue off the baking tray using the paper and allow to cool on a wire rack. Once it's cool, place another piece of paper on top, grip firmly and turn the meringue over. Peel the top layer of parchment paper away.
Whip together the cream, Baileys and icing sugar.
Make the chocolate curls by 'shaving' the smooth side of the slab of chocolate with a vegetable peeler [OK/correct to add this?] to scrape off a layer of chocolate that will curl. Set aside.
Lay the meringue with the longest side going from west to east. Make a gentle incision across 10cm from closest to you. [I don't understand this instruction – could you reword it?] Spread most of the whipped cream over the meringue base.
Scatter evenly with strawberries, raspberries, blueberries, blackberries and gooseberries. Using the paper, lift the edge of the meringue and roll it over into a log.
Scatter over the rest of the berries. Decorate with the rest of the cream, a sprinkling of white chocolate curls and a dusting of icing sugar.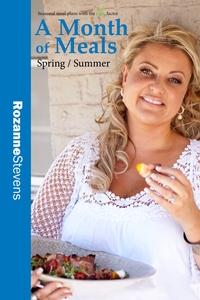 Recipes taken from A Month of Meals by Rozanne Stevens