For me the true super foods of summer are the ones that I can pick up from my own back garden and surrounding fields. Out in our garden we have a little greenhouse, a herb plot, we have four large beds, which I suppose are essentially 'raised', all tightly packed with vegetables and fruit. Surrounding all this we have many varieties of berry and currant bushes. No matter what the weather and no matter how much rain fall we have to endure each summer, from my little garden each morning there is an abundance of produce ready to harvest. You must think me an expert giy-er from such an impressive description of the garden however I assure you that apart from the initial planting and the occasional weed these plants are growing all on their own. Even in our rainy and somewhat unpredictable climate many vegetables and fruits still continue to thrive perfectly. Vegetables, herbs, fruits and salad leaves which are grown organically and in good soil have the upper hand, nutritionally, to their commercially grown alternatives. For this reason and for the sheer satisfaction of cooking and eating the food one has actually grown with their own hands I'd highly recommend rolling up the sleeves and planting a few of your own super seeds this summer.
Garden Salad with Cashews
This salad is a combination of some salad leaves from the green house, a few grated baby carrots, a nice combination of torn nutrient-rich herbs and some finely sliced radishes, whose seeds were only scatted three weeks previous. For something that is so easy to grow it's wonderful to know that radishes are a source of calcium and Iron and are also high in Vitamin C. I have generously topped all of these goodies from the garden with one of my favourite nuts, cashew. It makes for a nutritious and tasty salad perfect for accompanying some barbecues meats.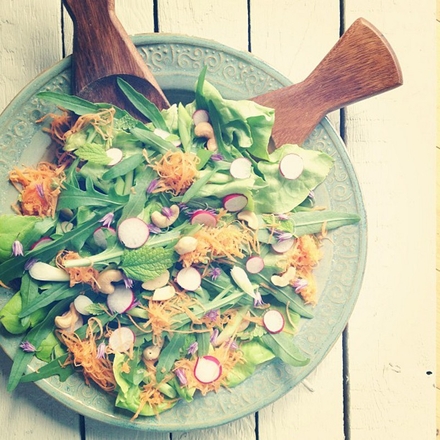 Potato & Fresh Herb Soup
One of my favourite summer soups would have to be Potato & Fresh herb. This soup could be welcomed at the family table in any season however due to the blustery days we've been accustomed to over the past few summers, I find it regularly featuring on my weekly menu. It's deliciously creamy and loved by young and old alike. An important factor as to why I love this soup during the summer months comes from the fact that I have only to pop out to the garden for the main ingredients.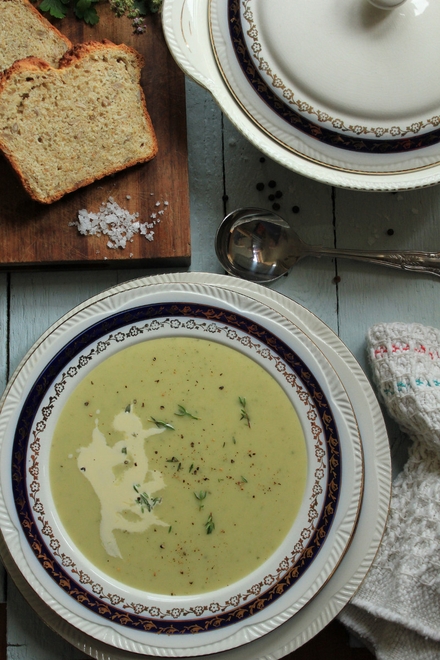 The recipe for this scrumptious soup is over on my blog -nessasfamilykitchen.blogspot.ie/2011/09/potato-fresh-herb-soup.html
Apron Strings is available from bookstores nationwide