Afternoon Tea - an English tradition of sipping tea, pastries and mini cucumber sandwiches late in the afternoon, dates back to 1840, when Anna Maria Russell, one of Queen Victoria's ladies-in-waiting, introduced it as a snack time to fill between lunch and supper.
In recent years, the popularity of 'Afternoon Tea' has become a firm fixture on menus in hotels and tearooms across the country - and it comes as no surprise as we all need a bit of comforting from time to time.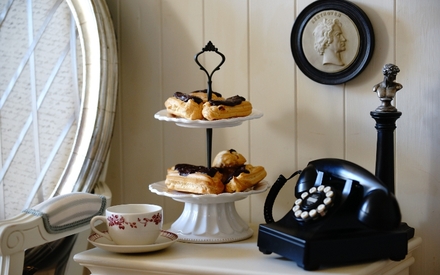 It all starts with good quality loose leaf tea; I use Barry's Tea accompanied by a selection of sandwiches made from real bread, followed by soft fluffy scones, a selection of mini éclairs; cakes and a delightful array of petit fours.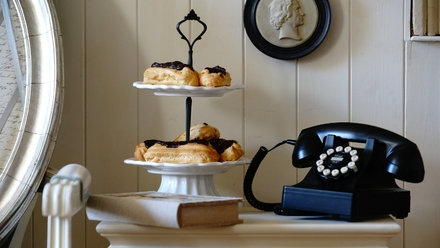 The following are a couple of my favourite afternoon tea recipes for you to try when entertaining friends at home this summer.
Coffee Cake Recipe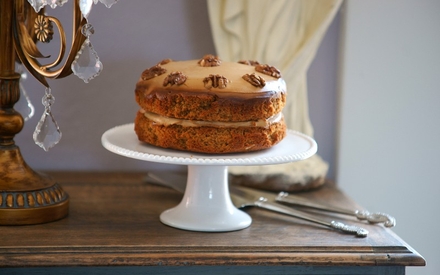 Shopping List:
225g Soft unsalted butter
225g Caster Sugar
4 Free Range Eggs (at room temperature)
100g Walnuts (roughly chopped)
225g Plain white flour (sieved)
1 Tsp Baking Powder
3 Tbsp Irel (or Camp) coffee essence
Coffee Icing & Filling
450g Mascarpone Cream
50g Caster Sugar
6 Tsp Irel or Camp coffee essence
To Decorate:
8 Whole walnut halves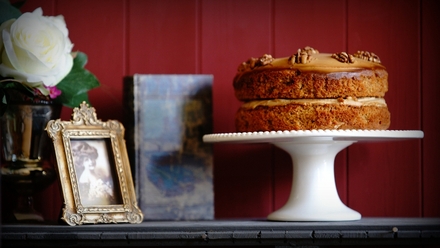 1. Preheat the oven to 180C / gas mark 4. Line the base of two 8 inch sandwich tins with greaseproof paper and lightly dust the edges with flour.
2. Cream the butter well with a wooden spoon, add the sugar in stages until pale and light in texture. Add in an egg one-by-one to the mixture, adding a tablespoon of flour to each addition to prevent the mixture from curdling and gently fold in the coffee extract.
3. Add the chopped walnuts, flour and baking powder and fold into the cake mixture. The mixture should be a light dropping consistency, add 1-2 tbsp of buttermilk to loosen the mixture if needed. Weigh the mixture and divide it in two into the cake tins. Bake for 30 minutes.
4. The cake is cooked when a skewar is inserted in the centre and comes out clean. Leave to rest in the tins for five minutes before turning out onto a wire rack. Leave the cakes to cool on the wire rack completely before adding the filling.
5. To make the filling and icing; whisk the mascapone cream and sugar well before adding in the coffee essence.
6. Divide the coffee cream mixture evenly and using a palette knife sandwich the two layers together evenly and coat the top with the remaining mixture. Decorate with 8 whole walnuts.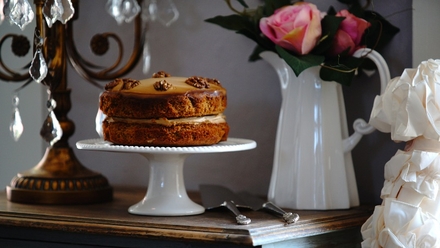 Ummera Smokehouse smoked salmon with Cashel Blue Cream Cheese and Dill Sandwiches
Shopping List:
1 Loaf of white bread
1 Tub of Cashel Blue Cream Cheese
8-10 Slices Ummera Smokehouse Salmon
Dill
1. Spread slices of white bread with Cashel Blue cream cheese, salmon and dill.
2. Remove the crusts and cut the sandwiches into triangles. Serve.
Try two more of Dermot's recipes on his blog: Mini Double Chocolate Sea Salt Brownies and Pedro Ximenez Chocolate Tart. You can keep up with both RTÉ Food and Gas Mark Seven on Twitter.
Props courtesy of La Vie En Rose in Kinsale - check them out here.