Celebrating its third year in the Irish capital, Spanish wine brand Campo Viejo return with their annual Tapas Trail, which now includes a month-long stop off in Cork City for the first time.
Throughout the months of May to July, food and wine enthusiasts can join the culinary culture of Spanish tapas and discover the true passion, vitality and vibrancy of Spain on the Tapas Trail which will run from 8th May to 5th June in Cork City and from 9th June to 17th July in Dublin.
Now an annual celebration of the best of Spanish cuisine and wine, the Campo Viejo Tapas Trail allows participants to enjoy the unique colourful social experience of going from eatery to eatery and sharing a selection of authentic Spanish tapas cuisine, while experiencing the vibrancy of Spain right on their own doorstep.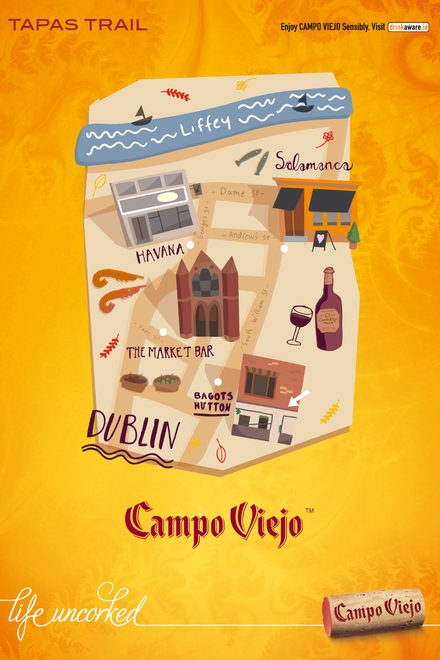 In Dublin, trail goers will stop off in Salamanca, Havana, Market Bar and Baggots Hutton to sample the delicacies and enjoy the pairing of Campo Viejo wines with the flavour of Spanish cuisine. In Cork for the first time, the groups will visit Electric, Arthur Maynes, Oysters and The Cornstore.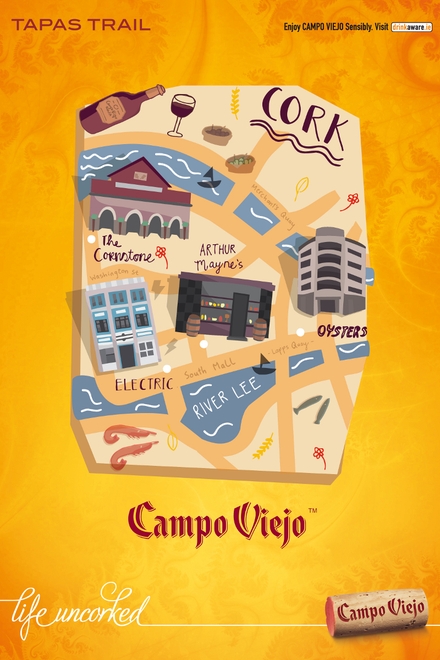 At the launch of the Tapas Trail earlier this month, guests were invited to try some of the style of dishes to be found along the trail, in both Dublin and Cork. Pan fried gambas pil pil, beef and pork meatballs in a spicy tomato sauce and baked aubergine with ricotta and goat's cheeses kicked off the tasting dishes.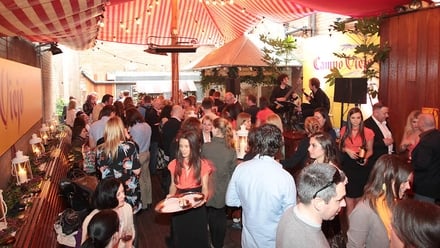 These were followed by grilled chicken skewers marinated in lemon, chilli and garlic, a traditional paella which was spiced and coloured with saffron and loaded with vegetables, chicken and chorizo finally followed by rack of lamb with chargrilled vegetables and a chocolate and cherry sauce.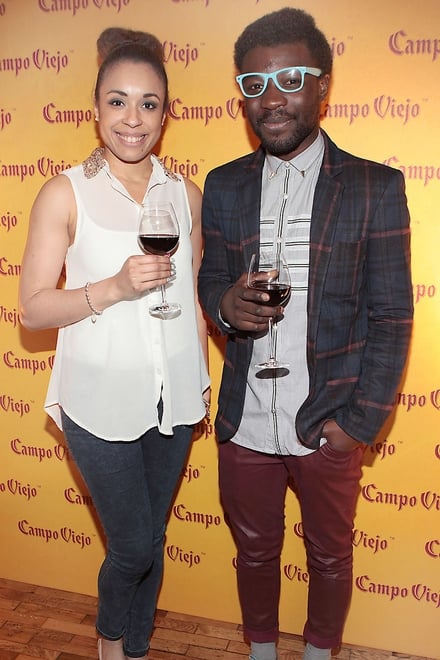 Leanne Kavanagh and Timi Ogunyami at the launch in The Odeon Dublin (c) Brian McEvoy
A mini cheese board selection and profiteroles topped off the selection, all washed down with glasses of the 2007 Campo Viejo Reserva.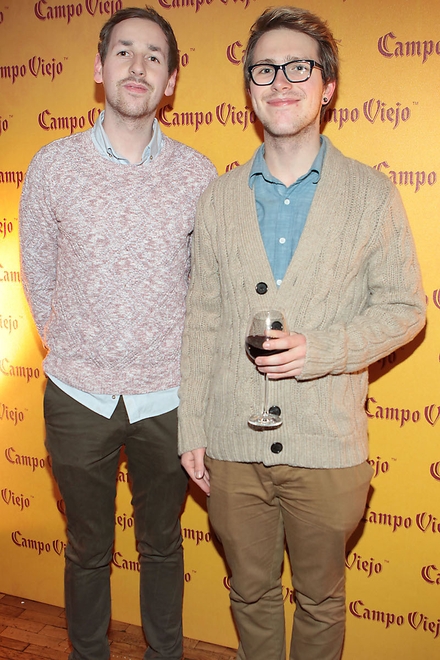 Patrick Hanlon and Russell James at the launch in The Odeon Dublin (c) Brian McEvoy
Information on the night was provided through wit, experience and anecdote by consultant sommelier Lisa O'Doherty, formerly of The K Club in Kildare and The Shelborne in Dublin who disclosed her love for Spanish wine and how its symbiotic relationship with the country's food.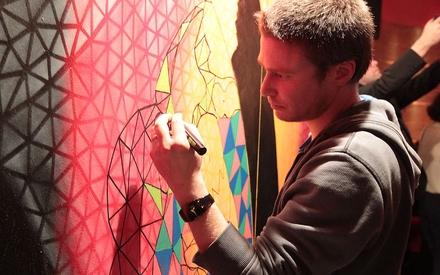 Urban street artist Psychonautes was on hand to create a bespoke art piece live at the launch, which will follow the trail between the two cities. NCAD graduate Fatti Burke will also join the Trail and collaborate with Psychonautes to showcase the importance of art in Spanish culture, particularly in the artistic capital of Madrid.
For further information and to purchase tickets, priced at €20 per person, log onto their Facebook page or website.
To celebrate the arrival of the Campo Viejo Tapas Trail in Cork for the first time, we have a pair of tickets to give away to the final evening of the Trail in Cork City on June 5th.
To be in with a chance of winning, simply follow us on Twitter and tweet us telling us your favourite tapas dish, including #TapasTrailCork
eg. "@rte: @rtefood My Favourite tapas dish is patatas bravas #TapasTrailCork"
*Terms and conditions apply. To be in with a chance of winning, you must follow @RTEfood on twitter and include both a tapas dish and the correct hashtag in a tweet directly to us. Winner will be chosen after the competition closes on Wednesday 1st May at 4pm. No cash alternative is available and decision will be final. Winner will receive two tickets and must be available to travel to and attend the Tapas Trail in Cork on June 5th.