Bord Bia has today announced Belleek Castle, Ballina, Co Mayo, as the Just Ask Restaurant of the Month for March. The Just Ask campaign encourages diners to look for information on where the food on their plates comes from when eating out.
The monthly award is given to restaurants who demonstrate best practice in providing customers with this information. Belleek Castle's Head Chef Stephen Lenahan, is committed to local suppliers and producers and pays tribute to his 'respected suppliers' on the menus.
Beef is sourced from local farms, supplied by three Mayo butchers and dry-aged in-house. Lamb, pork, bacon and chicken are also supplied by the trio of butchers in Ballina and Castlebar. Game is supplied by Pat White in Claremorris and Wild Irish Game in Co. Wicklow. The majority of seafood is sourced from Joe Garvin of Ballina and gravlax is produced in-house.
Paddy Ward in Co. Donegal supplies fresh crab and Padraig Gannon in Achill Island supplies mussels. Vegetables are sourced from Enniscoe Organic Gardens as well as Alfred Devers in Ballina and commencing in 2013, a Polytunnel on the castle gardens will provide seasonal produce.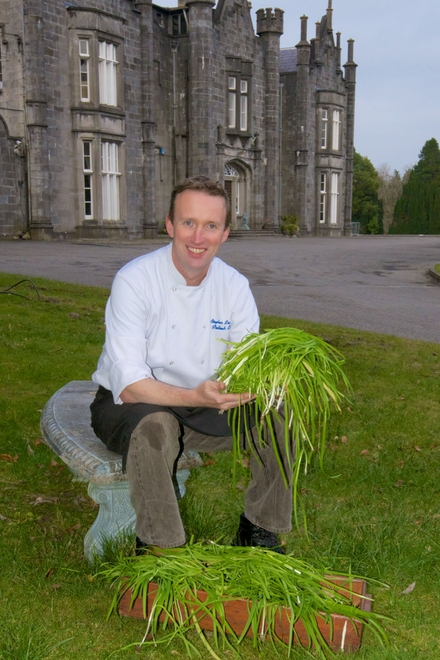 Speaking about the restaurant's sourcing policy, Head Chef Stephen Lenahan said "We always strive to source our ingredients from local suppliers and we are very thankful that there is a multitude of quality food producers and suppliers here in Mayo. We are proud to offer our customers a diverse and exciting menu and we always ensure that they know where their food has come from."
The Just Ask! campaign was originally launched by Bord Bia in 2009 and has been embraced by the restaurant trade since then. The Just Ask! Restaurant of the Month is selected by trusted food writer Georgina Campbell, in agreement with Bord Bia each month. It rewards eateries around the country who have demonstrated a commitment to transparency with regard to the sourcing of the ingredients used in their restaurant.
"Belleek Castle demonstrates a true respect for and a love and appreciation of traditional, local produce as well as an understanding of the importance of operating locally, both economically and environmentally, for over a decade," says Georgina Campbell.
"Their restaurant boasts an extravagant flair and vibrant atmosphere, in addition to its fantastic menu."
For further information on previous Just Ask! winners or to find out how you can get involved visit www.bordbia.ie. For further information on Belleek Castle, visit www.belleekcastle.com