There are currently 54 organic producers in the county producing organic foods including beef, lamb, eggs, goats' and sheep's milk and cheese and vegetables such as potatoes, tomatoes, cucumbers and peppers.
To celebrate, throughout October, Bord Bia is featuring information on organic food in Meath on Facebook where consumers can find local information and enter a competition to win a hamper of organic food produced in the county worth €250! Bord Bia is also encouraging any organic retailers, producers or farmers markets selling organic food not included on the Meath listing to send their information to organics@bordbia.ie.
Mel O'Rourke of Sylvan Europe, was recently appointed as Chairman of Organic Focus, a new national group which aims to act as a driving force for the development of the Organic Sector in Ireland.
He said "Meath has a strong farming tradition and is a significant producer of beef, milk, cereals and root vegetables. It is only natural therefore that the county is also producing some of the finest organic foods. This campaign is encouraging consumers to learn more about organic foods and aims to create a stronger awareness of producers of quality organic produce and outlets selling organic foods in the county".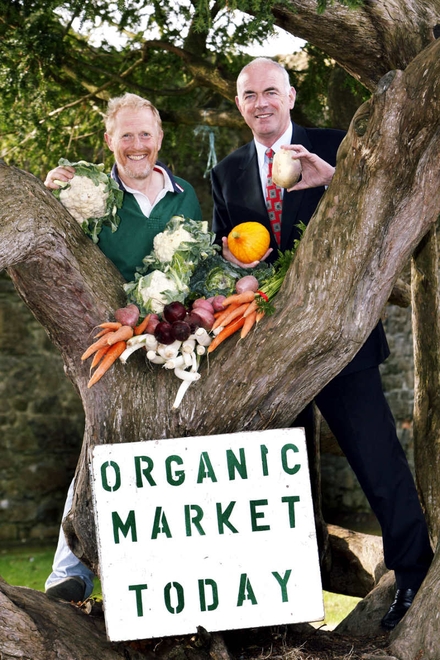 Mel O'Rourke, Chairperson of Organic Focus with Norman Kenny of Trim Organic Market, Co Meath
Organic foods are increasingly available in mainstream supermarkets but also can be purchased through organic box schemes, farmers markets and fresh food stores. In Meath this includes:
Meath Organic Retailers
• Sheridans Cheese Mongers, Virginia Road Station, Carnaross, 046-92475110. Products - Cheese, Honey, Flour, Wine, Fruit and Vegetables, Pesto and Pasta Sauces
• Sage & Stone, The Farm, Julianstown Road, Duleek, 041-98143262. Products: Organic Flour
• Sonairte Eco Shop, The Ecology Centre, The Ninch, Laytown, 041-9827572. Products: Organic ice-cream, gluten-free cereals
Meath Farmers Markets Selling Organics
• Sonairte Food & Craft Fair,The Ecology Centre, The Ninch, Laytown - Last Sunday of every month from 11am-5pm
• Trim Organic Market, Loman St., Trim – Every Friday from 10.30am - 5pm
Organic food is produced using farming methods which are environmentally friendly and incorporate sustainable production practices, respectful use of the countryside and concern for animal welfare. Since July 2012, all pre-packaged organic food products in Europe which meet organic standards carry the "Euro-Leaf" EU organic logo. This helps identify the place of farming eg 'IE' means that it has been produced in Ireland.
There are currently 1,695 registered organic operators in Ireland with 52,390 hectares of land being used to produce organic foods.
For further information on organic production visit www.bordbia.ie/organicfood.