Seasonal, fresh and Irish. When it comes to food, these are the buzzwords getting everyone excited and it's easy to see why. Eating fresh, local food that's in season simply makes sense. As you probably know, it's not only bursting with flavour – it's healthier for you too. It's good for the environment and it's also supporting local businesses, so everyone's a winner.
Seasonal, fresh and Irish
That's why we've launched Tesco Homegrown in Ireland. When you see the Homegrown logo you'll know that what you're getting is seasonal, fresh and Irish.
Homegrown means that as soon as it's available, we aim to get the very best of fresh Irish food to you before anyone else – Irish weather permitting of course!
Good news for tomato lovers
Take our Homegrown, new Irish tomatoes. These tomatoes are freshly harvested by our expert growers then packed and delivered daily to our stores. They are sourced from the country's best tomato growers, from Wexford up to North Dublin. And as you'll agree when you taste them, nothing compares to the intense, delicious flavour of a fresh Irish tomato.
A good year for Irish tomatoes
Grown in glasshouses, Irish tomatoes need sunlight and heat to get them as juicy as possible. While the summer has been a bit of a washout, fingers crossed that August will bring the sun with it!
The taste of summer
Irish tomatoes can be found in stores until the middle of November. Succulent, sweet and highly flavoured, they're perfect for summer salads. Or you can savour the delicious taste of Irish tomatoes with the recipe below.
Irish cherry tomato, goats' cheese and basil tart
Preparation time: 20 mins
Cooking time: 20-30mins
Serves: 4-6
Ingredients
250g (8oz) soft goats' cheese log
2 garlic cloves, crushed
Large bunch of fresh Irish basil
425g packet ready-rolled puff pastry
500g (1lb) Irish cherry tomatoes
Salt
Pepper
2 tsp olive oil
Fresh Irish chives
Method
1. Preheat the oven to Gas Mark 6, 200°C, fan 180°C.
2. Crumble the goats' cheese into a large mixing bowl. Add the crushed garlic and mix in.
3. Roughly chop three-quarters of the basil and add to the cheese mixture.
4. Unroll the pastry onto a work surface and roll out to 1cm thickness.
5. Tip the cheese mixture onto the pastry and spread it evenly around the pastry, leaving 1 inch of space around the edge.
6. Carefully cut each tomato in half. Arrange the halves onto the tart in lines.
7. Season with salt and pepper and drizzle over the olive oil. Place in a preheated oven and bake for 20 minutes.
8. Sprinkle with the remaining basil leaves and serve hot or cold. Garnish with fresh Irish chives.
Serve with: Garden salad, Irish roasted potatoes, a glass of red wine.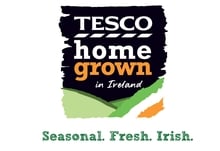 This is a TESCO advertorial