Seasonal, fresh and Irish. When it comes to food, these are the buzzwords getting everyone excited and it's easy to see why. Eating fresh, local food that's in season simply makes sense. As you probably know, it's not only bursting with flavour – it's healthier for you too. It's good for the environment and it's also supporting local businesses, so everyone's a winner.
Seasonal, fresh and Irish
That's why we've launched Tesco Homegrown in Ireland. When you see the Homegrown on meat, dairy, fruit and vegetables, you'll know that what you're getting is seasonal, fresh and Irish.
Homegrown means that as soon as it's available, we aim to get the very best of fresh Irish food to you before anyone else – Irish weather permitting of course!
Good news for strawberry lovers
Take our Homegrown, new season Irish strawberries. We've been working with Roslin Farms in North County Dublin to bring you strawberry crops even earlier than usual. While the traditional Irish strawberry season is from May to the end of October, we've invested in state-of-the art growing techniques to produce great varieties, starting from mid March of each year. The first strawberries reach stores as early as the first week in April, with growing season extending until November, which is welcome news for all strawberry lovers.
A good year for Irish strawberries
It's been a good year for Irish strawberries. So far, the mild weather has meant that some of the crops are even earlier than usual. But we still need some sunny days to ensure our strawberries grow and ripen, so fingers crossed!
Hand picked six days a week
Succulent, sweet and absolutely delicious, our Irish strawberries are harvested by hand. We pick them six days a week to
ensure absolute freshness. They're always delectable served alongside cream and sugar. But for an unusual and flavoursome salad, try this recipe.
Irish Strawberry salad with basil and spinach
Preparation: 10 mins
Cooking time: 5 mins
Serves: 4
Ingredients
250g Irish strawberries
100g feta cheese
30g slivered almonds
Bunch of fresh Irish basil leaves
6 tbsp olive oil
2 tbsp balsamic vinegar
1tbsp Dijon mustard
Sea salt
Freshly ground pepper
Handful of fresh Irish spinach
Method
1. In a bowl mix together the olive oil, balsamic vinegar and Dijon mustard then season to preferred taste.
2. Slice your strawberries, crumble the feta cheese and wash your spinach.
3. On each plate, place a handful of spinach in the centre, then scatter the strawberries on top with the feta cheese, flaked almonds and basil.
Serve with: Balsamic dressing drizzled on top and accompany with a delicious glass of prosecco.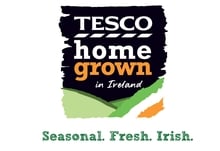 When you see Tesco Homegrown on fresh food you'll know it is seasonal, fresh and Irish.
This is a TESCO advertorial