"I was so scared but I couldn't show it!" says Neven Maguire, looking at his wife, Amelda, as he recalls the most traumatic days of their life. That was in the middle of last month – the best and worst of times for the award-winning chef and his spouse.
Following the birth of their twins, Connor and Lucia, the first-time mum became seriously ill, requiring a prolonged stay at Sligo General Hospital. "When I was with Amelda in the hospital I was very upbeat but when I wasn't with her I was very upset", says Maguire. "Driving home at night I cried in the car. It was lonely coming back here. Amelda was in hospital for two and a half weeks. I came home every night and it was so, so quiet here. Not peaceful but quiet and, yes, lonely."
When we visit the Maguire home, it is now very different. Little jungles of congratulatory cards cover every table and 'welcome home' banners adorn the kitchen wall. In the living-room, Amelda and Neven's mothers, Eileen and Vera, are doting over their grand-children, and Neven buzzes about like a man on a mission.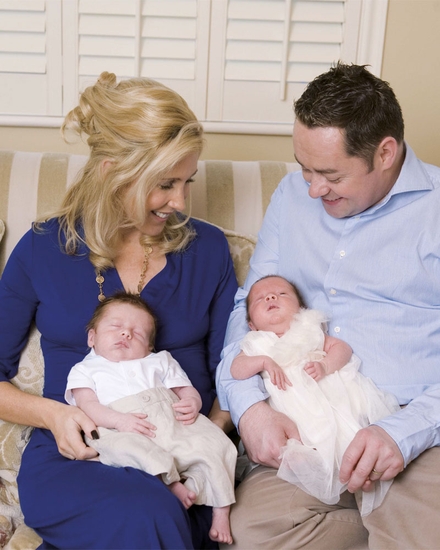 Proud as punch – and very hands-on – the new father is overjoyed. "Look at her hands", he says of Lucia. "They look like the hands of a Balinese dancer." He then shows me an email from former President Mary McAleese, wishing him and his family the best and empathizing as only a fellow parent of twins can. On a nearby wall, pride of place is given to a face-nuzzling-face photograph of Connor and Lucia taken by their father shortly after the birth. In the next room, there's a clatter of as-yet-unopened presents.
It is Wednesday afternoon, barely five days since mother and twins came home after their prolonged stay at Sligo hospital. Exactly three weeks earlier Connor and Lucia were born on February 8. Delivered by caesarean, because of a 2001 car accident in which Amelda broke her pelvis, they weighed in at five pounds ten (Lucia) and six pounds eight (Connor). "It was a miracle", says Amelda. "But it takes a while to sink in that they're actually your babies. It really does. You keep looking at them in amazement." But what followed added a traumatic darkness to the new parents' joy. The day after the birth, Amelda's breathing became laboured and she was eventually diagnosed with cardiomyopathy, a rare condition which causes the heart to become enlarged and work much less efficiently.
Recalling that rollercoaster fortnight, Neven Maguire's eyes well up. He is a driven man – you don't run one of Ireland's most successful restaurants, MacNean House in Blacklion, without some steel – but he is also a soft and sensitive soul. "I'm very much a what-you-see-is-what-you-get kind of person", he says at one point, his cherubic features earnest. "Amelda went though the mill. There were so many emotions, mostly good but when Amelda wasn't well that was upsetting, even though she had a great pregnancy right throughout."
On February 8, the day that Amelda was scheduled for her C-section, it was all go at the Maguire home near Blacklion at the northern edge of Cavan. "We were up at six in the morning and had the little outfits laid-out: a boy and a girl's", says Neven. "We had told very few people that we were going to have a boy and girl, apart from my twin brother, David, and one of Amelda's friends. I usually find it hard to keep a secret but I was impressed at how well I did in this case. That morning of the birth was like a whirlwind. The whole thing took about half an hour. Connor was out first and covered in what looked like icing sugar or flour. I'm sorry but that's the best way that I can describe it."
The next day Amelda's condition deteriorated. Unable to sleep because of extreme coughing fits, she underwent a chest x-ray. "They could see then that fluid had built up in my lungs so they gave me diuretics to drain off the fluid", she says. On Sunday, Amelda got a severe pain in her lower back and her breathing worsened. "It was such an effort to take even small breaths", she says. A further chest x-ray revealed she was suffering from pneumonia, but the following morning the medical staff told her that there was something else: maybe a clot in the lungs or a swelling of the heart. Following a heart scan she was diagnosed with cardiomyopathy (at that point her heart was only working at 15% of its normal efficiency) and immediately she was transferred to the hospital's coronary care unit.
In that limbo time Neven Maguire kept himself busy. He fed and changed the babies and relayed updates to both families about Amelda's condition. He took countless photos and videos of the twins ("hundreds of them") with his iPhone. "Neven brought me a wee video but I was too upset to watch it", says Amelda. "The first thing I thought when I was told that I was being moved to the coronary care unit was 'what about the babies?' You then realise that as long as they are OK, I'll be OK. But that was the hardest part of that time, being separated from my children."
Neven says his faith kept him sane and optimistic. "I'm a great believer in God and I think that he really helped Amelda", he says. "My mum has fantastic faith and I think that's why she has got through what she has [Vera Maguire recently got the all-clear for lung cancer]: her faith and her positivity. Some people would have thrown in the towel but not mum, she has a lot to live for. Through her illness she kept talking about the twins.
"What really touched me most deeply was the day the twins came home and both Amelda and her mother cried in each others arms. It was the most emotional thing I have ever seen. I just left the room in that moment."
How Neven met Amelda (also a Maguire!) is well documented. It was the summer of 2001 at the Central Park nightclub in Galway. Both knew each other to see – Amelda grew up barely 15 minutes from Neven's home in Blacklion – but they had never met. "I couldn't believe my luck", he says of that Sunday night. "I spotted her and thought, 'Now's my chance'." The next day he took her to the Cliffs of Moher and the first meal he cooked for her was a vegetarian pasta dish. "Six months after they first met Amelda was involved in a serious car accident – suffering a broken leg and pelvis – and had to use a wheelchair for three months. Neven visited her every day. "Only for you I think that I would have cracked up", she says. He proposed in Rome at the Trevi fountain round midnight, armed with a little box of love heart sweets inscribed with the words: 'Will you marry me?' And they did, in December 2006.
The man voted Ireland's most popular TV chef – although he bats away such recognition – is himself a twin. He weighed just two pounds when he came into the world some 38 years ago. "I've certainly made up for that since," he says and laughs. "I enjoy my food too much (his sweet tooth can be gauged by the opened boxes of chocolates that are scattered about the house as if by a rampant Willy Wonka).
Neven was one of nine – a non-identical twin to David – the son of Vera and Joe, who was tragically killed in a car crash 13 years ago. MacNean House was the family-run restaurant (and also their home) but why was it Neven, and not any of his eight other siblings, who inherited the culinary gene? "I suppose it just clicked with me", he says. "From a young age I would have been the only one who cooked with my mother. I just got addicted to cooking and I still love it. I do, so much. And I hope that Connor and Lucia when they get older will also cook together and have fun because food is something that you share with your family."
When they first heard that they were having twins, it knocked Amelda for six. "You were in shock", says Neven to his wife. She nods. "I went quiet for about an hour", she agrees. Neven spotted it first on an early scan. At about 20 weeks they were able to determine the gender. "That was amazing", says Neven. "We kept asking them were they sure?" Apart from his brother, David, and a close friend of Amelda, nobody else knew the gender of the twins. They chose the names Connor and Lucia because they liked the sound of them and the night the twins were born, all the diners at MacNean House – where Amelda worked front-of-house until December 18 – were given a complimentary glass of champagne to mark the occasion.
For the grandparents – Vera and Eileen and her husband Brian – it too was a special occasion. Eileen – who plays a stormer during the photo-shoot for this feature – was delighted to hold her first ever grandchildren. Vera's joy was tempered by other realities and hopes. "She's in remission now and in great form", says Neven. "The birth of the twins really lifted her. And with my twin brother, David, getting married on the 18th of March it's going to be a very exciting year." Neven will be the best man. Has he written his speech? He points to his head. "It's all up there", he says. "Off-the-cuff and from the heart: that's what I believe in."
Amelda Maguire is likely to be on medication for the next year with check-ups every two weeks initially. "We're over the worst of it now but it will take time", she says. "I get tired and will just have to be patient with my recovery." They are both fulll of praise for the medical staff and personnel at Sligo General, citing their luck that they were in the right place at the right time. Now, back at home, they are resolved to enjoy life – all four of them – to the full. "Last year I think that I cooked for Amelda only 12 or so times in total", says Neven. "That's a bit sad. I'm going to be at home a lot more and I want to be here. We will be able to play with our children and bath them and spend time together. Life will change for the better; this is the structure that I needed in my life."
A whirlwind of industry, Maguire has already changed into his chef's whites when we sit down to talk. He will be working in the kitchen of MacNean House that evening. "It's the personal touch and I never want to lose that", he says of his hands-on philosophy.
Earlier, he took me on a whistlestop of his other kitchen – the TV one that has starred in the last two series of Neven Maguire: Home Chef. It's located in a separate building, a few paces from the family home, and also includes a fully equipped gym and three bedrooms.The previous Saturday he recorded a St Patrick's Day special for NBC here and this autumn will see his latest publication, a book chronicling the history of MacNean House. "You know people have been asking me 'when are going to write a book about baby food?'" he says with a twinkle in his eye. He's joking – I think. Then again, I wouldn't put it past him.
Donal O'Donoghue