Fashion blogger Susie Lau talks about Diet Coke's fashion collaborationsin light of the brand's 30th anniversary.
When I was younger, the mere act of ordering a Diet Coke in a restaurant, felt like a rite of passage - even better, when it was served in the iconic glass bottles. That felt like 'proper' drink, the real thing.
The decision to drink Diet Coke felt like an empowering statement on my part, attaching myself to what I perceived to be a glossy image of fashion, grown-up sophistication and glamour. From my ten-pound-a-week pocket money, buying and drinking a Diet Coke felt like a modest luxury, a simple pleasure that had all these aspirational connotations of being an empowered, sparkling woman who had an important part to play in the world.
Diet Coke started collaborating with fashion designers in the early noughties; it served to strengthen its ties to a female dominated legion of Diet Coke devotees. When Patricia Field collaborated with Diet Coke in 2008, and put four sassy women on the bottles, her stylist's eye really came to fruition - capturing the modern woman's passion points (career, love, fashion and being in charge) in urban inspired graphics by her artist friend, Martine.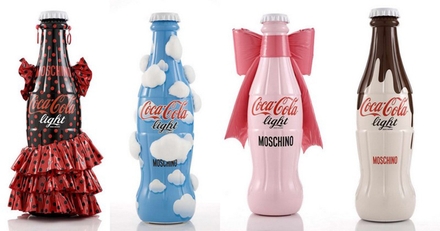 In 2009,the Abruzzocharity project was launched by Diet Coke to help raise funds for the young women in the Italian region, devastated by the earthquake. Eight leading Italian female fashion designers lent their iconic motifs to adorn each bottle, creating a desirable and artistic collection.Versace's baroque scrolls; Conseulo Castiglioni of Marni's graphic gradiated dots, Angela Missoni's zig-zag knit patterns and my favourite of all, Moschino's tongue-in-cheek humour - festooned the bottles in the form of 3D moulded clouds, gigantic bows and flamenco frilly dresses. They became collectors' items, branded souvenirs that also looked pretty on a shelf.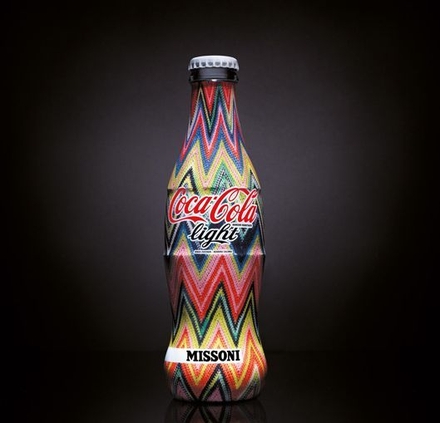 In 2010, Karl Lagerfeld entered into a collaboration with Diet Coke and extended the partnership the following year. The striking bottle designs incorporated his infamous silhouette; we had never encountered such strong personal branding of one individual designer. In fashion, there are few like Uncle Karl though who could hold his own, standing tall on a bottle, with his signature ponytail and high-necked white collar on show.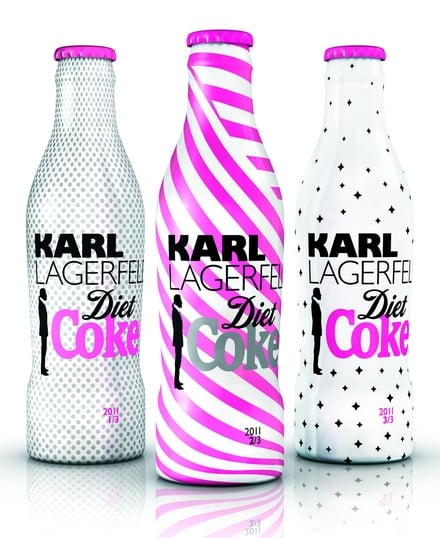 In 2012, Jean Paul Gaultier was appointed as the new Creative Director of Diet Coke, creating three bottles and two can designs that can immediately be identified as pure Gaultier. The famous cone-bra corset, the blue Breton stripe and the provocative tattoo, snake their way around a Diet Coke bottle, the shape of which strangely bears similarity to his own distinctive perfume bottles of the scantily clad women, who have walked his shows over the years.
The Diet Coke bottle is the perfect creative canvas and the first to be used as such, serving as a print vehicle for designers to bring to life their visual aesthetic on an iconic and globally recognised contour bottle.
Always innovative and pioneering, I can't wait to see how the brand will be celebrating the three decades and encapsulate everyone's personal sparkling experiences of Diet Coke,including my own.
Susie Lau
International Blogger & Founder of Style Bubble