Georgina Heffernan caught up with the glamorous model and presenter for a quick fashion fix.
Georgina Heffernan: What do you wear when you are on TV and how does it differ to your everyday attire?
Katie Larmour: I currently present Cage Contender in both Dublin and Belfast on Setanta, for this I usually wear jeans, and a different brightly coloured blouse each time. For Belfast Fashion Week TV it's a whole different story, I get to really experiment and borrow some of the most beautiful one off dresses that maybe haven't even been shown before. On the high street night it's nice to wear something cheap and cheerful; there is just so much to choose from.

Who are your favourite fashion designers and why?
I love wearing local designers, my favourite has to be Riona Treacy's figure hugging hand dyed and printed dresses, her neutral tones and luxurious fabric are so flattering. I also love Una Rodden's lavish bespoke dresses are fabulous for a special occasion. My real treat to myself is something from Lanvin or Miu Miu. I also love lingerie by Kiki de Montparnasse and Jennifer Meyers jewellery, but I prefer getting these as gifts as I wouldn't usually buy them for myself!
Have your shopping habits changed since the credit crunch started to bite?
Well going to fairs like the 'Fashion Souk' is perfect, you may have to rumble through some rubbish but you can get a real find, and you're also guaranteed that no one else will be wearing the same thing as you at a special event.
What's the worst fashion mistake you've ever had?
Probably the frosted pale lilac lipstick from No.17 I wore to discos in my teens, never again!
What's your favourite city to shop in and why?
I love shopping all over the world, but I'd have to say London as it only an hour away and you can find nearly anything you desire there; my latest purchase was a pair of sky high pink and red satin Charlotte Olympia shoes. My favourite secret shop is Dover Street Market just behind Bond Street.
Many of us just fell in love with the beautiful prom dress you wore to the VIP Style Awards. What inspired your style choice?
It was actually my plan B dress, but I was pleased at how it all came together in the end. I picked up my frock from 'The Fashion Souk' a second hand/vintage fair up in Belfast, it's a pale duck egg blue colour and although it's vintage I thought it tied in nicely with this season's pastels. I was opting for a Grace Kelly look; the dress has got quite a classic shape so I paired it with Jimmy Choo champagne coloured court shoes and a handmade couture Helen Fitzpatrick headpiece made from Swarovski crystals. I wasn't sure if it was too much with all the beading and embellishment on the dress but I knew all the Dublin ladies would be very well turned out and so I tried to look as polished as I could.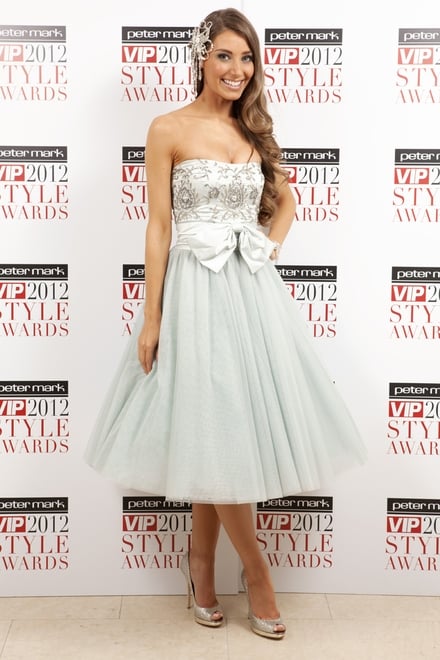 Katie at the VIP Style Awards 2012
How has your personal style changed as you've grown older?
I suppose I'm more into the whole less is more look now, and I also get a lot of inspiration from my big sister, but if you had told me that a few years ago I wouldn't believe you. My make-up artist friend Paddy McGurgan taught me how to put my make-up on properly and since then things seem to look better, so it's key to get a good basic look sorted. Like anyone on a budget I tend to spend on fabulous shoes and handbags and am a real bargain hunter with everything in-between.
What's your favourite high street store?
It has to be Topshop as their jeans are a perfect fit, and if I'm lucky enough to find something that really fits my shape I'd buy it in every colour if it's affordable. I also pick up the odd thing in Zara, and recently a long peach gypsy skirt for 29 euro that I wore to meet Gok Wan when he visited Belfast. I was absolutely thrilled when he said he liked it but maybe he was just being nice.
What's next for you?
In the next few weeks I'm hosting the Best Dressed competition at the Balmoral Agricultural Show and also Northern Ireland's first Miss Bollywood competition, so I'll be getting dressed up in both hats and saris, on different occasions of course! But later this summer I have exciting things happening as I recently collaborated with Irish designer and good friend Riona Treacy designing a swimwear line. We're hoping to show in the next Belfast Fashion Week, I've modelled and presented at it and would be great to be part of it in a new way.