We round up ten celebrity duos and decipher who wore the same designer look best, whether they had it first or not.
It's a fashion designer's dream to have a celebrity looking impeccable in their designs. Not only does it bring their design talent to the international masses but it also gives them an advertising and promotion platform on a much broader scale.

A celebrity will often reap the rewards of being dressed and draped in A-list designs too, landing themselves lucrative advertising campaigns, endorsements and even their own capsule collections and design input. Yet there's always a bitter taste when another celebrity takes on the same look and in some cases, wears it even better!
We have ten rounds of celebrities, pitted against one another and we want to know which you think look better by leaving a comment below or by letting us know via Twitter.
Round 1. Punching for print
First up, it's celebrity offspring Amal Fashanu, famed for being a TV presenter, model and fashion follower, who is pitted against singer and The Voice UK judge Jessie J.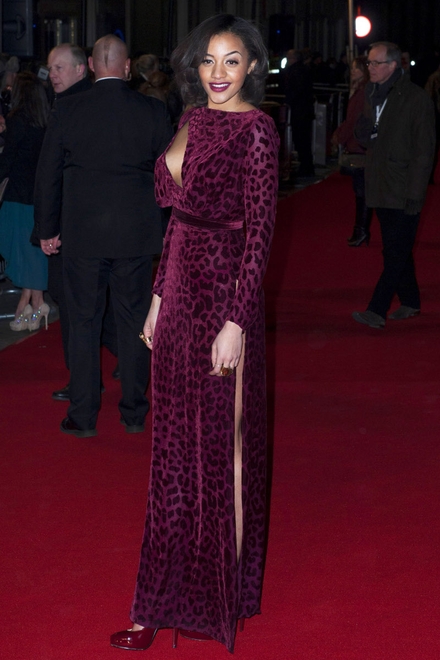 Jessie first rocked this bold and bright print dress with severe cut-outs in mid-2012, with Fashanu wearing it earlier this year and suffering an unfortunate wardrobe malfunction on the red carpet! The purple colour suits her, but does it clash with the shoes and red carpet?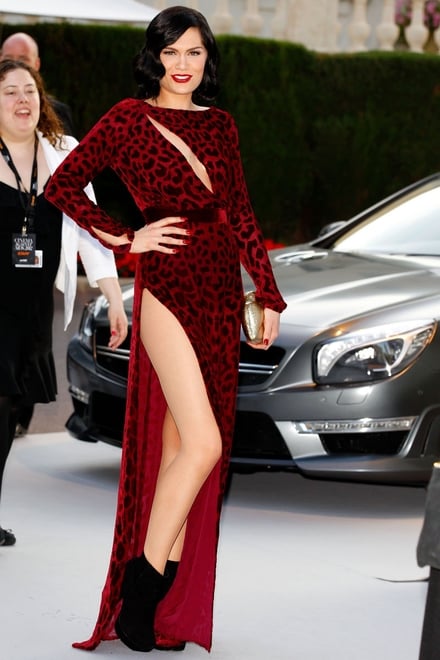 We have to penalise Jessie for choosing unusual and boring boots for this look. J saved it with the Lulu Guinness golden clutch and wins for the fact this gown suits her personal style so much better.
Round 2. Tie-dye terror
This is a battle between same dresses and same names! Two Katherine's - Kat Dennings and Kate Beckinsale - take on Vivienne Westwood's tie-dye, blue sequin cocktail gown. Kate wore it first to a red carpet event last year with Kat choosing to wear it with chunky nude pumps and dramatic make-up.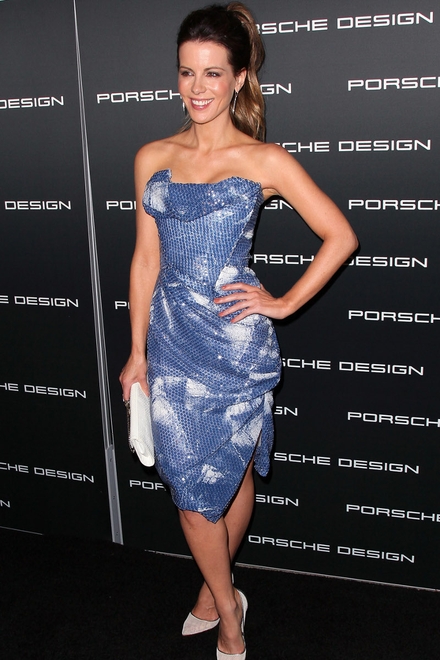 We applaud Dennings' choice of gown for the Grammys, as it's a more creative and fun awards ceremony where personal style reigns over trend or best dressed. We do have to give this one to the seasoned professional though. The ever-polished Beckinsale wears the skirt of the dress better and accessorises it just right.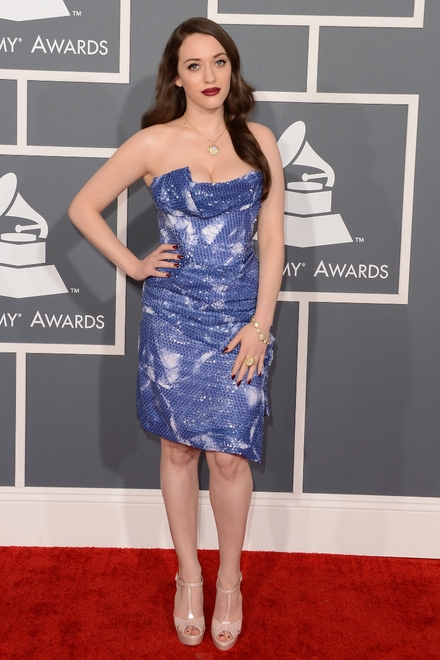 Round 3. Supporting Simone
A battle close to our hearts as it involves two Hollywood heavyweights in Irish designs. Simone Rocha's youthful and fun daisy dress looked great in neon yellow on rising starlet Chloe Grace Moretz at the People's Choice Awards earlier this year.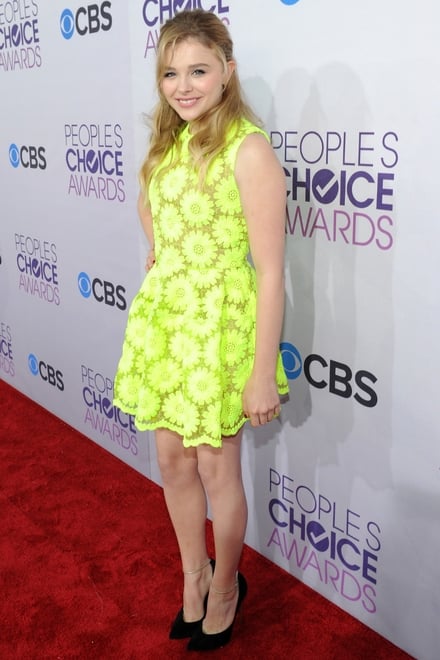 Fashion It girl Alexa Chung wore the dress first, to the British Fashion Awards no less, but chose a demure black colour to showcase the craftsmanship of the shift dress. She paired it with Nicholas Kirkwood embroidered mesh booties. She arrived with tousled hair, which she scrunched into a messy ponytail in the press room.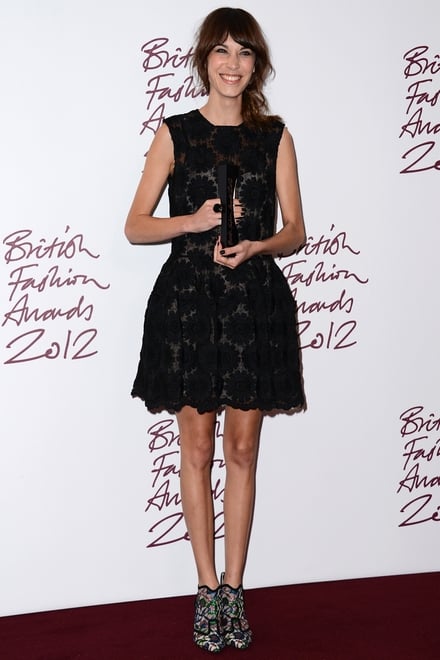 For taking a runway look directly to the red carpet, though her personal style was a little lost, we give this ultra-close round to Miss Moretz.
Round 4. A bandaged look
These two are not just worlds, but universes apart. American Idol judge and Superbass singer Nicki Minaj goes head to head with Coronation Street's Samia Ghadie.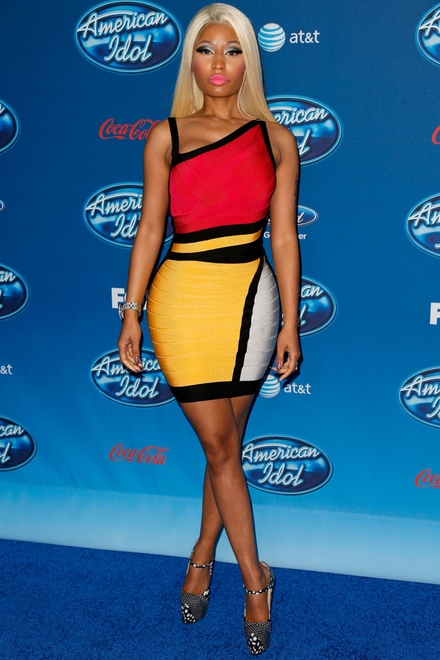 Both wore a Hervé Leger colour block bandage dress on the red carpet this year and for filling it out better this one goes to Minaj.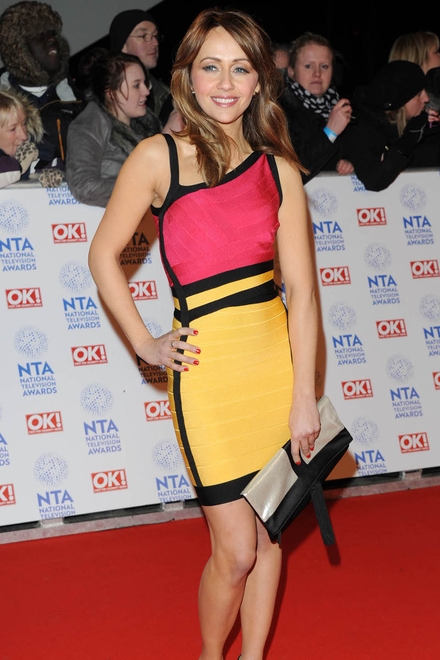 Though not a fashion favourite of ours, there's something statuesque and confident about Nicki wearing this look. Everything is ultra-Hollywood and over the top (bold make-up, a long blonde weave); it works on Minaj and Ghadie just can't compete here.
Round 5. Two metallic McQueens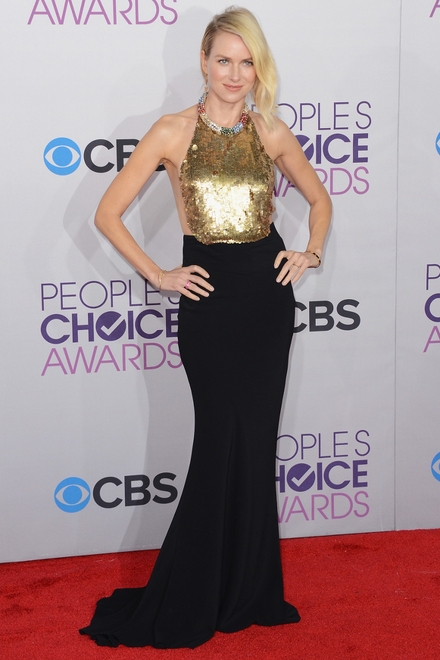 This one is a little close for comfort as this gown (maybe even the exact gown) was worn mere days apart on these two talented beauties. The Alexander McQueen leaf, crepe long dress, in black and gold, looks stunning on both their body shapes and it's a tough one to call.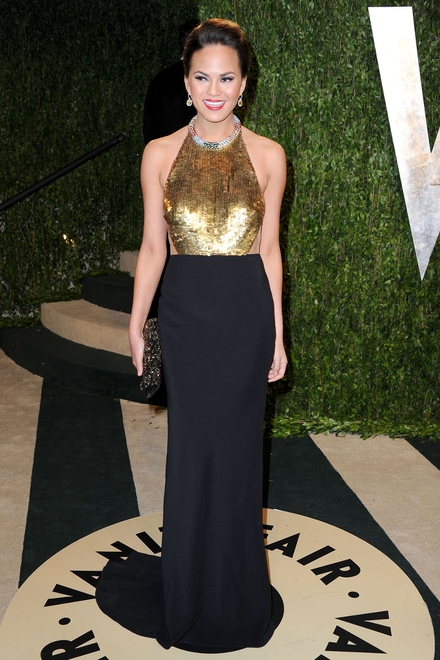 With her equally sparkling clutch and a more polished hairstyle, model and Mrs. John Legend-to-be wins this for us!
Round 6. Stella's choice
Everyone is a little sick of this same Stella McCartney style that keeps going around. Though it's feminine and flattering, it's been on every celebrity who shows an interest at this stage. However for a final frontier, we spotted Alicia Keys and Maria Leon wearing the same style.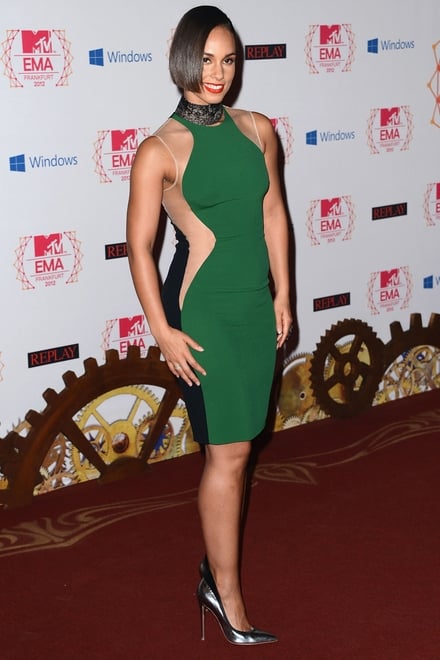 Green looks sensational on Keys, and her severe bob works well with the style of and shape of the gown. The metallic choker doesn't do this look complete justice and the sheer panelling doesn't give the nude illusion it's meant to.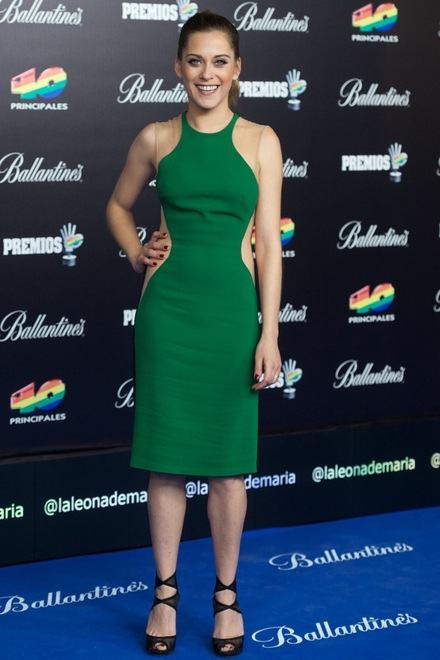 Leon looks great in this number, with her hair pulled back which this bold and confident style of dress dictates. It's let down with the shoe choice and overall the dress is a little ill-fitting. It's falling on the knee and not hugging her enough, whereas Keys wins this one by a few inches and having this tailored to her torso correctly.
Round 7. A Dolce duet
The closest call so far and one that is sure to divide opinion, comes between Daisy Lowe and Amy Adams, both wearing the floral Dolce & Gabbana 'Sera' strapless, Fifties-style dress.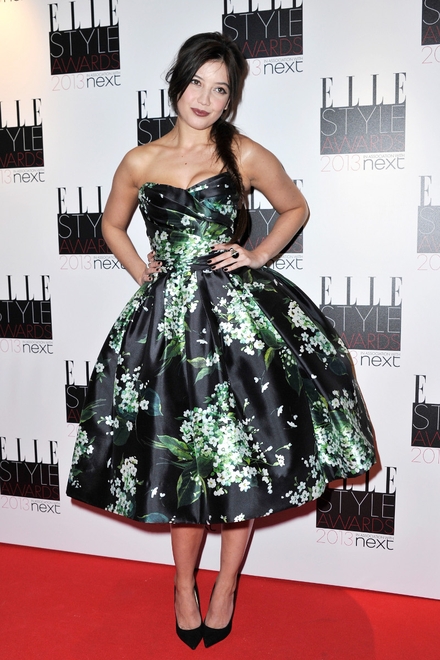 This isn't a far cry for Daisy Lowe, who can shapeshift and morph into all kinds of fashion styles, spanning most of the recent decades. For Adams, this is a welcome change - something a little bit more fun, less serious and a little whimsical.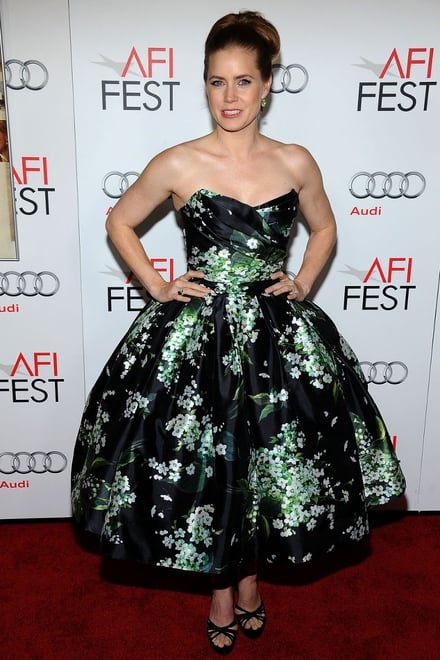 For us, by a few millimetres of the skirt, Daisy Lowe wins as both the skirt and bodess fit her perfectly. We also love the laid-back fishtail and slightly teased hairstyle that she wore it with too.
Round 8. Saint or sinner
We're getting close to the bitter end, and this time it's the turn of Hollywood up-and-comer Bella Thorne and long-established acting talent Julia Stiles.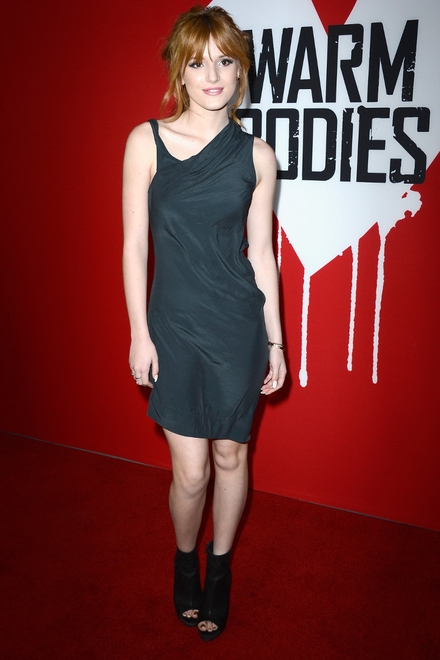 We like both actress' take on this All Saints 'Othea' mini dress. Thorne dresses it down to look quite grungey, while Stiles dresses it up with subtle sophistication.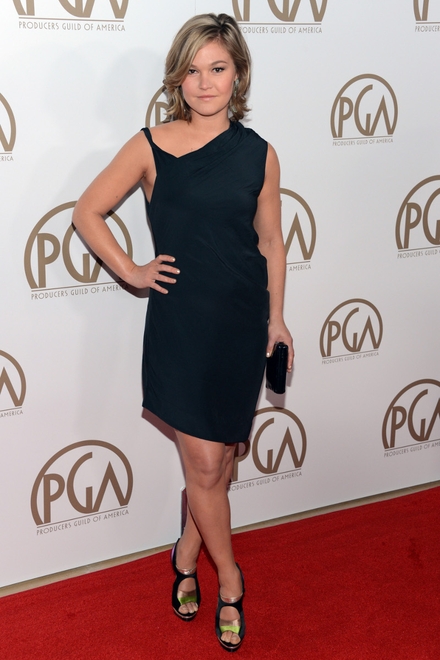 It's a shame Stiles' choice of footwear brings her look into question as she would have won this one but we give it to Thorne.
Round 9. Fledgling talent
Coming in at the end is part of the new Hollywod pack - Holland Roden and Anna Sophia Robb.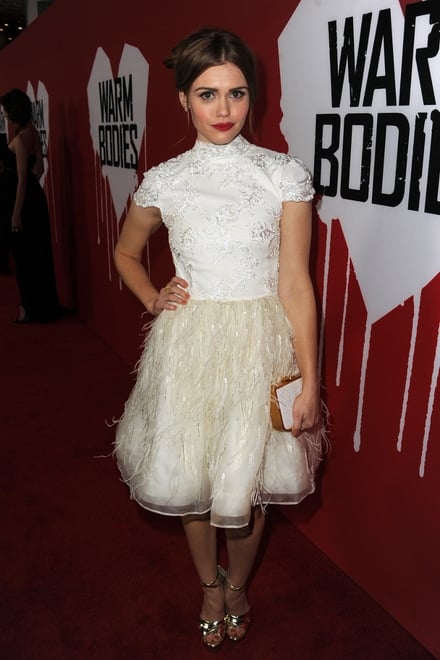 Both wear this look so similarly, even in their choice of up-do to complement the elaborate beading on this Alice + Olivia 'Gwen' dress.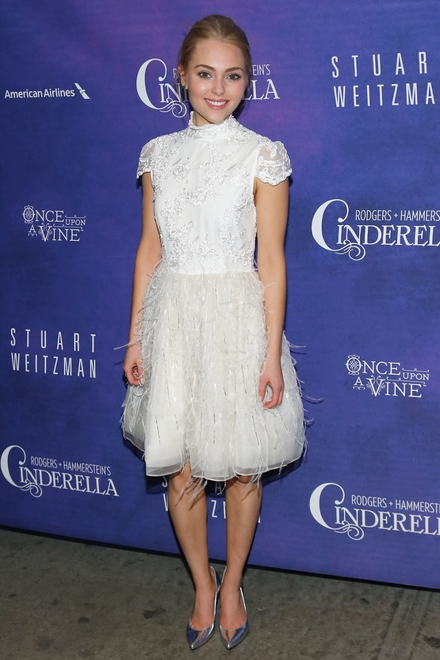 We proclaim this a tie as we can appreciate both looks for their individuality. Roden's slick of dark lip and defiant pout offer a nice contrast to Robb's angelic, fresh-faced take on this look which she pairs with a pair of metallic heels. Both are winners!
Round 10. The unfortunate trio
Ouch! Not only was this design wore three times in as many months, it was also worn two of those times on the same night, by two women who work together! Kym Lomas and Natalie Gumede from ITV's Coronation Street should have known they would be immediately pitted against one another to judge who looked best in their Alexander McQueen resort gown on the night.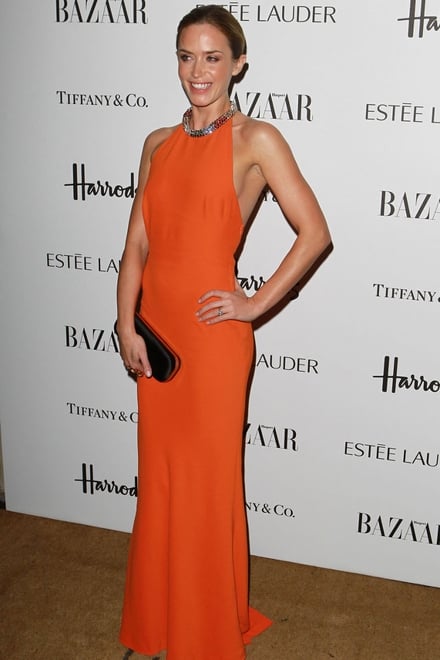 A rookie mistake, unfortunately, as A-list film actress Emily Blunt actually wore the gown, in a bright orange, to a red carpet event before both. For us, the bright colour seems to have emphasised the red and pink pigments in Blunt's skin and her colouring does look a little off (she returned from Hawaii days before the event, we recollect).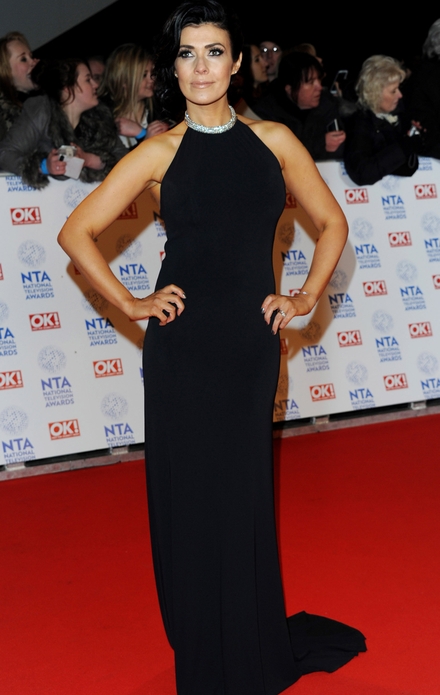 Squaring up the two soap stars, we really think both wear this look with elegance and pride. Lomas' fake tan is a little overdone but the jewel choker embellishment looks stunning against her dark features. Obviously all three have killer arms to pull of this style, but if we were to pick one winner it would be Gumede for how the dress falls on her frame, the match with her beautiful colouring, and her bold decision to go a little old school with her look.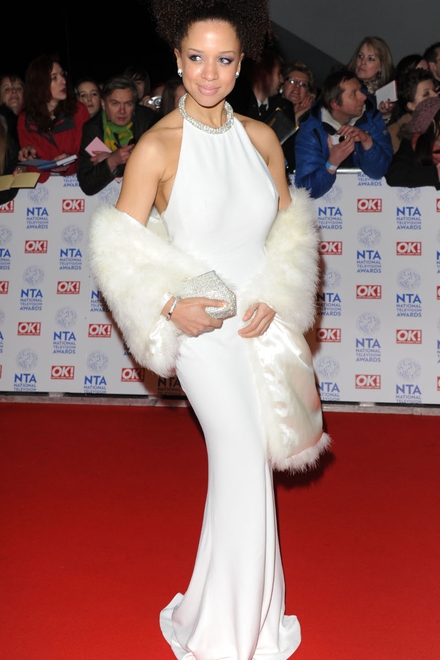 Who wore it best for you? Let us know your opinions in the comments below or on Twitter!
Patrick Hanlon