Menswear blog: footwear
For most men, they have two pairs of shoes I'm sure. Or at least only two types. One formal, one casual and most likely that constitutes one pair of manky runners and one pair of worn-down, abused dressy shoes.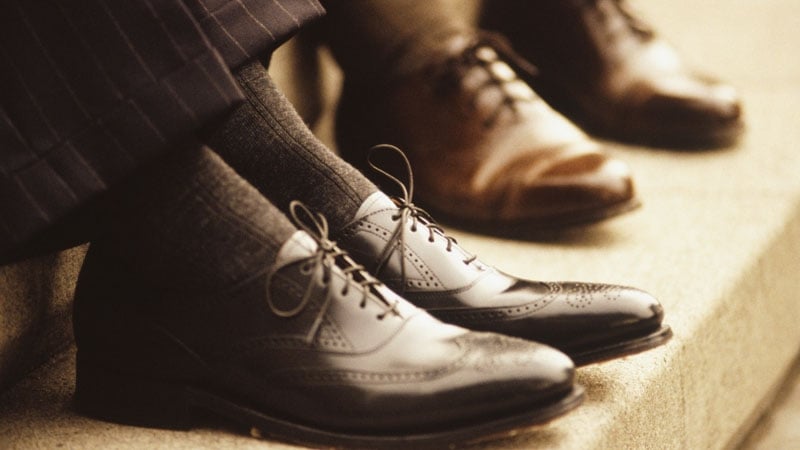 The reality is that in 2012, men have never had a better choice of footwear. Between the high street and department stores there's a plethora of fashionable soles on offer but not only that, the internet can satisfy any shoe need in the world. Customised sizes, colours and shapes can all be found and ordered with an honest bit of research and a few clicks!
So what's on offer? Not only is this a very basic tutorial to those who may not be in the know, it's also an exercise in broadening the male mind. I'll segment this into four headings; casual, formal, fashion and active.
Casual
The flip-flop and sandal are fear-inducing for some and a highlight of the year for others. Long has there been an argument of socks or no socks and we won't even go into that. However, sandals should be relegated to sun holidays and beaches, no further. There is really no need to slap them up and down Grafton Street on a busy, warm Saturday, and it's also not good for your health either. Sandals are generally not designed to be worn over an extended period of time or walking.
Deck shoes , or boat shoes , are generally laced but worn also as slip-ons and are either leather or canvas, with a non-marking rubber sole. Traditionally worn without socks, they have a jagged pattern cut into the sole to increase traction on wet and slippery surfaces. In the last century they have become fashionable as schoolwear.
Active
The walking boot comes in literally thousands of different forms. Hard-soled and worn tightly, these sturdy little bulldozers are best bought in-store because you need the fit and shape right, best to go for ones with heavy ankle-support as well. Leather used to be the material of choice, however, modern advances have brought with them hybrid materials which will be breathable, durable and long-lasting.
Sneakers were once seen as the sports shoe of choice for athletes, however today they are worn casually. These canvas shoes come in different shapes and sizes, normally either high top or low top around the ankle, and are lauded for their versatility and comfort.
Fashion
Brogues originated in the Gaelic countries, specifically Ireland and Scotland as bog-crossing hide-skin shoes which breathed and allowed air and water flow out if necessary. Today they are worn mostly in casual and semi-formal settings, in a variety of interpretations. They are most noticeable for a closed toe cap and in either an Oxford or Monk strap style. In the last five years they have become a fashion shoe of choice for many men, as well as being adopted by women too.
Espadrilles were once mountain shoes of the Pyrenees tribes. Today they have become both a fashion and comfort shoe in summer, allowing room to breathe and ease of movement to slip on and off. They are simply-constructed with a canvas or cotton fabric on top with a rope or rubber sole.
The moccasin is derived from Native American deerskin shoes. Today, they have had a modernised revival, amalgamated with the loafer, and are usually worn in a smart-casual setting. They come in a variety of styles and heel-heights, with added tassles and different shaped and sized tongues.
Slip-on/loafer . Brought to excessive fame in the 80's, spearheaded by Michael Jackson, the Norwegians began producing slipper loafers in the 1930's. They have been adapted in a variety of shapes and styles, as well as becoming a unisex shoe.
Fashion boots come in a variety of similar enough styles and are high street footwear which have thousands of different influences but are on trend at this moment in time. From Chelsea boots to Cuban-heel boots, desert boots in camel and khaki to Timberland mountain boots. Many boots are influenced by military style and come with a heavily-laced vamp, usually in leather or leather hybrid and in darker shades.
Formal
The Derby or Blucher is similar to an Oxford but with a pair of eyelet tabs, connecting to the shoelace closures. Originally an army shoe, it transitioned to the hunting circles of the mid-18th century before becoming generally wearable.
The Oxford / Balmoral is the name given to a leather shoe in a dressy formal shape, usually in dark colours, with a closed lacing system. The shoelace eyelets are stitched under the vamp and it's regarded as the most formal shoe. This image above displays an Oxford shape, in a brogue-style.
So there you have it. A round-up of some of the biggest footwear trends and styles that are happening righ now. There's no excuse to invest in and explore different styles and shapes to become a dapper man-about-town.
*Prices correct as of March 2012