Felt may be the oldest fabric known to man but it's also hip, happening, and all the rage with style gurus and top designers.
And it's much cheaper than cashmere. Georgina Heffernan catches up with felt artist and designer Natasha Nosenko.
Georgina Heffernan: Did you always want to be a designer or was it something that you fell into by chance?
Natasha Nosenko: To be a fashion designer was one of my biggest dreams when I was in my teen years. Unfortunately, in the 90s there was not such a thing as a fashion industry in the post Soviet countries, so there was no hope to get the professional education for me. Despite my fashion ambitions, I ended up studying psychology. Thankfully, I was born in the family of artists, so this gave me a good knowledge about art and, as a result, I have worked as freelance artist since a young age; I think this gave me a great experience and confidence to work on other projects.
When did you first start working with felt, and what's the appeal of the material?
I was introduced to felting by my friend and it was love at the first sight - or touch - Merino wool and raw silk fibers compliment each other in their unique qualities. Felted wool creates matted, non-woven structure of fabric that becomes an unbreakable barrier to a cold outside air. It dramatically increases the thermal natural quality of wool, that's why a thin felted scarf feels warmer than thick knitted one, which has an open structure of fabric. Being made from natural materials it is also a breathable fabric and feels like second skin, plus it has wicking effect, so you always feel comfortable.
What's the most unusual project you've ever worked on?
Probably the most unusual was in my early 20s, when I was making garments from window blinds and other non-textile materials like vinyl records, etc. for alternative fashion performances, it was great fun!
What prompted you to start working full time as a craftsperson? Was that a difficult decision to make?
It was a combination of factors that came together at the right time. When, like so many, I became unemployed, I had a lot time for my new hobby - felting. When I realised that I could offer a new product with a great potential, all pieces of the puzzle came together. I saw that not only could I start my own business but also I could do something that I was dreaming of a long time ago. To make this decision was easy because I had such a strong gut feeling. I just knew that I had to do it - and I did inspite of all my fears.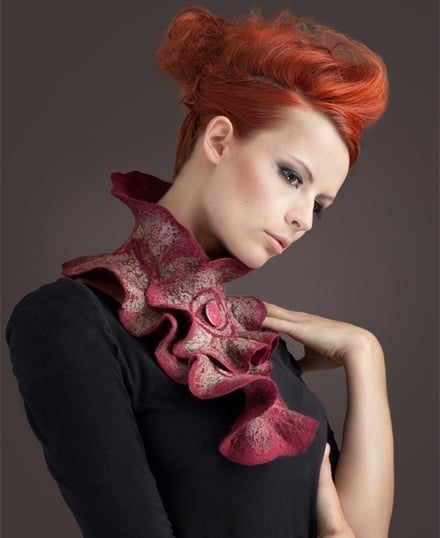 Was it tough getting started in business?
My first year in business was especially tough as my father was dying from cancer and I had to look after my parents back in Riga, while I was trying to get business of the ground doing everything myself and often working long hours. It was tiring, physically and mentally, but if you want to start a business you have to remember life brings its issues and you have to deal with all of that.
What's been the highlight of your career to date?
It has to be the Fashion Innovation Award that was on in Galway last April. I was so delighted as I was one of the finalists in The Best Accessories Designer 2013 category. For me, as a self-taught designer, it was a great honour to compete with professional designers on their level. The competition was very stiff, but just the fact that my work got recognition, and to be in the final encouraged me to press on.
You've recently expanded into the US market - what does that mean to you and your business?
The American market is a great opportunity for export of Irish made products, as it has so many people with Irish roots. This year I got new stockists in New Jersey and Canada (you can find a whole list of stockist on my website www.heartfeltfsahion.ie) and I believe it's only beginning for me, because felted products have massive popularity in North America.
Where do you get your inspiration?
Everytime it comes from a different source. To get the inspiration for colour, which is the key element in my product, I go to the nature, where you could find the most strange but beautiful colour combinations. I love Irish landscapes, I think we have not only 40 shades of green, but also the same for gray if we look at our sky, which changes so quick and has such dramatic contrasts. Irish heritage is also a big source for my inspiration but also history, literature and art.
What has been the greatest challenge you've had to face?
My greatest life challenge probably was moving to a new country and starting all my life from scratch. It was very difficult decision when I decided to move here. In my work I think the biggest challenge was to achieve a special distinctive softness of my felted neck-pieces. The difficulty with felt is that it can be too stiff so it took me almost 2 years of constant experiments to achieve the quality of softness I wanted.
What projects are you working on at the moment?
Now I am working on a range of cloaks made from my handcrafted fabric that has directional surface effects like textures created using different types of silk, lace, etc. Same as my other line I want them to be very feminine, dramatic and practical and easy to wear. I think that's what we all want in the end of the days - something that make us look stunning and not restrict our movements and comfort.
What's your motto?
Everything you do, do with all your heart. My brand name is Heartfelt Fashion and it is not only a play with the word FELT, but it also reflects the principle that I am trying to use in my life.