For the love of felt: it's a lot more than boiled wool, as far as Polish fashion and accessories designer Kate Ramsey is concerned.
Felt, once relegated to the arts-and-crafts projects of summer camp, has enjoyed something of a design resurgence in recent years. But for Kate Ramsey, felt is much, much more than a mere trend. A fashion and accessories designer, she works exclusively in the material. "Felt," she says with very little exaggeration, "is my passion." Kate Ramsey is originally from Poland but has been living and working in Limerick City for nearly 6 years.
She has been practicing felt making as a hobby since 2006 when she bought a felted bag in Barcelona; she was immediately drawn to the texture and the softness of merino wool. In 2010, she dropped her partially written potential PhD in sociology and to became a professional felt maker. She doesn't come from an artistic background, but over the years has developed a distinctive style of her own that makes her work stand out.
Georgina Heffernan caught up with the talented designer to find out a little more...
Georgina Heffernan: Did you always want to be a designer or was it something that you fell into by chance?

Kate Ramsey: I never thought that I would become a designer, my work came as an effect of the fascination of felted wool that I had. So when in 2006 I bought a felted bag at the Farmers Market in Barcelona, I spent a lot of time researching how felt could have been actually made. My career as a sociologist was at standstill at that stage, so I just started experimenting with different wools, suppliers, dyes and silk fabric to make textured felted silk scarves. They sold so I kept on experimenting!
When did you first start working with felt, and what's the appeal of the material?
As a child I looked after a flock of sheep, it convinced me that wool is the best quality natural material that one can wear in a cold climate. I took part in sheep shearing, so I was curious what happens next to that wool. Densely felted wool becomes pretty much water resistant; it also is long lasting and durable. Felt makes us feel cosy, as it has good insulating properties; not to mention that handmade felt is a renewable and an environmentally friendly fabric.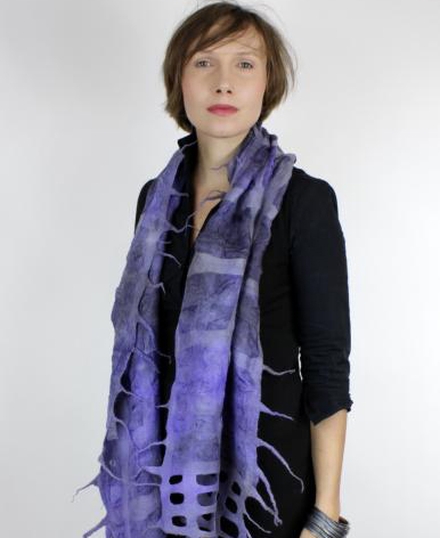 What's the most unusual project you've ever worked on?
Noting unusual is too unusual, as you can make pretty much everything from felt. So I made carpets, pillow covers, silk felt curtains, scarves, slippers etc.
What prompted you to start working full time as a craftsperson, was that a difficult decision to make?
The decision was simple, I absolutely loved making felt and I got great feedback from people who wore it, so I thought why not make it into a proper fully fledged business? There is no harm in trying. The cost of set up was low, the process itself very inspiring, my designs were pretty unusual... so they sold. I would not allow such opportunity to pass.
Was it tough getting started in business?
No I don't think so, for me it was simply a set of small steps. I did not have much money, so I made everything on my kitchen counter, bought white wool and dyed it myself so there was less costs to start with - starting low does not make much harm, major investments can be introduced later as the need for the crystallizes.
My best advice is to try to cover different markets. Local farmers markets are great starting point - trying to establish a busy shop online is another one (www.fabulousfelt.ie) and finally comes the time for selling wholesale to retail customers (by displaying at Showcase in Dublin). Never however forget that it's great to maintain the mix of income from different sources.
What's been the highlight of your career to date?
I have won the prestigious New Entrant Award at the Royal Dublin Society National Craft Competition in 2011 and a second place at the RDS National Craft Competition in the felt making category, as well as a special felt makers Ireland award. This has boosted my confidence and helped me achieve recognition from other makers and the Craft Council of Ireland, which looks after all craft makers based in Ireland.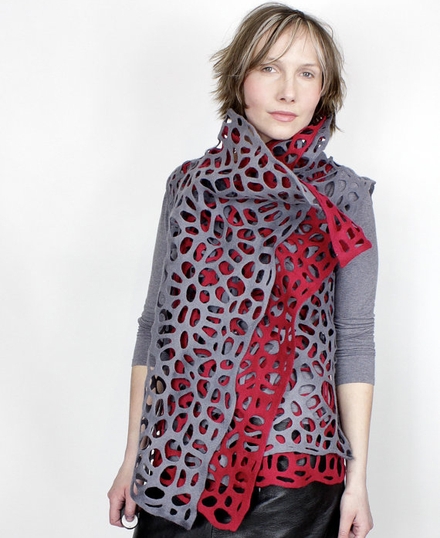 I read that you have many high profile fans in America and that it's quite a big market for you. Why do you think that your work has been embraced stateside?
I have been surprised by where my felt sells, American customers love my textures and colours and it is very much in vogue there to look different.They would choose very wild designs; French customers would go for simple, modern monochromatic forms, understated look. My product sells because it is complimented upon, and that's why my customers return every now and then. Some of them did so 10 to 20 times and I am in constant contact with them through my Facebook page. (www.facebook.com/FabulousFeltbyKateRamsey )
Where do you get your inspiration?
I get inspired when making, the more I make and the more I don't think about the making the better designs come to my head. It's usually something that has to be simple to make and easy to wear.
What has been the greatest challenge you've had to face?
Trying to win the RDS competition again! Still trying.
What projects are you working on at the moment?
The usual suspects, between supplying the retail shops in Ireland, to fulfilling the orders from Etsy; I perfect my making skills by repetition.
What's your motto?
Make something that you could easily wear yourself.