With fans such as Michelle Obama, Irish designer Yvonne Beale has certainly made her mark on the fashion world since she launched her label back in 2011.
Having being made redundant, Yvonne re-invented herself by launching her own label designed and hand-made in Ireland and she has attracted international acclaim with her stunning creations. Her collection combines the craft of knitting and crochet with luxurious precious freshwater pearls, gold and silver – all delicately interwoven to create timeless jewellery, hats, belts and purses. Georgina Heffernan caught up with the talented young designer to find out a little more...
Georgina Heffernan: Did you always want to be a jewellery designer or was it something that you fell into by chance?
Yvonne Beale: The first piece of jewellery that I introduced was at Showcase 2011, it was a large crocheted necklace and it scooped the 'Best New Product' award. I was astonished that I won that particular category with one of my first commercial designs. I'd always been creative and learnt knitting, crochet and dressmaking at my mother's knee, so designing was something that came very naturally to me.
What's the most unusual project you've ever worked on?
I was I was asked to knit a fairisle jumper for Colin Farrell to wear in the film Intermission. It was a pretty violent film, so he needed two identical jumpers - as one of them ended up getting covered in dirt and blood!
Have any other stars worn your label?
Well, my other claim to fame was that Michelle Obama has worn one of my crocheted necklaces. I decided to present it to her as a gift on her last visit to Ireland, so I made a visit to the American Embassy with a little package under my arm, not really knowing what to expect. Imagine my surprise when she was spotted wearing it, although I was even more shocked when I got a letter from The Whitehouse thanking me.
What prompted you to start working as a crafts-person?
I'd been working in Canada Life but I was made redundant, so I decided to start my own craft-based business. Of course, it was a shock to lose my job but it also gave me the chance to re-evaluate my life and what I wanted out of it. I'd always knitted and loved making jewellery, so it felt like a natural step for me.I had to sit down and ask myself:'Where am I going? What am I doing? Where do I want to go?'
Where do you get your inspiration?
I love the style of the 1920's, 30's and 50's. The elegance - and the amazing pieces - that people created during those particular periods in fashion history have always inspired me. I have a big stack of vintage magazines from those periods and I always look to them as a source of inspiration. Back then, there was a thriving crafts community and people used such fine yarns when they were making their clothes. They even knitted their own lingerie and they were able to because they yarns that they used were so delicate and so fine.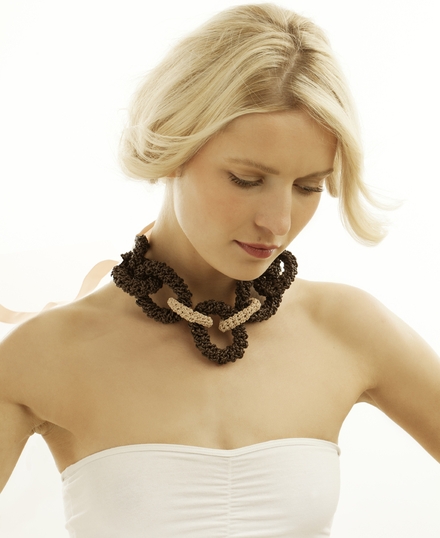 What has been the greatest challenge you've had to face?
Turning this from a hobby into a viable business has certainly been a challenge. When you're doing it as a business, it's totally different, and the main issue is to get people to acknowledge the time and effort that goes into each piece that you do.
What projects are you working on at the moment?
I'm really excited about the 'Crafted in Ireland' package. It's basically a little pack that shows you how to design your own piece of couture jewellery and it includes everything you need, plus instructions on how to do it. It's aimed at the younger market - women in their 20's or 30's - who like the idea of making something that little bit different. Making your own, whether it be jewellery or even clothes, is very fashionable right now. A few years ago people were almost embarrassed to admit it if they were wearing something that they'd made themselves; it was all labels, labels, labels. Now - the trend has totally reversed and people are delighted to say that they've made something from scratch. It gives them a chance to express their creativity
What's your average day like?
I'm based at the Guinness Enterprise centre and it's fantastic to have that space to work from. It's a whole lot better than working from home and it's helped me to really focus. I'm learning all the time and every day is different
Where do you see the label going in the future?
It's easy to have high and mighty aspirations but Ireland is very small - so in order to be successful it's important to look outside the island. I'm very interested in selling on-line and looking to overseas markets, such as the US.
What's your motto?
I want to do something different. It annoys me that Irish crafts have to be so, well, 'Irishy'. My goal is to modernise and innovate. I was delighted when Vogue knitting said that my work was 'A funky modern aesthetic liberating Irish tradition'...that's always been my aim.