Georgina Heffernan talks to Connell G Kennedy, Managing Director and Designer of Kennedy of Ardara.
Georgina Heffernan talks to Connell G Kennedy, Managing Director and Designer of Kennedy of Ardara and KennedyKnitwear.com.
Georgina Heffernan: Your family business has been manufacturing traditional Irish knitwear for 110 years - tell me a little of the history behind the label?
The company was founded in 1902 by my Grandfather, a draper, when he returned to Ardara from 20 years in the USA and married a seamstress, but the label really took off after the War when my parents started concentrating on the export business. Between the 1950s and 1980s, we employed 2,000 hand-knitters in the North-West, and sweaters knitted by women in their homes in Donegal would end up for sale in stores like Macys and Bloomingdales in New York, Altmans in Chicago and Neiman Marcus in Dallas. To stay on trend while remaining authentic, our designer incorporated the history of Aran knitwear into new designs each year which we would showcase at Fashion Shows in London and Dublin, and export as far away as Japan, Bermuda, Australia and New Zealand. We continue to develop and adapt new knitwear designs each year to this day.
I've heard that Sarah Jessica Parker is a fan. How did she discover your brand?
Sarah Jessica, and her husband Matthew Broderick, own a holiday home near Ardara, which they visit each summer. A lot of women in this area knit for our label, as we have been in business for 110 years and have gained a good reputation for our quality and selection, which no doubt she is aware of. A few years ago before her visit, The Irish Mirror ran a feature on how Sarah Jessica would spend her month in Donegal, and they showed our shop under the heading 'Where she shops'. We knew nothing of the article, so it was a pleasant surprise. When she recently stepped out in New York after the hurricane, wearing a traditional Aran cardigan, we again received enquiries.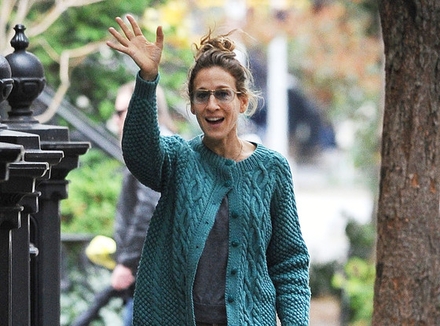 Knitwear is back in fashion in a big way, and is in all the high street stores this season. Is there a demand for traditional Irish knits?
To a large extent knitwear never went away, and has remained fashionable in Europe and America especially, but absolutely, it is more obviously back in fashion this season, meaning that a lot of high street stores are mass producing imitation Aran knitwear. Our sweaters are all hand-knit or hand loomed in Donegal, and therefore we are noticing a demand from consumers who seek the genuine article, higher quality and better value. It is one reason why we launched our online shop www.kennedyknitwear.com in November, and we are gaining orders from retailers and consumers right across the world.
What inspires the designs?
Our Aran knitwear is inspired by both current fashion trends and the rich tradition of the Aran sweater, where the pattern of the stitches tell a story and are closely related to the earth, the sea or home life. These designs were handed from mother to daughter for generations. Stitches such as a diamond twist and a honeycomb are based on the patterns of nature, while the cable, represents a fisherman's hardy rope, and the zig-zag represents the lane ways of the Aran Islands. Many also have a religious significance, like the ladder which represents a stairway to heaven. We incorporate these distinctive patterns
into modern design styles influenced by current fashion.
Have you had to streamline or change your business model as a result of the recession?
Our business has survived two World Wars and various recessions, so we are a durable label! This time around, we have learnt to curtail costs, reduce overheads and increase work on flexi-time. We have also focused on enhancing our business online, and recently launched www.kennedyknitwear.com, with the help of fellow Donegal people; the singer Moya Brennan of Clannad, Noel Cunningham of TV3 who was named 'Ireland's Best Dressed Man' and is an Ambassador for The Gathering, and local Ardara girl Maria Gildea, who models in our promotional photos.
What's the most satisfying aspect of your job?
Seeing people wear your designs, months and years after they started as maybe a scribble that came to you one evening. This is especially true of 'The Hillwalker', which is a unique design we created 20 years ago, but which has a loyal following. Some of our customers have 11 varieties of the sweater, and return year, after year to buy another. We often have international customers send us photos of them and their family wearing garments at a special occasion, which they bought from us online or in our shop. Gaining repeat orders season after season from satisfied retail customers is also hugely rewarding.
Where do you see the company going in the future?
Not many companies know knitwear like we know knitwear, and have been doing it for 110 years. Therefore, with knitwear back in fashion, we must use this to our advantage, using our expertise, while staying on-trend. We are growing our business online, and we are hopeful that this will see us grow our orders both internationally and in the domestic market, and allow us to employ more people locally.