The ultimate guide to looking great for a sensational spring wedding. Georgina Heffernan advises how guests can look ultra-glamorous.
Q. My sister is getting married in 2 months time and despite trawling the high street - and the internet - I still cannot find anything to wear. At 35, I don't want to wear many of the figure hugging styles that are hanging on the racks, but I don't want to dress like the mother of the bride either. Have you any advice?
A. It's that time of year again, when wedding invites start flooding in. While you may be excited about the forthcoming banquet and reuniting with long-lost friends and relatives, I can fully understand why you might despair - because weddings can be something of a sartorial nightmare. As a wedding guest, you'll need an outfit that's stylish, suitable - and sexy, if you're single - yet won't upstage the bride, and which you can wear more than once.
As if that wasn't bad enough , there are so many unwritten rules for guests to consider: Don't wear white, anything too revealing or a hat so wide or tall it would block the view of the person behind you. Avoid wearing black, which is more funeral-like than wedding and be sure to cover your arms.
That said, you really can't go wrong with a gorgeous cocktail dress; it's a very understated and classical look but very young and modern at the same time. The fashion role model here should be "high society's ladies who lunch" in well-cut, slightly retro, Hitchcock-inspired sheaths or pencil skirts paired with nipped-waist jackets. Just finish your look with a fabulous hat and you're good to go.
Look every bit as lovely as the lucky bride (well, almost) with our wonderful selection of wedding finery and accessories for a truly picture perfect day...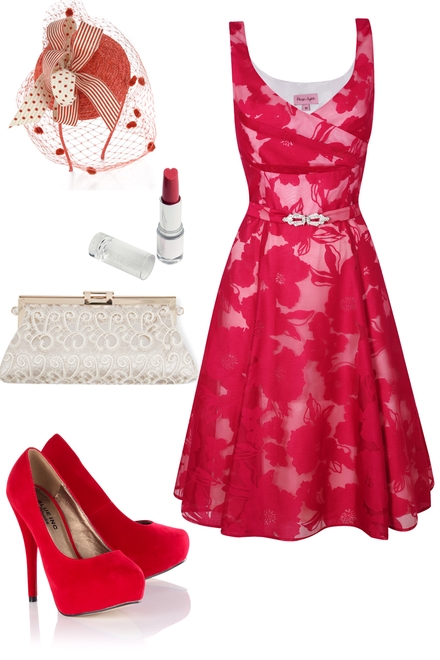 Look one: Carina Burnout Fit & Flare Dress €160 Phase Eight, Red Suede Court Shoes €34 Blue Inc, Lace Clutch Bag €15 Dunnes, Limited Collection Lipstick Rose €7.50 Marks & Spencer, Accessorize Braided Pill Box With Ribbon Trim €45
Look two: Twiggy for M&S Woman Blue Lace Dress €99, Dune Hopton silver heels €135, What's About Town Blue Leather Bow Clutch Bag €34, Accessorize Beaded Sequin Double Pill Box €45, Double row pearl and crystal necklace Martine Wester €89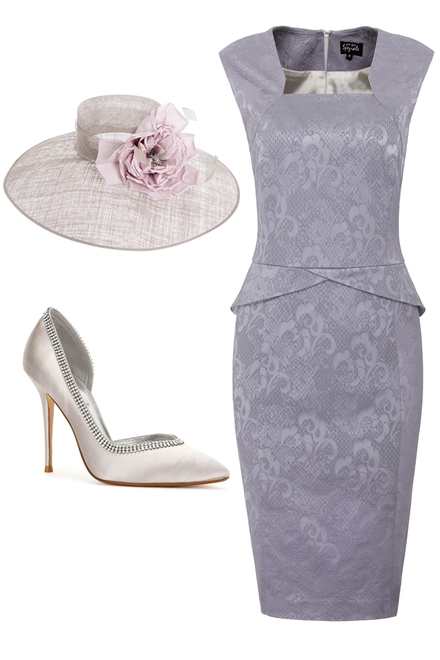 Look 3: Per una purple jacquard peplum dress €110 Marks & Spencer, Dune Blundeston heel €135, Sinamay hat €117 Debenhams