Embrace the great outdoors with this season's country-inspired fashion trends. Georgina Heffernan reveals the styling route to heritage chic.
Q: I've read in quite a few fashion magazines that the 'Heritage Look' is going to be big this season. What is it? And how do you style the look?
A. The Heritage look is one of the biggest trends out there this autumn and this season is all about mixing tweeds, checks and heritage fabrics, and dressing as though you're heading out for a day on the moors. And it's all down to the Burberry Prorsum Autumn Winter 2012 catwalk show: with the somewhat bygone era-sounding theme of 'town and country', it took the staple wardrobe pieces required for braving the great outdoors and put a cool new spin on them, making Country Heritage a coveted and desirable trend.
As well as traditional tweed, feathers, furs, flat caps, equestrian-style boots and waxed quilted jackets, Burberry incorporated Arts and Crafts-inspired woven florals with a country feel into the collection, which, along with the addition of bow belts around the models' waists and velvet detailing, put a feminine spin on what is generally considered to be very much a masculine trend.
And it is the now iconic illustrated owl emblem (along with other woodland creatures including foxes, dogs and sparrows) that featured on jumpers and t-shirts on the Burberry runway that have really made the trend go stellar, and have spawned a thousand high street lookalikes in their wake. While a cute owl jumper is a wise way to invest in the look, other elements of the Country Heritage trend are everywhere on the high street, too.
Check out how to wear and style the heritage trend in our how to wear gallery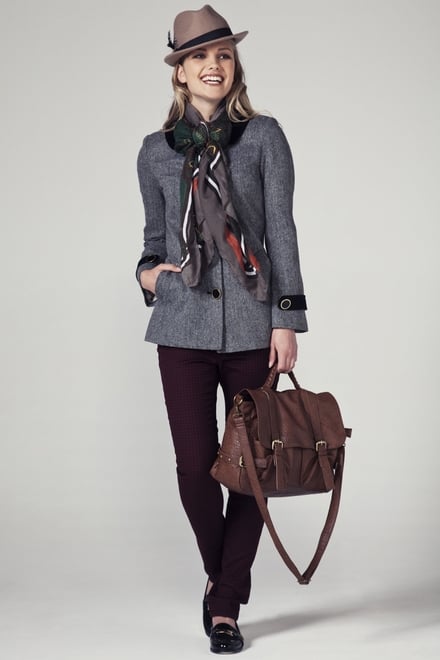 A|Wear have embraced the heritage trend this season
Quirky tweed hats with feathers can be worn with a tweed or waxed coat or jacket, chunky knits can be teamed with tweed skirts and trousers, and 60s stylet weed pointed flats are a subtle way to incorporate the trend into your everyday wardrobe.
The beauty of this trend is that whether you wear just one item or fully embrace the look, including some element of Country Heritage in an outfit will give you an instant new season wardrobe update.
Check out a gallery of high street 'Heritage' pieces in our how to wear gallery