Devised by Lorraine Massey, co-founder of DevaCurl and author of Curly Girl: The Handbook, the Curly Girl Method is meant to act as a lifeline for people who have no idea what to do with their thick and unruly hair.
It's a simple(ish) guide to caring for curls, coils, and waves so that they can look their very best.
Having parted ways with Devacurl six years ago, Lorraine is now the owner and founder of Curly World and took part in an event in Dublin called Curls Bonding with Brazilian-born, Irish-based, curl artist Saulo O'Deoraín.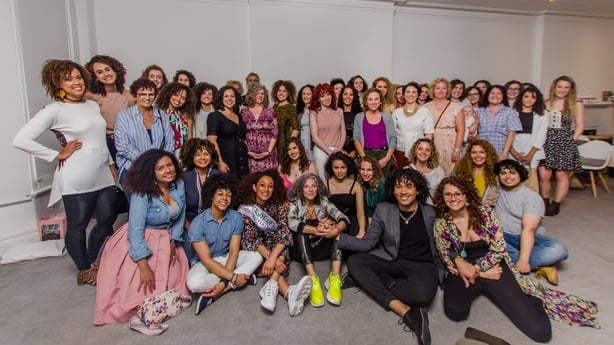 During the event, Saulo led a room of curly girls (and a couple of boys) through a journey of self-acceptance in regard to their hair. He and Lorraine discussed the challenges of not fitting in and learning how to work with their hair in a room of people who were there to learn from their expertise.
For professional advice from a curl specialist, you can pick up The Curly Girl Handbook here or visit Saulo in his studio, The Curly Look, in Phibsborough.
For my completely unprofessional (but tried and tested) advice, read on...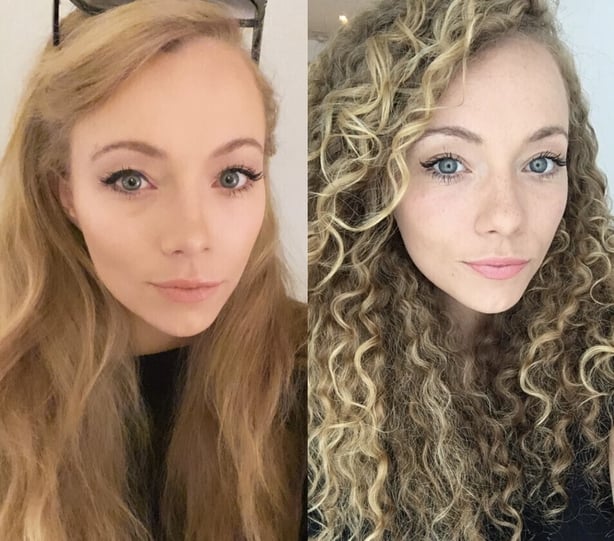 Step 1: Find out your curl type
Speaking at the event, both Lorraine and Saulo said that they do not endorse the classification of hair types, and it was not an original part of Lorraine's methodology, but many people have used it to better understand their hair.
Before I started my curly journey, I found it helpful to get to know the details of my hair - I'm talking density, porosity, width, and condition.
The types of products you use and the methods you rely on will come down to whether you're a wavy 2B, a curly 3A, a coily 4C, or anything in between.
You can take this quiz on NaturallyCurly.com to find out your hair type - click here.
Step 2: Find your fellow curlies
There are so many curly communities online, whether it's a Curly Girl Method group on Facebook or Curly-Influencers on Instagram, although it should be noted that none are endorsed by Lorraine or Saulo.
There is a treasure trove of tips and tricks online, especially from the Black haircare community, so be sure to do your research and find some accounts to keep you company on your journey.
When I figured out my curl type (shout out to the 3B gals), I searched the hashtag #3Bcurls on Instagram and found a bunch of amazing women to follow. From there, I found a select few accounts that I follow regularly including Curly Maven, Curly Green Eyes, Curly n Fab, Curly Barbie, Curly Girl Approved, and My Mane Curls.
If you're wondering what 3B looks like, think of Keri Russell in the 90s.
Step 3: Try, try, and try again
Patience is key with the curly girl method. If your hair is heat-damaged or has lost its natural curl pattern due to years of flat ironing then, I'm sorry to tell you, you're probably going to have some awkward growing pains.
My advice? Go cold turkey. In the beginning, even one blow dry would knock my curls out of shape for weeks so, if you can, wave goodbye to heat styling for a while.
Next, get ready to spend a lot of time and money on finding the right routine for you. I watched Curly n Fab (aka Lisa Moscatelli) go through her full routine on YouTube, ordered the same products, followed it step by step, and then figured out what worked and didn't work for me.
Did this leave me with full bottles of products I'll never use? Yes, absolutely. But it also set me on the path to getting my routine down. After a lot of trial and error, and figuring out how much protein and moisture my hair needs, I can buy products without too much hesitation.
Be sure to check out some Facebook groups before you throw away any products as the curly girl community is great for doing regular product swaps and recommendations.
We need your consent to load this YouTube contentWe use YouTube to manage extra content that can set cookies on your device and collect data about your activity. Please review their details and accept them to load the content.Manage Preferences
Step 4: Follow the rules... a bit
The basic do's and dont's of the curly girl method are as follows:
Avoid products with silicones, sulfates, alcohol, and artificial fragrance.
Don't use combs or brushes.
Step away from the heat styling tools.
Don't use a normal towel to dry your hair
Use protein-rich products
Use moisturising ingredients
Cleanse your hair once a week with a low-poo or no-poo product (a type of hair cleanser), as shampoo is too harsh and drying on curly hair. Use your fingers to cleanse your scalp thoroughly.
Condition your hair well and use your fingers to comb out the knots.
Rinse the conditioner out but don't worry if there's a little leftover as curly hair is thirsty hair.
Using an old t-shirt or micro-fibre towel, dry your hair a little.
Style your hair using your preferred method and allow it to dry naturally or use a curl-friendly diffuser.
This may sound simple but, in all honesty, it's really not. There are so many more steps depending on what products and methods are right for you, and these may change as your hair journey progresses.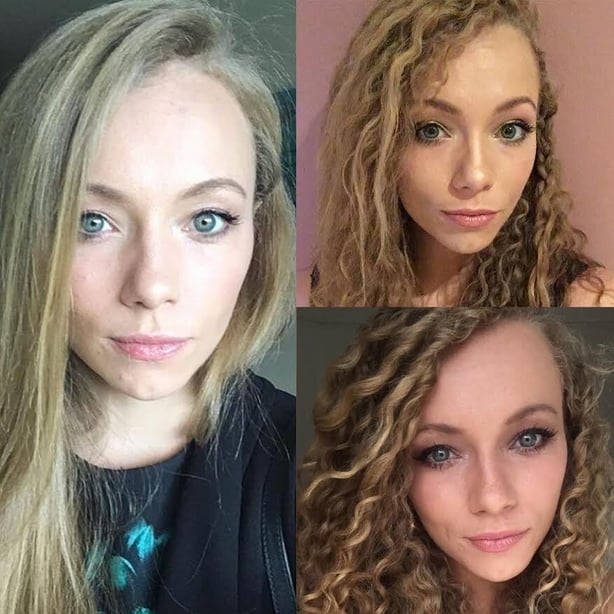 For anyone wondering, my own curly girl(ish) routine is as follows:
Scrub scalp well with a sulfate-free clarifying shampoo to get rid of product build-up.
Condition with a sulfate-free conditioner - allow it to sit in the hair for a few minutes to really soak in.
Gently comb through tangles with a wide-tooth comb or Denman paddle brush, distributing the conditioner thoroughly.
Slowly rinse out the conditioner while squishing the hair to the scalp, keeping the hair soaking wet.
Rake leave-in conditioner through wet hair from root to tip with your fingers or use your comb/brush. Try to comb out and up rather than down so as to give your hair volume.
Using a spray bottle filled with water, keep the hair damp and encourage the curls by coiling them around your finger to give them shape.
To style, apply a small dollop of styling cream using prayer hands.
Next, flip the hair upside down to encourage volume and use a micro-fibre towel or old t-shirt to scrunch the hair towards the scalp to get rid of the heavy wetness.
Finally, apply a light layer of oil using prayer hands and allow the hair to air dry.
Extras
Every few weeks, if my hair needs some extra definition, I do a hair mask - get the recipe for a homemade avocado mask here.
Before a wash day, I massage oil into my scalp and through my hair to promote hair growth. Seerat Saini has some great Ayurvedic massage tips.
We need your consent to load this Instagram contentWe use Instagram to manage extra content that can set cookies on your device and collect data about your activity. Please review their details and accept them to load the content.Manage Preferences
Step 5: Learn the Lingo
Squish to condish, gel cast, scrunch out the crunch, prayer hands, roping, raking, plopping, pineapple... have I completely lost you?
There are so many ways to care for curly hair, but I have found that watching girls on YouTube and Instagram demonstrating their methods is the handiest way to pick up terms and tips.
Here are just a couple of terms to get you going:
Casting
While your hair is wet, apply a curly-approved gel - this will leave your hair with a crispy gel cast. Then, allow it to dry fully, either naturally or by using a diffuser, before you gently 'scrunch out the crunch' with your hands.
Clumping
This is when you coax your curls into sticking together to get fuller, bouncier, more structured curls.
Rake and Shake
Rake the product through wet hair with your fingers, working from root to tip. Then, gripping the end of your hair, you shake it so that the curls fall back into their natural pattern.
Praying Hands
First, apply the product to your hands. Next, put your hair between your palms, placing them together as if you were praying. Glide your prayer hands down your hair so that the product is applied gently, without breaking up the curl.
Pineapple
Turn your hair upside down and use an Invisibobble, satin scrunchie or banana clip to loop your hair into a loose bun at the top of your head, keeping your curls safe while you sleep.
Squish to condish
When you're in the shower rinsing conditioner out of your hair, step away from the water from time to time and push your hair from the ends towards your scalp, squishing it as you go so that the conditioner gets a second round.
Step 6: Don't give up
It will be worth it in the end, I swear! There will be split ends, sweat, and tears but if you stay patient and get through the growing pains, your hair will reward you. At the same time, don't be kicking yourself if you succumb to the odd blow dry; this journey is a marathon, not a sprint.
Feel free to break the rules a little (sorry, Lorraine) and learn along the way. Gel has never worked with my hair no matter how hard I try, finger-combing is just too much work, and anything but air-drying leaves my hair a frizzy mess. Make the method work for you.
If you need some inspiration, check out some of these amazing transformations below...
We need your consent to load this Instagram contentWe use Instagram to manage extra content that can set cookies on your device and collect data about your activity. Please review their details and accept them to load the content.Manage Preferences
We need your consent to load this Instagram contentWe use Instagram to manage extra content that can set cookies on your device and collect data about your activity. Please review their details and accept them to load the content.Manage Preferences
We need your consent to load this Instagram contentWe use Instagram to manage extra content that can set cookies on your device and collect data about your activity. Please review their details and accept them to load the content.Manage Preferences