Sarah Magliocco delves into sustainable swimwear, and speaks to the Irish brands leading the charge when it comes to eco-conscious togs that won't break the bank.
When it comes to shopping sustainably, swimwear is a space where even the most environmentally conscious among us may fall down, be it through the idea that there are limited options or the costs that are associated with buying better quality, sustainably produced pieces.
Fast fashion has become part and parcel of most people's day to day life, purchasing and owning pieces at the click of a button at a rate that would gobsmack the fashion consumers of just one generation previous.
A survey by environmental charity Hubbub found that more than two-fifths of 16 to 24-year-olds buy clothes online at least once a week, with an average of 13% of people in other age groups doing the same. Online shopping, social media trends and the affordability of fast fashion are all contributing factors.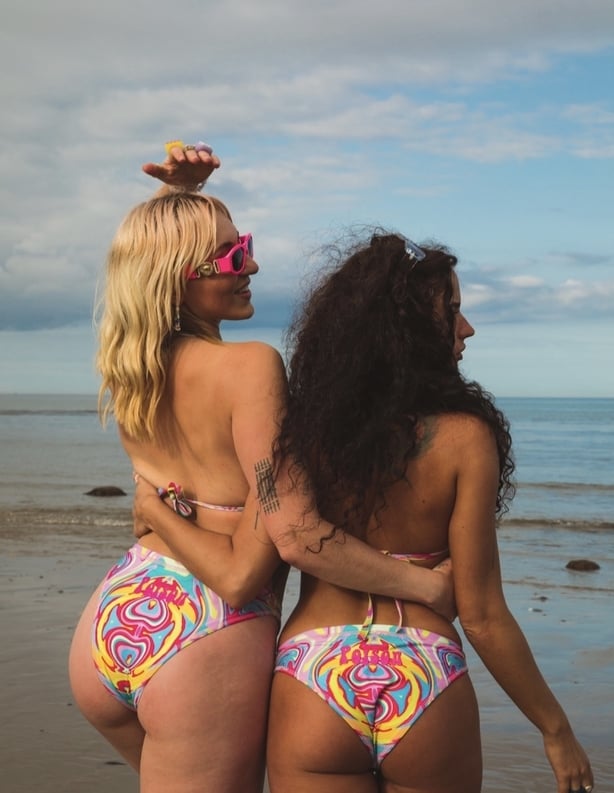 The average person already has 57 pieces of clothing in their wardrobe that they don't wear, according to research by Oxfam, but what about how we treat the clothes we do wear, and how we perceive their value?
As a teenager, there was an attitude in my peer group that you couldn't be seen in the same outfit for an occasion twice, and once an ensemble had made its debut at one disco or nightclub, that was the end of it. But dresses were passed around and borrowed extensively, as there were fewer affordable options and everything was bought in person, on the high street.
Now that disposable, 'can't wear it twice' attitude can be fulfilled with new garments each time, with trendy polyester pieces posted directly to your door from across the globe. This especially ramps up once summertime hits.
For those of us wanting to buy sustainable, long-lasting swimwear, shopping locally from brands who have a transparent responsibility ethos is the ideal place to start. Luckily, the Irish swimwear market is beginning to flourish with brands honing in on the demand for eco-conscious, ocean-friendly and stylish togs.
We need your consent to load this Instagram contentWe use Instagram to manage extra content that can set cookies on your device and collect data about your activity. Please review their details and accept them to load the content.Manage Preferences
Grainne Binns is one such entrepreneur, whose independent fashion brand Subtle Poison is known for its festival-friendly pieces and practical but quirky styles that accommodate hobbies like skating, surfing and yoga without compromising on style.
She has invested in a recent revamp in manufacturing processes to zero waste factory policies and a selection of certified recycled fabrics. Grainne is in the development stages of producing more swimwear for her audience.
"Being someone who swims so much it was important for me to make sure that when I'm in the ocean, I'm not damaging the ocean further," she said, as an avid sea swimmer herself who recently finished a challenge of cold water swimming every day for 100 days.
"I thought to myself, 'I don't want people to think that they are buying this with just their holiday in mind.' People can wear something on their holiday, but also in the winter in a spa or sauna setting," she said. "I think we need to switch the mindset from being just holiday-based, and that is what I'm trying to do in my own design process. I need to get out of that mindset to get the consumer out of that mindset."
Building an authentic parlay with customers about the brand is intrinsic to changing how people value clothing. "When they have that connection to the pieces because they connect with the brand, it's not as easy to dispose of something. That is what we need to work on to avoid the feeling of wanting to throw something away, and giving pieces a story too."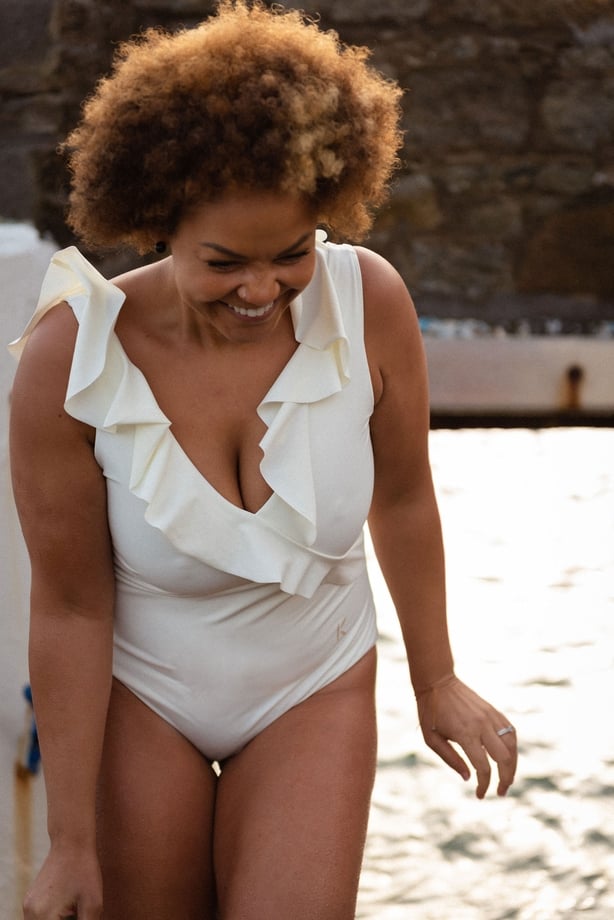 Another such brand that has built a community around its story is Kahm, a sustainable swimwear company based in Donegal, founded by sisters Áine Boyle and Sally Anne Sheery, who will be sponsoring gear for the Irish swimmers taking part in the Special Olympics at the 2023 World Games in Berlin in June.
Their fabric is fascinating: a regenerated nylon called ECONYL®, which is made from old fishing nets, nylon scraps and carpets. The brand is in partnership with Healthy Seas, a non-profit environmental organisation who, among many other things, recover some of the fishing nets that are regenerated to make the ECONYL® used in their designs. 1% of all company profits are donated to the charity.
"The first thing we needed to figure out was the fabric, and it was sort of a no-brainer because the yarn has such a good and genuine story," said Sally Anne. Both sisters are interested in sustainability and environmentalism, and Sally Anne explained that looking towards the future, she thinks that people will be much less inclined to buy anything that doesn't have a sustainable ethos behind it.
The company is developing its swimwear options, focusing on furthering a range of bikinis to offer more options to their customers, who are already environmentally conscious. "We have a strong customer base that, I think, understand and appreciate that a sustainable swim item is an investment," she said.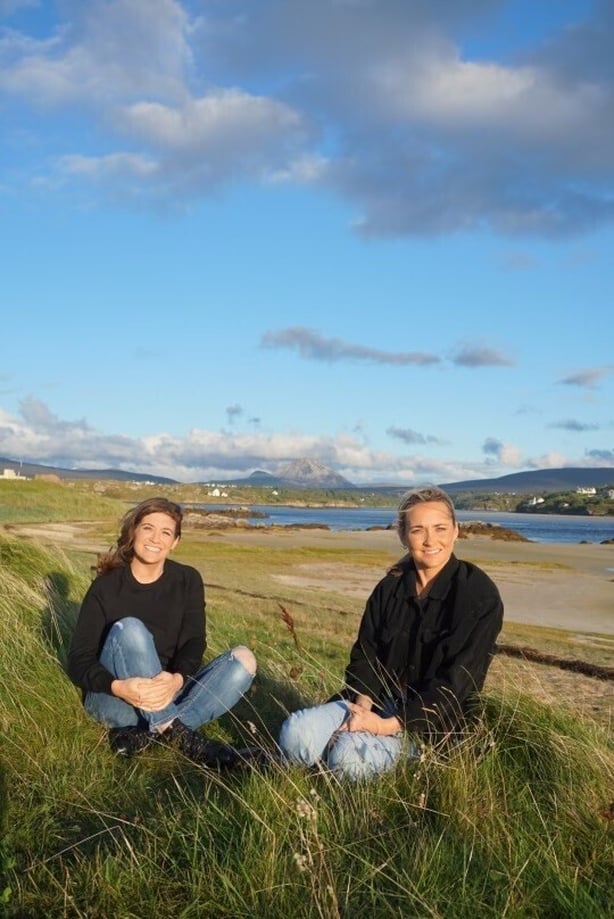 "If a bikini or swimsuit is coming to the end of its life after a lot of use, they want to return them to us to recycle, so we are appealing to a committed audience to sustainability and fashion. This is an investment, look after it, take care of it, wear it over and over and be proud. If you are buying a bikini from us, it's not disposable after your holiday, it has cost you that little bit more."
Sally Anne also points out that it is an unfolding process, and like many other entrepreneurs, she and her sister are learning on their feet."[Kahm] is supposed to be about learning, about fun, about Donegal. We are not experts in anything, we just try our best."
Grainne echoes this message, saying that while sustainable swimwear is an emerging space in Ireland, we should do our best to apply good practices to shopping and over-consumption but not chastise ourselves if we ultimately opt for a fast fashion piece that we have taken the time to consciously consider.
"I do my absolute best and don't beat myself up or be too hard on myself because at the end of the day it is important to remember that as the consumer, you are one person and one person can make a huge difference, but if you put everything on yourself it can be overwhelming."
We need your consent to load this Instagram contentWe use Instagram to manage extra content that can set cookies on your device and collect data about your activity. Please review their details and accept them to load the content.Manage Preferences
She adds that she has a process for shopping: "If I see something that I like in a fast fashion shop, there are a certain amount of questions I ask myself around it like do I really love this or is it just trendy at the moment, is this something I think that I can see myself wearing next year or ten years time, and is it going to last, does it have that durability.
"Then, I'll leave it 24 hours, and if I'm still thinking about something then okay, I'm not going to deprive myself of it. I also look into Depop and see if I can find the same piece second hand on."
On the topic of Depop, the second-hand and vintage market in Ireland is a thriving space, with incredible independent retailers offering a multitude of carefully curated collections of 'new to you' pieces.
We need your consent to load this Instagram contentWe use Instagram to manage extra content that can set cookies on your device and collect data about your activity. Please review their details and accept them to load the content.Manage Preferences
Grace Collier founded Limerick vintage store Spice Vintage, and now offers online stock drops that her customers can shop in bursts. She showcases her weekly collections via social media before unleashing the hand picked items for sale via her website.
Grace includes vintage swimwear in her drops, and says the response from her audience is very positive after she works to market the pieces in a way that shows off their versatility.
"I wanted to set up a vintage shop because I love vintage clothing, then sustainable fashion came into play about a year and a half into the business, I saw girls coming into the shop purposely to get involved in sustainable fashion. I do feel like the movement has slowed down a little bit, as things do... we might see it coming to prominence again soon, I hope," she said thoughtfully.
"I know a lot of people who consider themselves to be vintage fans find it easy to root through a thousand rails of clothing in a vintage shop, but a lot of people hate that, but they want to get involved in it and can't. I suppose that is why Spice is brilliant, because I do that for them, and then they can just hop on a drop on a Friday and the pieces they connect with are there."
Whether you look to the designs of the past provided by vintage or contemporary designs championing low waste production and innovative fabrics, the Irish sustainable swimwear space is one that is blossoming before our very eyes and will no doubt continue to develop in the coming years.
It carries with it a strong message of looking after the very seas we plunge ourselves into at home or abroad, during a summer holiday of 365 days of the year, via the pieces we choose to wear while doing so.