Louise Cooney has never been busier: she's got a new brand launching in the coming months, a new man in her life, a busy book club that's going strong after seven months, and she works daily to keep her 213k Instagram followers and 40k YouTube subscribers engaged and growing.
If you follow Louise you'll already know she works out (lots), loves fashion, has a new found interest in cooking and always looks impeccable. I had heard Louise has a strong work ethic and was dying to hear her days look in lockdown and what she uses to maintain her natural healthy glow.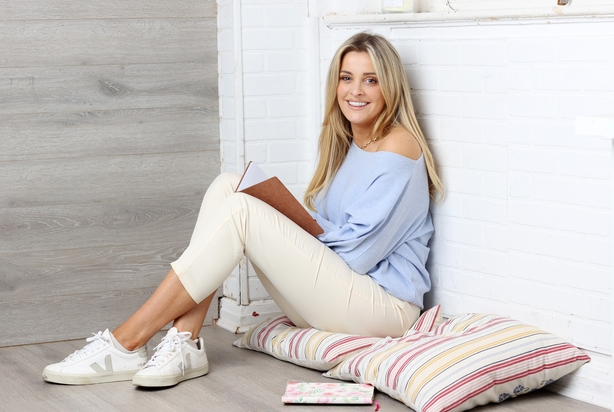 It was interesting that Louise didn't mention any makeup products when I asked about her favourite beauty products, maintaining healthy skin is her priority. Louise keeps her products as natural as possible, she's done her research and knows what works for her.
"For me makeup is always about skin, if I want my makeup to sit well I have to really use my serums and my retinol", she says adding that No7 Advanced Retinol 1.5% Complex is her favourite.
"In the morning, lots of hydration, vitamin C, the hydration sprays and then I find I've a really good base". Louise hydrates internally as well as externally every day, saying "I try and drink two litres of water a day, the reusable bottles are always in my fridge."
We need your consent to load this Instagram contentWe use Instagram to manage extra content that can set cookies on your device and collect data about your activity. Please review their details and accept them to load the content.Manage Preferences
When it comes to haircare Louise takes care to nourish from the inside and avoiding heat damage as much as possible. "I'm taking vitamins to help my skin and hair", says the Cleanmarine ambassador.
She also limits hair damage by using a Steampod to style her hair, "which has steam as oppose to heat, I've found a big improvement in my hair since using it".
"I think sometimes people get confused when we talk about beauty, it's not just loads of makeup, sometimes it can be just keeping your skin in really good condition with the right products, or it can be keeping your hair in really good condition. True beauty is when you're glowing from the inside out. Looking after yourself."
Here are Louise's top five beauty products:
1. The Revitalash Advanced Serum
"I use it every single night, my lashes grew so much and they're so long. I've been using it for coming up to two years".
Cult favourite Revitalish Advanced Serum is available here.
2. Pestle & Mortar Glow Drops
"I love these drops for a bit of colour!"
These drops can be popped into your night cream for a beautiful light tan in the morning, available here.
3. Caudalie Vinoclean Cleansing Almond Milk
As Louise find cleansers like Micellar Water "a bit rough on your skin" she prefers to use something with natural ingredients like the beautiful Caudalie Cleansing Milk, available here.
4. Super Facialist Vitamin C Sleep & Reveal Night Cream
"It just smells so good", the latest addition to Louise's skin regime is this affordable night cream available here.
5. Clarins Double Serum
"If my skin needs hydration I just put it on overnight. I always go back to this", the bestselling Clarins Double Serum that claims to "do it all" is available here.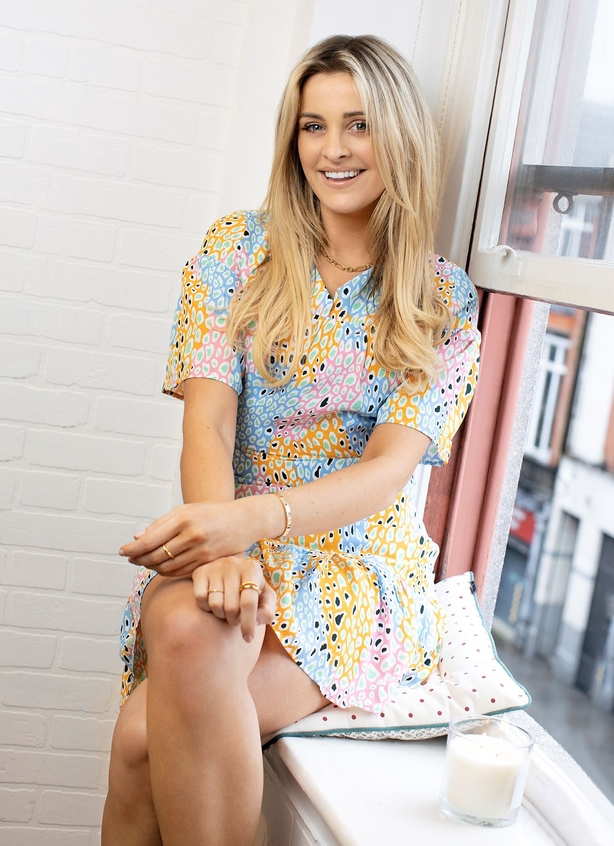 Despite the fact that Louise feels more comfortable without a lot of makeup, adding "it's just not me", she's not immune to the pressure to look flawlessly filtered.
She admits to reading some not so flattering words written about herself, saying "I see comments online, it's awful. 'Jesus she's very red eyes', 'she's puffy eyes/has she put on weight', 'her hair looks really dry'".
Louise even finds herself apologising when she's not completely glammed up, thinking "Are you doing your job right if you don't have your game face on?" But despite this underlying pressure, she always prefers watching her own content back when she looks more like herself and not so done up.
When it comes to Botox, the Instagram star has a similar opinion: "I think natural is always best, sometimes people get carried away, it's not a good look and it doesn't age well." Louise is sticking with anti-aging creams only, for now. "When it comes to Botox, as I get older that might be something I'd consider - as long as it's done in a natural way and you still have movement in your face."
Lip fillers would be a firm no as she believes it's a trend on its way out, and points to influencers like Molly Mae who are now deciding to get them dissolved. Louise is happier with the more cost effective and less invasive "over-lining" lip liner technique!
We need your consent to load this Instagram contentWe use Instagram to manage extra content that can set cookies on your device and collect data about your activity. Please review their details and accept them to load the content.Manage Preferences
Career goals, love life and staying home
It's clear that Louise has worked hard to get where she is. Before being self-employed she worked 9-5 and once she quit to pursue blogging full time, she maintained those hours and more. "I feel guilty if I'm not working all day even though I work in the evenings too", she says. "I was working until 9pm last night. When I have a good momentum going I'm buzzing for it, it doesn't always feel like work."
Louise has a new brand launching soon, although there's been delays due to Covid. Still, she's hoping to launch it in May or June. Everything is still under wraps but the social media star has admitted she put up a question box asking her followers what they thought it was and nobody guessed it. "I don't think many people will see it coming but I think it's something that everyone will love"
Louise has been involved in every element, "the idea, the production, the design, everything".
The loved up glow is a contributing factor to Louise's sparkling skin, as she's had a new beau for the past four or five months. Finding love in lockdown is no easy task, and I asked her for some tips for singletons hoping to get lucky.
Louise suggests trying a dating app as there's lots of people on them that have returned home due to the pandemic and are maybe in the same position as you. AKA fresh blood, people!
Despite spending "a fortune" on setting up a new life in NYC before the pandemic, Louise has admitted she won't be going back and doesn't "see herself moving again".
Louise admitted missing her family, good friends and "people that knew me" when she moved her life to NYC. Like lots of Irish abroad, Louise returned home once Covid hit, saying now: "I'm glad with the way things worked out, the decision was taken out of my hands, I did it I closed that chapter, I'm happy to be home. Things are working out for me here, I'm happier here."
Louise is currently a brand ambassador for Cleanmarine for Women.