It's already one of the most-talked about television events in recent years, and it hasn't even taken place yet, but eyes are already on Meghan Markle and what she'll be wearing during her interview with Oprah Winfrey.
Winfrey will speak with Meghan, The Duchess of Sussex, in a wide-ranging interview, covering everything from stepping into life as a Royal, marriage, motherhood, philanthropic work to how she is handling life under intense public pressure.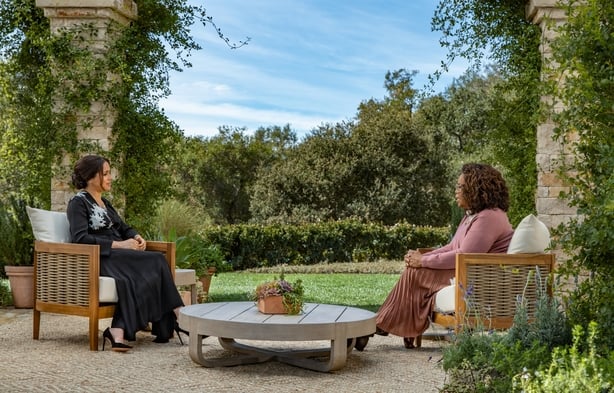 Later, the two are joined by Prince Harry as they speak about their move to the United States and their future hopes and dreams for their expanding family. The interview will air on March 8 at 9:30pm on RTÉ 2.
It's the event we're all waiting for, and fans have been discussing the details of her outfit with almost as much interest as they did her wedding dress. Knowing how the royal family use clothes to send messages, it's no wonder people are so intrigued by her look of choice.
The Duchess of Sussex chose a classically beautiful outfit, wearing a flowing monochrome Giorgio Armani gown. The "long triple silk georgette dress" cost £3,300 and featuring a striking lotus flower print across the shoulder and bust in contrasting white.
The long sleeves added to the glamour, while the flowing silhouette and cinched belted waist emphasised her growing baby bump.
Meghan accessorised her outfit with a pair of sleek black pointed toed Aquazzura heels, a delicate pair of gold earrings by Birks and her favourite Cartier Love bangle, a staple in her wardrobe.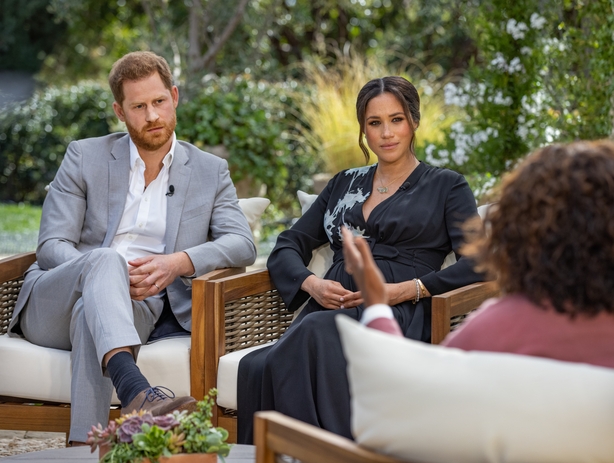 But her accessories drew attention for another reason, as the Duchess included a nod to her mother-in-law, Princess Diana by adding the late Princess's sparkling diamond tennis bracelet.
The Duchess has owned the bracelet for a few years now, and was first spotted wearing it in 2018 during the royal tour of Australia and Fiji, another landmark event for the couple as it was their longest work trip together and came just after they announced they were expecting their first child, Archie Harrison.
Her beauty look was just as stunning, as she opted for an elegant textured up-do, her hair gathered into a low bun and two waved strands framing her face.
Her makeup was dark and dramatic, with bold black eyeliner and smoked out eyeshadow helping her eyes pop. She finished her look with a nude lipstick and a swirl of pink blush.