Marian Keyes has summed up our 2021 energy by wearing one of the most coveted dresses of the decade to put the bins out, because why not? 
Sharing a sneaky snap on Instagram, the beloved author took a leaf from Kate Middleton's style book, donning the same shimmering emerald gown she wore when visiting Ireland. 
We're well used to seeing practically everything Kate Middleton wears going viral or getting snapped up thanks to the "Kate effect", but when the Duchess stepped out in a shimmering emerald green gown while touring Ireland last March, it went more than viral. 
We need your consent to load this Instagram contentWe use Instagram to manage extra content that can set cookies on your device and collect data about your activity. Please review their details and accept them to load the content.Manage Preferences
The breathtaking gown, the Falconetti style by The Vampire's Wife, was already a go-to style for celebrities, but the metallic green version was an elegant choice for the cocktail reception at the Guinness Storehouse's Gravity Bar. The delicate ruffles at the hem and wrists perfectly suited Kate's romantic style, while the high neckline was fashionably modest.
And it seems the fashion powers that be agreed that it was a truly standout dress, with Vogue magazine naming the Falconetti style the dress of the decade in November. 
Anyone who follows Marian Keyes on Instagram knows she has a keen eye for the glam, the fun and the special, so it's no wonder she managed to grab one of the coveted dresses. 
"Just putting the bins out! Big night tonight, DOUBLE bins!" she wrote on her Instagram post, posing in her bathroom mirror while wearing the dazzling dress, her hair pulled up into a high and voluminous ponytail. 
"It might be a while before I get to wear this dress and earrings in the outside world. We take our chances where we can...", she added.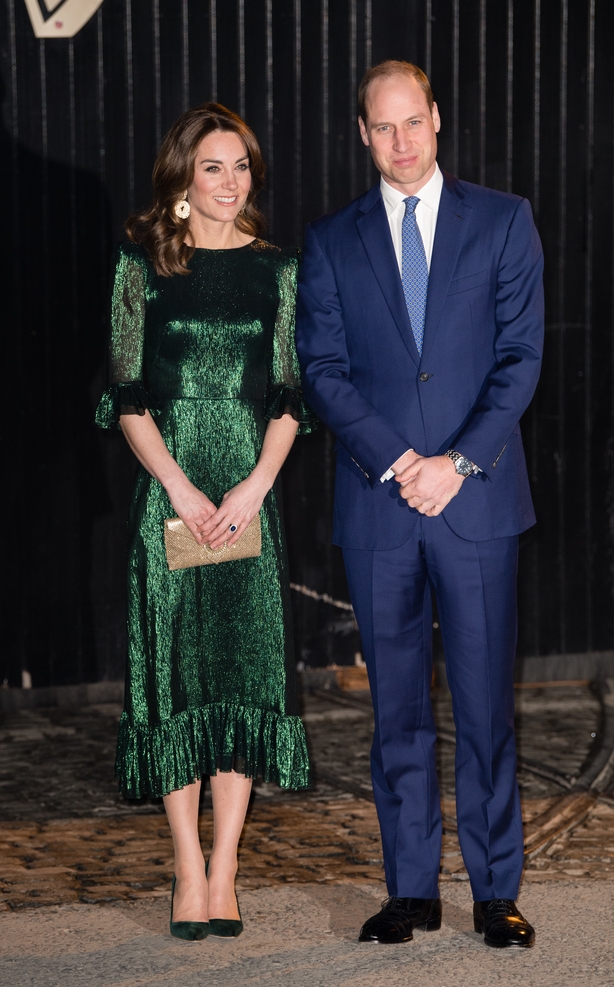 The author, and keen fashion and beauty enthusiast, decided to ramp up the glam while she was at it, adding a flick of black eyeliner to make her eyes pop, a warm peach blush and a delicate pink lipstick. Finished with a pair of dazzling Gucci earrings, Marian looked ready for a night indoors amid another lockdown. 
But still, her post brought the perfect amount of glitz and glamour that many of us are missing during a very chilly January.
We're personally in favour of the kind of energy that sees you wear your glad rags to do the chores, because when going out for drinks and dinner is still a way off, dressing up for the catwalk from your door to your gate is worth the effort. More of this, please!