Pharrell Williams is the latest famous face to dip his toe into the world of skincare.
It's now rare for celebrities to stick to just one industry, and they're increasingly becoming multi-hyphenates and working across music, film, fashion, beauty, homewares and more.
Skincare seems a logical step for Williams, 47, who doesn't look like he's aged a day since he burst onto the scene as part of producing duo The Neptunes in the 1990s. His new line is called Humanrace and launches on November 25.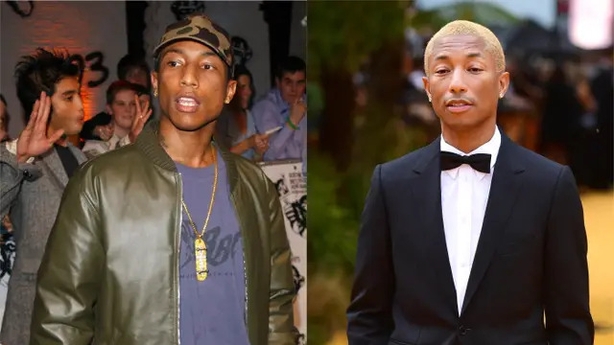 Williams isn't alone in his love of skincare, and joins a growing group of celebrities bringing out their own lines…
Rihanna
After the runaway success of Fenty Beauty, it made sense for Rihanna to debut Fenty Skin earlier this year. The line is all about making skincare easy, with products having dual purposes – like the two-in-one toner and serum, and the moisturiser/sunscreen combo.
While a lot of beauty and skincare advertising focuses on women, Fenty Skin is somewhat unique by featuring both men and women from the get-go. When the line was debuted, Rihanna enlisted musicians Lil Nas X and ASAP Rocky as models.
Kylie Jenner
Like Rihanna, Kylie Jenner launched Kylie Skin in 2019 off the back of her successful make-up empire. With a whole range of serums, scrubs and exfoliators, the line is certainly extensive – and all in Instagrammable, pale pink packaging.
Millie Bobby Brown
Stranger Things actor Millie Bobby Brown has her own make-up and skincare brand called Florence by Mills. There's a big focus on 'clean' beauty, with the brand saying: "Clean means saying no to parabens, sulfates, animal testing and animal by-products, and saying yes to vitamins, antioxidants, and botanicals."
Paris Hilton
Paris Hilton's line is called ProDNA, and she puts a big emphasis on the science of skincare. The products are formulated with an ingredient called 'GenoMatrix', described by the brand as "a revolutionary formulation of powerful enzymes derived from marine microalgae and other natural, active ingredients".
Miranda Kerr
Set up in 2009, supermodel Miranda Kerr's company Kora Organics was one of the earliest celebrity skincare lines. The products are certified organic, vegan and involve no animal testing – Kora Organics helped spearhead the current trend for clean beauty.
Jessica Alba
Jessica Alba's Honest company isn't just about skincare – it's a wellness empire spanning beauty, diapers, cleaning products and more. When talking about Honest Beauty, Alba told Vogue: "I wanted to create a clean beauty company that lives up to its promises. These are uncomplicated formulas that are both botanically based and scientifically proven." As someone who struggles with sensitive skin and eczema, Alba wanted to formulate products that worked for her.
Madonna
Everything about Madonna's skincare line is luxurious: the packaging is silver and expensive looking, the advertising is abstract and the story of the brand is told in eight 'volumes' on the website. MDNA Skin doesn't just sell serums and moisturisers, but gadgets as well. For example, the Skin Rejuvenator is described as "an all-in-one device that features two specially designed heads, one for removing impurities and the other for infusing the skin with beauty ingredients".