As the saying goes ''your hair is the crown you never take off'' and while some people are blessed with beautiful bouncy thicker hair, others aren't. I fall into the latter category and that has been a bane in my existence for many years.
My hair is naturally both fine and thin, and having spent years putting it through the mill with hair dye and heated tools, it's gradually gotten worse. After spending years looking at magazines, longing for thick bouncy hair, I finally decided to try hair extensions and I haven't looked back since.
Until recently, I have worn Great Lengths Pre-Bonded hair extensions and I've been very happy with them, but after doing some research I learned that tape extensions are also a great option for fine hair. They only last six to eight weeks before they have to be removed and re-taped, which is a real advantage as it means that you can get your hair trimmed more regularly, which in turn helps improve the condition of your hair.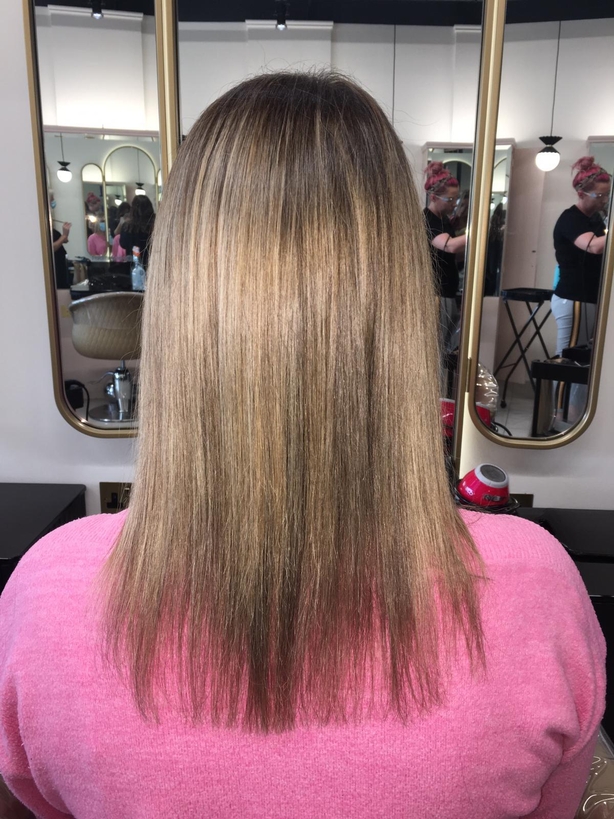 So what is the difference between tape and bond extensions?
The GL tapes extensions are made up of inch-long strips of 100% human hair. The tape contains a medical-grade adhesive, which is both hypo-allergenic and non-toxic. Tape extensions are a more temporary option as they only last six to eight weeks before needing to be re-taped. If well maintained they can be re-taped up to three times. Although the tapes are bigger than bonds, they are very light-weight.
GL Bonds are tiny light-weight bonds made up of keratin, a compound that is found in and mimics natural hair, meaning they expand when wet and contract once they are dried. With the correct care and maintenance, bonded extensions can last from four to six months.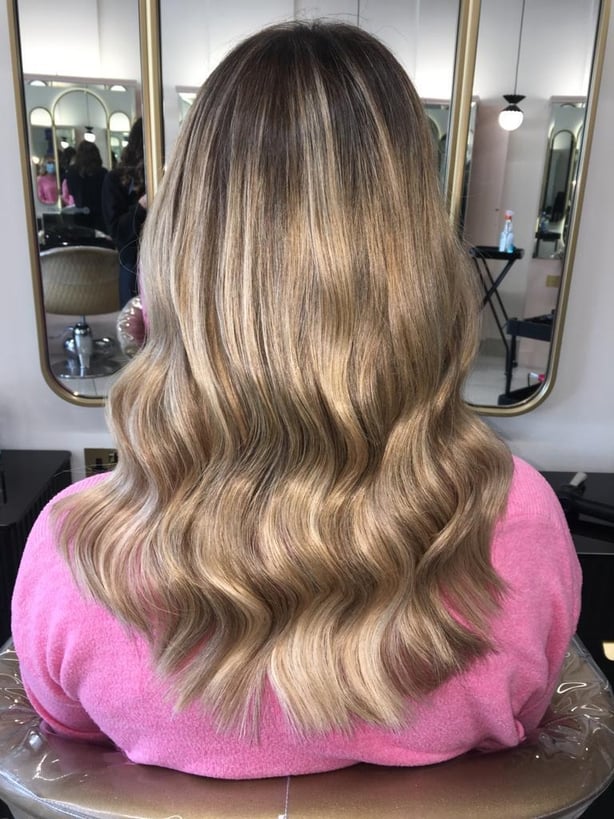 How are tape extensions applied?
The first thing you need to do when you decide to get hair extensions is to book a consultation with the salon. During the consultation, the hairdresser will assess your hair to make sure that it's suitable for hair extensions.
Assuming it is, they will then do a colour match and talk you through the application process. Once you're happy, they will order the hair and book you in for the application. Having them applied by a qualified professional is vital.
Do your research and choose a salon with stylists who are experienced in applying and removing extensions, as this will help prevent damage.
The application process is simple. The hairdresser takes a strip of your hair and places a tape both on top and underneath it. They are then squeezed together with an appliance and before moving on to the next section.
Bonded hair extensions can take up to five hours to apply, so I was surprised at how fast the tape application was. I was in the salon for no longer than 90 minutes for my first application, which included having my hair trimmed, the tapes applied, cut, and styled.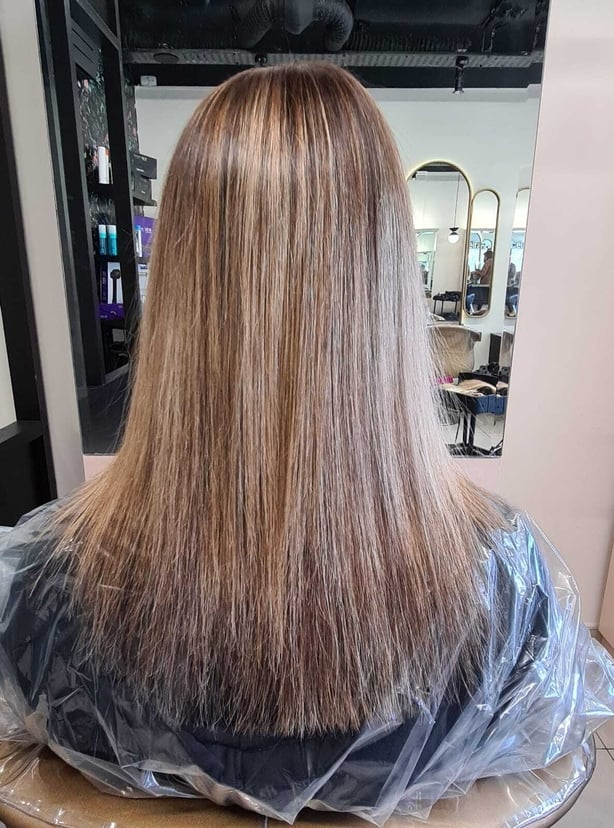 Re-Taping
Tape extensions are unlike bonded extensions, which can last up to four months; tapes are temporary and have to be re-taped every six to eight weeks. Although, your first set might last a few weeks longer. I got mine re-taped ten weeks after my first application.
I was in the salon for approximately three hours for my re-tape. The hairdresser starts by removing the tapes with a solution, which helps them to slide off your hair. Once removed from your hair, the extension has to be washed, dried, and a new adhesive tape is applied.
During this time, your hair will be washed, dried, and trimmed if needs be. The hair extensions can take some time to prepare for the re-tape, so the girls kindly put a hair treatment in my hair between my wash and blow-dry. Once the tapes are ready, the application is the same as the first time.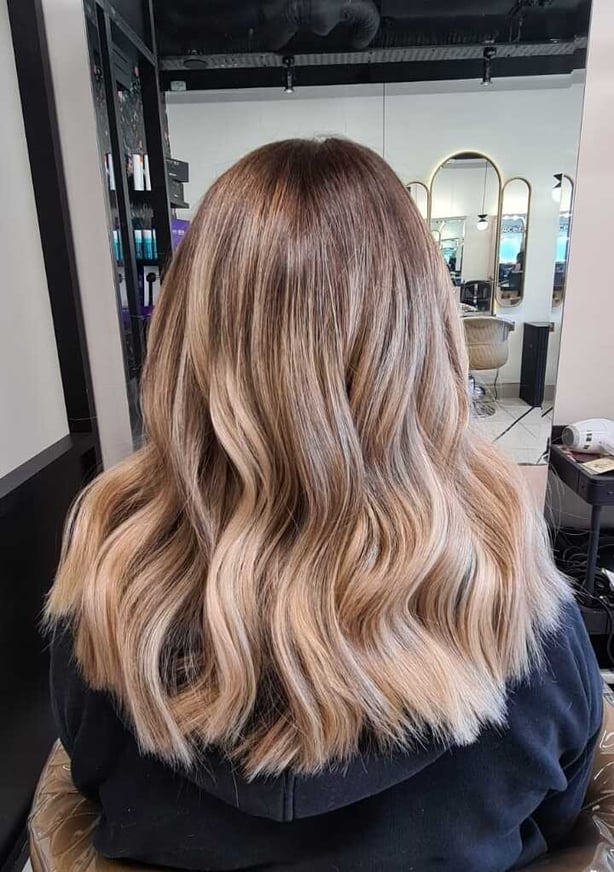 How long do tape extensions last?
Tape extensions can last between six to eight weeks, and if they are well maintained they can be re-taped up to three times. They say that the first set can last a little longer if you look after them properly. I left my first set in for ten weeks, but they had slid down a lot by the time I got them re-taped. I won't leave it that long between re-tapes in the future.
How much do they cost?
Hair extensions are a simple solution to hair woes, but they can be costly. The price varies from person to person when it comes to getting them. The cost depends on the brand you choose, the type of extension you opt for, and how many you need to have applied.
I got my tapes applied at Ceira Lambert Hair Consultancy in Dublin, where I paid €165 for the first application and €150 for re-tapes. As a Great Lengths ambassador, I was lucky enough to be gifted the hair for free. Contact your hairdresser for a consultation and they will give you an estimated price.
What is the aftercare for tape extensions?
Like any other hair extensions, tapes require a level of maintenance to help them last and to prevent damage to your hair. Your hairdresser will advise you on how best to care for them, but here are a few simple steps you can take:
Do not wash your hair for at least 48 hours after your hair extensions are applied to allow your tapes to set.
When washing your hair it's recommended that you use a sulfate-free shampoo & never wash your hair with your head upside down. You can conditioner on the ends of your hair but avoid putting it directly on the tapes.
Blow-dry your tapes on a low heat.
Brush them throughout the day with a suitable hairbrush.
At night, tie your hair in a loose ponytail or a braid to prevent tangling.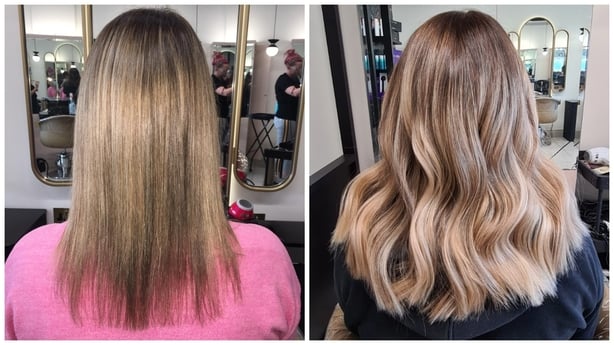 The verdict
After years of wearing bonded extensions, I never thought that I would turn to tape but, overall, I am very impressed with them. They are very easy to maintain, and add so much thickness to my hair, especially my ends which are very sparse without them.
The tapes are a lot bigger than the bonds, so I expected them to weigh my hair down but they are honestly very light-weight and they don't feel heavy on my head.
The only thing about the tapes is that they are not as small and discrete as the bonds, and as my hair is both fine and thin, they are slightly visible when I tie my hair back in a tight pony at times. This is purely down to my own hair and is easily fixed by adjusting it a little. If this is an issue, you could discuss having a mixture of both tapes and bonds applied with your hairdresser.
If you're like me and have damaged ends from years of dyeing and using heated tools, then tape extensions might be a good option. They only last six to eight weeks before they have to be removed and re-taped.
I absolutely love this about them because it means you can get your own hair cut every six to eight weeks. This is one of the reasons why I will continue to wear tapes for the time being.