Many of us have spent more time in our homes over the past few months than ever before, and more times prioritising comfort as a result.
Between Marie Kondoing your wardrobe and finally cancelling skinny jeans for good, the way we're dressing has changed massively. So what trends should we be keeping an eye out for as autumn turns into winter?
We caught up with top stylist Corina Gaffey, who has just styled Jervis Shopping Centre's latest campaign, for her tips on how to refresh your wardrobe without spending a fortune, and what to buy if you are in the market for a few winter staples.
We need your consent to load this Instagram contentWe use Instagram to manage extra content that can set cookies on your device and collect data about your activity. Please review their details and accept them to load the content.Manage Preferences
"Personality, comfort and being stylish should be at the fore, with wearability", she tells RTÉ LifeStyle. "That's really heightened at the moment. People are looking for those key pieces that they can mix and match and get longevity out of."
Key investments for autumn and winter
Of course, there will always be the magpies out there among us who love a solid trend, whether that's a hot pink trench coat or a chocolate brown puffer jacket like the ones in the campaign. But Gaffey insists that trends don't need to always be passing fancies.
"There are pieces that are on-trend at the moment and will work in your wardrobe for seasons to come. I always say that when you're going out to buy new pieces, make sure you can wear them at least three different ways."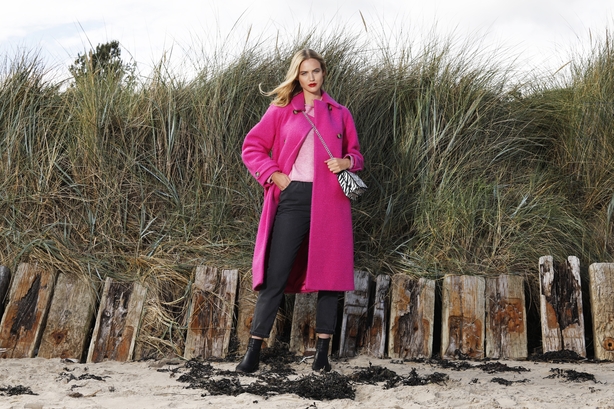 So how do you blend the trendy with the classic?
"You should always keep one element of it classic and the rest of it can be more of a trend", she suggests. "The pink coat, for instance. It's such an amazing colour, it brightens up any winter day but the shape is a very classic shape. It's like a trench coat, it's made of boiled wool, so that shape will never go out of season and colour really never goes out of season."
Naturally, the coat is the key investment piece for the season ahead, as Gaffey says: "The coat is the first thing you'll see during winter, that's your first impression of someone."
"Chunky boots and a great coat is where I think most people should put their autumn/winter clothes budget into if they're shopping."
The humble midi dress is also worth investing in, being such a versatile piece. "It's a done-in-one dress, they're a staple in everybody's wardrobe for a reason", Gaffey says. "If you have a Zoom call or if you decide to go out to the shops, you feel a little more dressed up whether you wear it with runners or a knee-high boot.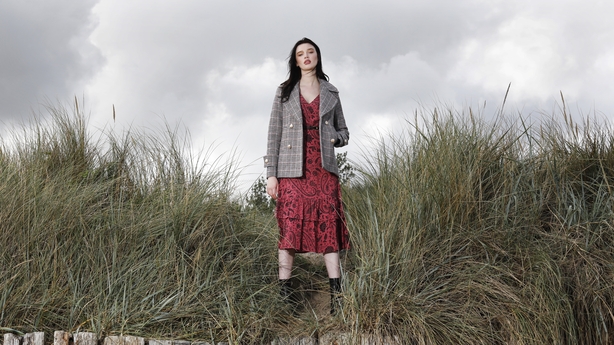 "It's looking at the pieces that you need for autumn and winter and thinking about the ways you can wear them. You still should be able to have fun with fashion. Now's an even better time to have fun with fashion and wear joyous pieces that make you feel good."
Loungewear, elevated
More of us have embraced the leggings-as-daywear mentality and safe to say our fashion tastes are changed for good. But how do you mix the cosy things you wear at home with your dressier wardrobe?
"I love a slouchy tracksuit with a slight heel and an oversized blazer", Gaffey says. "It's quite a street style, Swedish look. But if it's too much with the heel, it would still look great with a runner."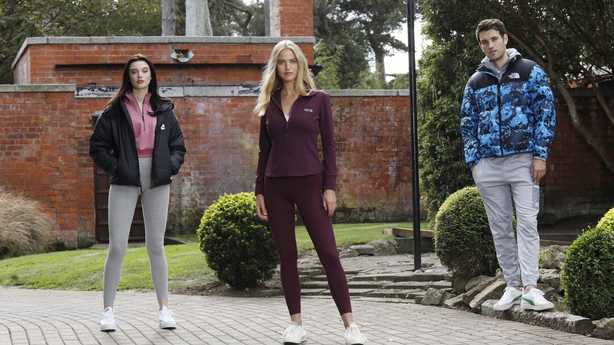 She suggests trying a tonal outfit with a great knit and matching tonal joggers for a look that is elevated and glam. Keeping most of the outfit relaxed with one statement piece like a blazer or sleek trainers will add style to it, too. "Seek out a luxurious fabric. It doesn't have to be expensive, just luxe-looking", she adds.
"A knitted fabric in a really expensive-looking colour, like steely grey or camel or cream, that elevates it completely. Loungewear in camel is the fast route to looking chic."
Refreshing what you have
You don't need to buy a new wardrobe just because it's autumn, of course. Refreshing what you have is fully du jour, and sustainable to boot.
"It's great to get stuff reworked, sustainability is at the forefront of everyone's minds at the moment. There might be something in your wardrobe that you want to refresh that's maybe too oversized or too long.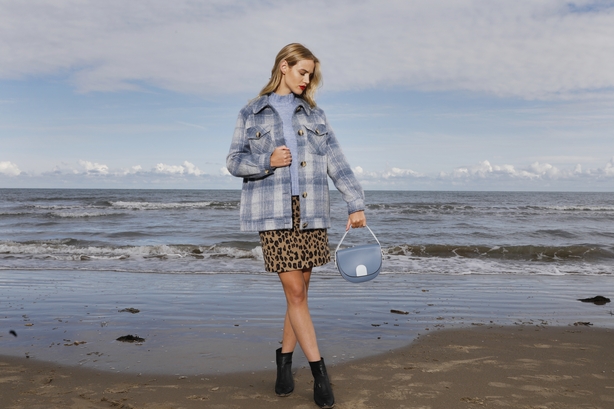 She points to online shops like Minti that repurpose secondhand pieces, and similar Instagram shops. "You can look at pieces in your wardrobe with fresh eyes and see if they can be tweaked and tailored instead of just getting rid of them."
"Trying different colour combinations and trying to think like a stylist helps", she adds. "Try mixing red and pink or a rusty shade with pastels. I love really unusual colour combinations and they can really refresh outfits. Think of different ways you can wear stuff in your wardrobe. Put a dress over a pair of jeans, have fun with it!
Feeling bored some day and can't hack cleaning the fridge again? Play dress up in your wardrobe!
Think like a stylist
Gaffey is a big fan of cataloguing looks that worked for you, Cher Horowitz from Clueless-style. "If you wear something and you got a lot of compliments – of course, you dress for yourself but hearing that is nice, too – snapshot it, remember it", she says.
"Take a picture and keep a folder if you want. Sometimes we struggle in the morning and don't know what to wear, so having a bank of images to remind you what worked well in your wardrobe helps." This helps you remember what's actually in your wardrobe, too, if pieces are packed away and slightly out of sight.
"I tend to do that myself, I'll have so many gorgeous dresses and I don't need another floral print dress, but it's your automatic go-to because you know it works."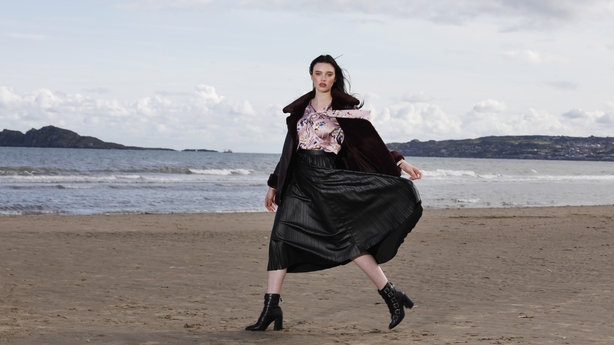 Christmas fashion
Of course, with Christmas coming up there will be many people wondering how they'll ring in the festive season without their usual joy-inducing wardrobe of velvet and sequins, because it's the little things that make you feel like Christmas is here.
Gaffey was never one for dressing up completely, she says, so she can see Christmas fashion being a more relaxed and pared-back affair this year. " I always tend to keep one element dressed down", she says, whether that's a sparkly dress with a chunky boot – one of the biggest trends of the season.
"I think that will come to the fore where people will maybe have one element dressy and leave the rest pared back. People will want to wear heels but I think people are going to go for a flatter, chunkier boot."