If you've been slathering the moisturiser on the past few months, you're not alone. As if transitioning from summer to winter wasn't bad enough for our skin, "mask-ne" has become a fixture for many of us.
The stubborn patches of dry skin, painful breakouts and general feeling of discomfort are now common for many people wearing protective face masks, and since those masks aren't going anywhere any time soon, we're all trying to figure out how to soothe it.
We need your consent to load this Instagram contentWe use Instagram to manage extra content that can set cookies on your device and collect data about your activity. Please review their details and accept them to load the content.Manage Preferences
What is mask-ne?
These breakouts are "essentially a form of Acne Mechanica", says Dr. Nicola Ralph, a consultant dermatologist with the Institute of Dermatologists in Dublin.
It's caused "by a combination of friction/rubbing from the mask, which causes local pressure on the sebaceous ducts (sweat glands) and irritates the skin barrier combined with the warm, moist micro-environment under the mask, which dilates the pores, increases sebum (oil) production and causes clogging of the ducts with bacteria and sebum (oil)", she says.
Breakouts on the area covered by the mask – everywhere from lower cheeks and jawline to your chin and even around your nose – are the most common symptoms. "The spots tend to be very small papules and pustules (red spots and whiteheads) in the above locations", Nicola says.
"It is not a cystic type of acne which is usually larger lesions under the skin, but more a superficial type of acne. It can also be seen in those wearing visors, with similar eruption across the forehead."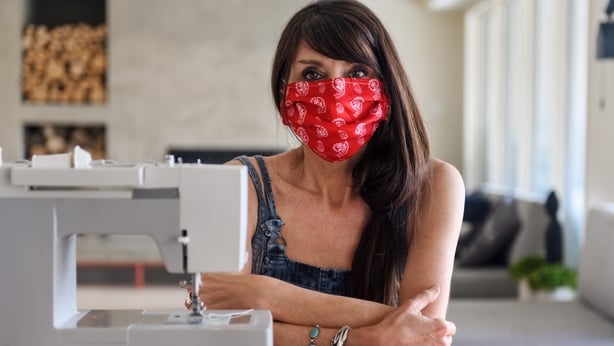 Does the type of mask make a difference?
Of course, masks aren't going anywhere for the next while, and it's now mandatory to wear them while in indoor spaces and on public transport, so this will become a more common problem. Picking your mask carefully can help.
"Certain masks such as the tighter fitting N95 masks worn by healthcare workers, are more commonly associated with the development of mask-ne", Nicola adds. "They lead to more friction on the skin compared with the cotton masks or masks made from other more soothing materials such as silk. Surgical masks also tend to have a tighter fit therefore resulting in greater likelihood of developing mask-ne."
"I would recommend that you do not reuse disposable surgical masks as they harbour bacteria, dirt, oil and makeup. Also if using cotton masks, ensure to wear a fresh mask daily and that you wash your mask at 60 degree cycle."
An added benefit of wearing masks, Nicola says, is the protection against pollution and sun exposure, which both contribute to skin ageing and blemishes.
How to soothe mask-ne
So what should you be using to soothe your spots?
"I recommend before wearing your mask each day that you wash your face with a gentle cleanser, apply an oil-free (non-comedogenic, essentially non-blackhead forming) moisturiser to protect the skin barrier, and avoid wearing heavy makeup", Nicola says.
Avoid heavy makeup if you're wearing a mask, Nicola says, as this can lead to Acne Cosmetica – acne caused by mechanical obstruction of the pores. "If you do wear makeup ensure it is also oil-free/non-comedogenic as they are much less likely to block the ducts. Mineral makeup is also my favourite as they contain zinc which has anti-inflammatory properties and is essentially anti-acne."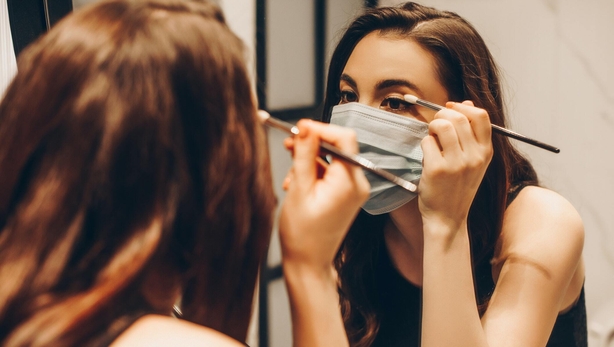 When removing makeup, opt for a cleanser with salicylic acid and double cleanse each evening. "Start with a micellar water which will emulsify products on the skin such as sunscreen, makeup, dirt etc, and then follow with a gentle cream cleanser which may contain salicyclic acid for a deeper clean.
"Apply a topical retinoid to keep the pores clean and this will also tighten the pores. After applying your retinoid in the evening you may also like to use a hydrating moisturiser after allowing the retinoid to dry, to protect the skin barrier."
And if you decide to use retinoid, now is the best time in many ways as any extra temporary breakouts caused by the intensive cleaning will be covered by the mask, until your glowing skin emerges!
Clean your brushes as well as your pores
Now is also a good time to pay more attention to your makeup brushes and make sure they're as clean as they can be. "Makeup brushes accumulate oil, dirt and bacteria especially when they are left in the bottom of a makeup bag, so try to avoid this and instead store your makeup brushes in a clean environment."
Once the temperatures drop, keeping our skin hydrated and soothed becomes even more challenging. Nicola suggests continuing with a cleansing facial wash each morning, "followed by a hydrating moisturiser and a Zinc based mineral/physical sunscreen".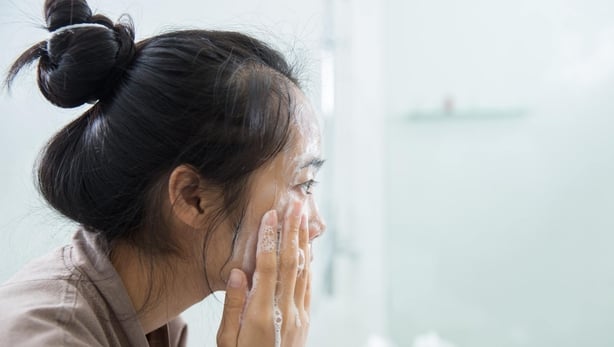 "I would add a weekly masque to help purify but also hydrate the skin to control the development of mask-ne. My favourite go to product over recent months which I use once or twice weekly is Biologique Recherche Masque Vivant which has significantly reduced the incidence of mask-ne for myself and many of my work colleagues.
Exfoliate
"I also recommend daily exfoliation with a chemical exfoliant Biologique Recherche P50 which comes in a variety of subtypes depending on one's skins needs (such as sensitive skin, skin with irregular pigmentation etc..) This will gently (without any abrasion) remove the impurities that build up each day and keep the skin smooth and bright."
Just don't go too crazy with the ingredients once you start healing your skin, and avoid introducing too many active products at once, she says.
"When the skin is dry it appears dull, therefore daily chemical exfoliation will improve this. Also adding a topical Vitamin C each morning will also improve skin brightness. My favourite is Revision Vitamin C 30% which helps to fight against visible signs of ageing such as sun spots/discolouration resulting in a more radiant youthful complexion."