Viola Davis is the striking new face of Vanity Fair, making history as the first cover star shot by a black photographer, Dario Calmese.
In the interview for the magazine, Davis talks about her career, facing racism and showing up for the Black Lives Matter movement.
She says: "I feel like my entire life has been a protest. My production company is my protest. Me not wearing a wig at the Oscars in 2012 was my protest."
Davis has cemented her status as an icon, becoming the first black woman to win an Emmy for lead actress in 2015 for her role as Annalise Keating in How to Get Away With Murder (HTGAWM).
The 54-year-old is vocal about the struggles of being a black woman in the industry, as well as discussing the impacts of living in poverty as a child. Here are just some of the powerful statements she's made throughout her career…
1. In her 2015 Emmys speech
Davis didn't waste a second of her historic Emmys acceptance speech in 2015, quoting Harriet Tubman, thanking other black actors like Taraji P Henson and Kerry Washington, and saying: "Let me tell you something: the only thing that separates women of colour from anyone else is opportunity. You cannot win an Emmy for roles that are simply not there."
She thanked the film's producers and writers, saying they were "people who redefined what it is to be beautiful, to be sexy, to be a leading woman, to be black."
2. Taking her wig off in How to Get Away With Murder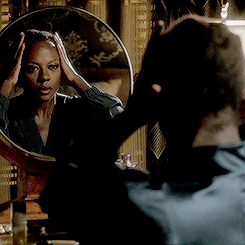 Davis often speaks about the lack of opportunities for black women in Hollywood, once telling Newsweek: "There just aren't a lot of roles for — I mean, I'm a 46-year-old black actress who doesn't look like Halle Berry — and Halle Berry is having a hard time. You know there's not a lot of leading roles."
Despite the uphill battle, Davis has dedicated much of her career to showing the realities of being a black woman. She only agreed to sign on for HTGAWM if she could play a character who was a real woman, going down in TV history when she removed her wig at the end of a long day – an aspect of being a black woman you rarely see onscreen.
3. Her work fighting child poverty
In the Vanity Fair profile, Davis discusses her impoverished upbringing in Rhode Island, saying during her childhood she "did not exert my voice because I did not feel worthy of having a voice".
Perhaps because of her background, Davis dedicates much of her time to fighting child hunger by raising awareness, donating money and working with the charitable organisation Hunger Is.
Davis told ET in 2017: "The awareness of the issue should be bigger than the shame. Listen, at the end of the day, we're all in this together, in this life together. I think that when you share your story with people who have empathy, I don't think shame can exist. I think that there's enough people out there who have the same stories as you that are not going to pass judgement on you. It is more important to affect change."
Davis has also donated $10,000 to her old school's theatre programme in Central Falls, as well as helping to break ground in a new health centre in her hometown.
4. For demanding she gets what she's worth
In the aftermath of the death of George Floyd, we've been having more and more conversations around racial injustice. This is probably why a 2018 interview with Davis recently went viral, where she points out inequality in the film industry.
"I have to hustle for what I'm worth," she says in a talk with Women in the World. "I have a career that's probably comparable to Meryl Streep, Julianne Moore, Sigourney Weaver. They all came out of Yale, they came out of Juilliard they came out of NYU. They had the same path as me, and yet I am nowhere near them, not as far as money, not as far as job opportunities, nowhere close to it."
It's a sad reality of the industry that she's forced to hustle for equal pay to white women, and you can't help but respect Davis for saying to anyone who calls her 'the black Meryl Streep': "You pay me what I'm worth."