With our social lives confined to park visits and online video chats, there hasn't been much call for new outfits during lockdown.
But at the same time, the coronavirus pandemic has made many people take a step back and consider the effect humans have on the planet.
If you want to reduce your own carbon footprint, examining your fashion-buying habits is a good place to start.
We need your consent to load this Instagram contentWe use Instagram to manage extra content that can set cookies on your device and collect data about your activity. Please review their details and accept them to load the content.Manage Preferences
"There is so much we can do to combat the return to our destructive ways," says Abbey Booth, founder of personal styling service Stories with Clothes.
"If we make small steps, which lead to more impactful behaviour, we can all do our part to help our planet recover and enjoy fashion responsibly."
That means less fast fashion and more careful consideration before making purchases. Here, Booth offers seven ways to shop more sustainably when lockdown is over…
1. Shop your wardrobe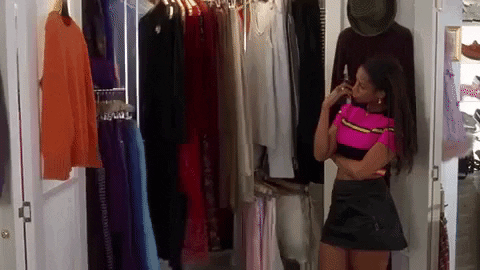 Instead of heading to the high street, why not 'shop' in your own wardrobe?
"Now is surely a time to ask ourselves whether we actually need anything new or could we customise, adjust, dye or reinterpret pieces we already own," Booth says.
"Looking at our wardrobes as a whole – rather than having separate sections for going out, workwear or weekends – and thinking about how we can combine these to create new outfits, is a great way to assess whether you really do need to buy anything new at all."
2. Buy 'pre-loved' garments
"Giving a new lease of life to 'old' clothes is a great way to stop these pieces becoming part of the landfill crisis," says Booth.
"Buying second-hand has become big business now, and is no longer seen as something to be ashamed of."
She recommends hunting in charity shops for pre-loved pieces.
"Charity shops will need our support more than ever when we can shop with them again, and they often provide a vintage section for those extra special pieces.
"Look for designer brands and good quality fabrics in timeless styles that won't go out of fashion.
We want to wish our shops teams the very best of luck today as they reopen for business (& donations💚). Be sure to drop into your local charity shops soon - your #preloved items are lifelines & are needed now more than ever. https://t.co/DOYUk1Uc9j pic.twitter.com/yszosXlIpx

— Oxfam Ireland (@OxfamIreland) June 8, 2020
3. Try designer rental
There's a large market for high-end rentals, where you are able to hire designer gowns for a few days.
"It gives a new lease of life to these garments, which are in excellent condition, and you're able to try out more expensive brands for a special occasion."
Rental sites include Designer Room, Borrower Boutique and The Ivory Closet.
4. Choose denim carefully
"When it comes to fabric, denim is one of the least sustainable textiles, with some garments needing over 7,000 gallons of water to produce," Booth says.
"So choose your denim brands carefully. Levi's, DL1961, Nudie Jeans and other brands have created innovative technology to combat the overuse of water and, in some cases, now use up to 98% less water than previously.
"Many of these brands also offer repairs and upcycling facilities, so that items can be re-worn and given a new lease of life, rather than being thrown away."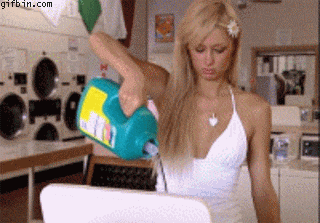 5. Care for your clothes
"Caring for fabrics is just as important as choosing them, and many can be washed on very low heat cycles now," Booth says.
"For example, denim doesn't need to be washed more than once a month – it is a natural fibre and washing weakens the fibres slightly each time it is washed.
"You can either just spot-wash the marked area, hang out to dry, or pop them in the freezer overnight."
Read more: Are you washing your clothes properly? 11 expert laundry tips
6. Buy local
"Buying clothes produced in Ireland, the UK or Europe will ensure the garments have travelled less, than if they were mass-produced further afield," Booth says.
7. Support sustainable initiatives
"There are some brands which use solely sustainable production," says Booth. In other cases, large brands product sustainable collections or collaborations.
"If we support these initiatives, brands will recognise that sustainability and being accountable are important, and will invest more into these collections."