Constantly wearing face masks has brought with it a whole host of new issues. Particularly if you're a frontline worker, and one who wears a hijab, long shifts can be hugely uncomfortable and masks tough to wrangle with.
Luckily, people are already coming up with solutions – like fashion start-up brand Anywear. It has created headbands and medical caps with buttons which it says "can hold mask straps and ease pain and discomfort, particularly around the ears".
Working with online magazine Allure, Anywear has collaborated with members of the beauty industry for a project called 'Banding Together'.
One of the co-designers is Halima Aden, the 22-year-old model and Unicef ambassador who has been blazing a trail for hijabi women in fashion. She has helped create a collection of face coverings, hijabs and turbans.
The collaboration makes a lot of sense because Aden worked as a housekeeper in a hospital in St Cloud, Minnesota, before becoming a model.
Aden talked to British Vogue about her time working in healthcare, saying: "Early on, I understood the importance of wearing that extra protective gear, whether it was the gloves or the personal protection equipment, so when Covid-19 happened, and there were so many shortages, I felt such sympathy.
"I struggled with my scarf and having to pin it. I can remember wishing that there was a way for the hijab to be a part of the uniform instead of me having to go and match the fabric and never be able to find scarf options to go with my scrubs."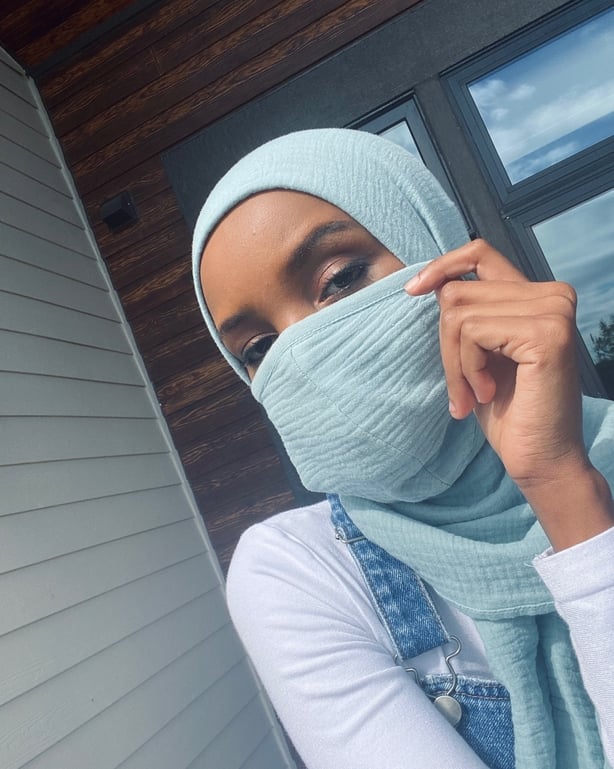 Aden says she chose soft and tranquil colours for her collection to help "bring a feeling of peace".
For every product bought the brand will donate a headband or medical cap with buttons to a hospital in need.
Anywear co-creator Emily Shippee says: "We hope to bring these into the hands of many hijabi frontline workers so they can comfortably wear their medical masks," she says.
The fabric is organic, and Shippee says it can used to cover the masks many frontline workers are unfortunately having to reuse due to shortages, adding: "Since the cloth mask is washable, it fits perfectly as a barrier to protect the reused medical mask as well, and connects comfortably and securely behind the head."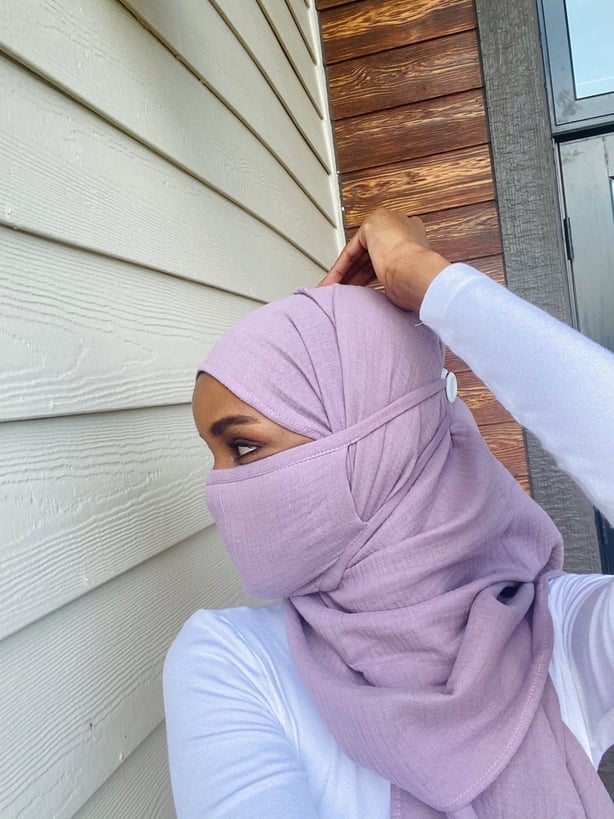 Being inclusive is a "main pillar of our values as a brand", says Shippee. "Now more than ever inclusivity should no longer even be a topic of discussion, it is an important and essential aspect of every business in order to have success or mean anything in this world.
"All of the items are made to order because we are striving to establish eliminating textile waste in the industry, which contributes to climate change."
Other than Aden, Anywear has also collaborated with giants in the beauty industry like hairstylist Chris McMillan and nail artist Mei Kawajiri.