When you hear "liquid surfaces" you may think of a certain homegrown hero slipping on ice. In fact, it's one of the key trends for Spring/Summer 2020, according to Arnotts stylist Aisling Farinella.
At the store's recent sophisticated new season launch, Farinella sent models down the runway in floating, fluid fabrics in muted, flattering shades of cream, navy and white. Standing out amid the clashing vibrant prints, pops of bright sunny colour and delicate florals and knits, they set a sultry tone for the warm months ahead.
Meeting the stylist, dressing in a voluminous white shirt with the cuffs undone, it was clear that Farinella's personal style was in the collection, which guests like Kathryn Thomas and Clémentine MacNeice praised.
We need your consent to load this Instagram contentWe use Instagram to manage extra content that can set cookies on your device and collect data about your activity. Please review their details and accept them to load the content.Manage Preferences
"I was definitely responding to and trying to find a way to communicate with the main trends that Arnotts have bought into this season", she said. "That's why we had it broken up into five different scenes."
Groundbreaking or not, florals are still an essential part of your Spring wardrobe, and who doesn't get a thrill the first time they wear a light and flirty floral outfit for the first time in the year?
"We had Summer Sweetheart and that was all about ditsy florals and a little bit Picnic at Hanging Rock feel to it, very beautiful, very soft but not necessarily too sweet."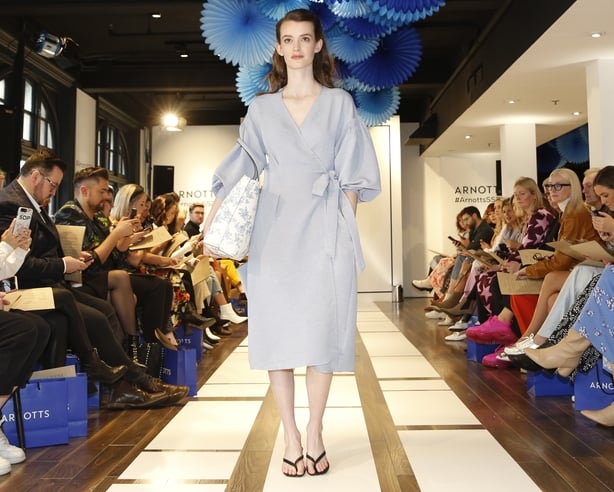 "Destination Dressing which is definitely more holiday vibes but also a city holiday or more tailored look" she continued. This collection featured eclectic animal prints – "which are always coming back all the time" – mixed with nautical colours, bright florals and interesting textures.
It's impossible to escape the influence of cool Scandinavian fashion, so Scandi Takeover was about "the silhouette, about neutral colour palettes, more minimal pieces but they get a lot more texture through layering".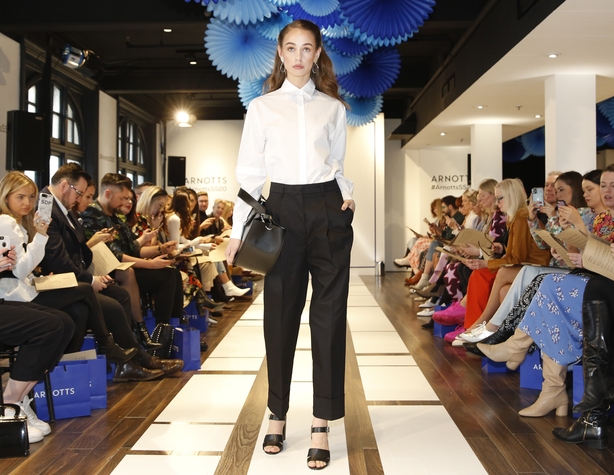 "There are so many Scandinavian designers in Arnotts, so many great brands from Denmark, lots of sustainable brands", Farinella said. "Lots of Irish brands were in there, as well - Caroline Kilkenny, Aideen Bodkin."
The last thing you want to do each new season is rush out and buy a new wardrobe, and sustainable fashion is becoming much more of a passion with shoppers. With this in mind, Farinella showcased the versatility of certain pieces in Orderly Repeats, mixing patterns with one another to create fresh looks.
It was "all about mixing up your prints, mixing a bit of check with some florals, with some stripes. Using nice colour palettes to keep everything coherent and not too 'crazy lady'", she said.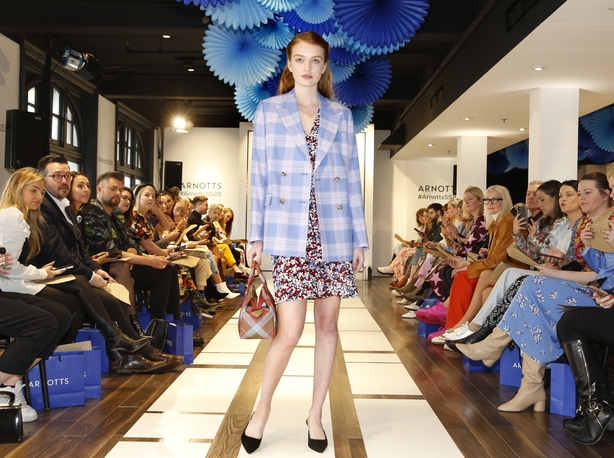 Finally, voluminous silhouettes and floating, sophisticatedly sexy fabrics were celebrated in Liquid Surfaces, one of the seasons "new themes", according to Farinella. "It was really simple but very much so about the fluidity of the garments and beautiful silks. Really easy pieces to wear but really beautiful and elegant."
With the fashion industry setting the trends for designers each fashion month, it can be hard to find ourselves as paler, chillier Irish people in the luxurious runways of Dolce & Gabbana, Versace, and Chanel. Where does Farinella find her inspiration?
"We're influenced by everything we're looking at all the time", she says, adding: "I'm not a massive social media person, I don't spend my life looking at it."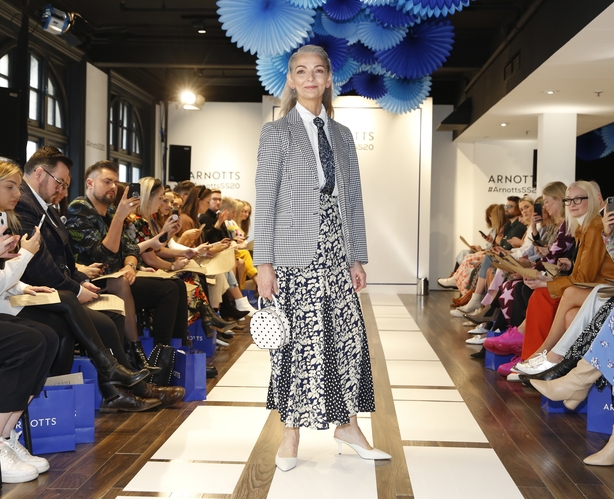 "I like to be able to feel it and work with the clothes and bring things together in that way. I'm very aware of what's going on [in the fashion world] but I'm not all over it."
One strong trend in the launch was modest dressing, with high necklines, cosy cardigans and longer hems. "That's probably where a bit of my personal style comes into it", she said. "I guess I probably am a more modest stylist!"
"It has to be the right occasion for there to be a lot of bare skin and for me to be on show, but then sometimes it looks beautiful. It depends on the look and, for this, we wanted to make it an accessible show, with things people want to buy and can actually wear, and to cover such a range across the customer base, from younger to older. Every age group that we hit we start to dress in different ways."