Make-up is seen as a stereotypically 'female' pursuit, and women are both trapped and liberated by this. On one hand, they're expected to wear make-up every day and look a certain way but, on the other, they're free to indulge in all the artistry that comes with it.
So what about men? Men wearing make-up isn't a new thing – you only have to look at David Bowie and some figures within the LGBTQ+ community to see that – but it still comes with a lot of baggage. To this day, men wearing make-up are seen a certain way.
However, over the last few years, prominent figures have emerged who show men can experiment with make-up without being subjected to any stereotypes. This means society is not only becoming more receptive to men playing around with beauty but also our definitions of who can wear make-up are widening.
1. Billy Porter
Pose actor Billy Porter is one of the most exciting voices in fashion at the moment, with groundbreaking outfits such as his tuxedo/ballgown hybrid for the Oscars or the golden-winged outfit for the Met Gala last year.
With such bold outfits, he often has stand-out beauty looks to match. He's not one to do anything by halves, and regularly wears colourful and individual make-up looks on the red carpet.
For Porter, a lot of it is about challenging stereotypes and creating art. When discussing his Met Gala look, he told Playbill: "I think it's really interesting the conversation we continue to have or not have about what is acceptable or not.
"Who makes these rules? When were they made? I was watching something about the colours blue and pink for men and women and the history of where that came from and it was all about money, it was all about stores selling it.
"Originally the department stores gave boys pink and girls blue. They switched it. We create these rules and we create these boxes that we live inside of without any question and why? I'm done doing that."
Just this year he became the first man to appear on the cover of Allure, in an issue appropriately called 'The Art of Beauty'. Editor-in-chief Michelle Lee wrote of the decision: "Great art connects emotionally. It makes you think. It takes risks. One person who seems like the living embodiment of that is our cover star, Billy Porter."
Even though people – particularly in the LGBTQ+ community – have been battling to widen our interpretations of gender, it's only come to the forefront in recent years. Celebrities like Billy Porter have helped open up the conversations around gender and heteronormative stereotypes, showing it's not just a passing trend.
2. Ezra Miller
Actor Ezra Miller is constantly experimenting with bold beauty looks on the red carpet, whether it's a bright red lip or elaborate eye make-up. One of his most memorable looks was at last year's Met Gala – the theme was Notes on Camp and Miller wore a Burberry pinstriped suit with a diamond corset.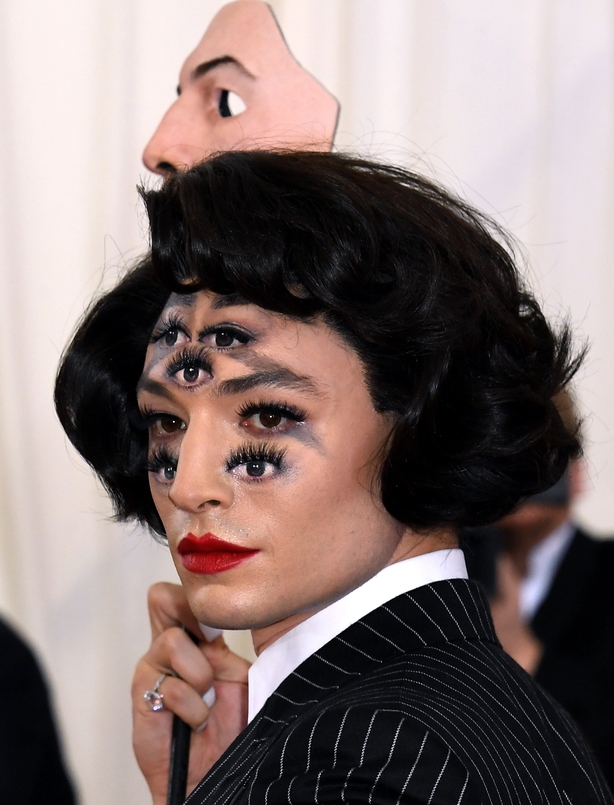 To go with this, make-up artist Mimi Choi created multiple sets of eyes all over his face, making for a trippy optical illusion that was topped off with a stand-out red lip. It's worth noting the 27-year-old is genderqueer, and in a 2018 interview with GQ he says he accepts all pronouns and is fine with the use of he/him.
Big beauty brands have been taking note of his style, and he's since modelled Urban Decay in a campaign called 'Pretty Different'.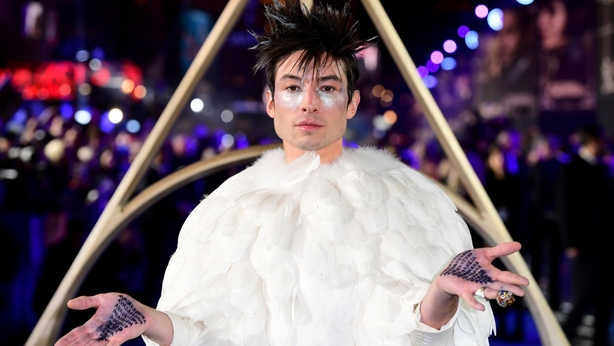 For Miller, beauty is a way of self-expression. He told CR Men last year: "Doing make-up and putting on nail polish at home with my sisters was really important to my relationship with gender expression."
Adding: "There is an incredible potential in the form of make-up to represent something that is beyond what we see at first glance."
3. Cody Fern
Australian actor and model Cody Fern has recently shot to fame as part of the cast of American Horror Story. On the show, he plays the son of the devil, and his eye make-up looks have sparked countless beauty tutorials.
Fern's love of make-up isn't just limited to the show but spills out onto the red carpet as well. His signature look is smudgy, moody eye make-up which sets off his porcelain skin. He's also been known to wear red eyeshadow – not an easy look to pull off.
4. Ansel Elgort
Not all make-up moments have to be bold and extreme, nor are they only for members of the LGBTQ+ community. Now, actors like Ansel Elgort are showing how a subtle beauty looks can really elevate a red carpet outfit.
To this year's Golden Globes Elgort wore a classic navy tuxedo from Tom Ford and accessorised the look with silver shimmer around his eyes and white nail polish.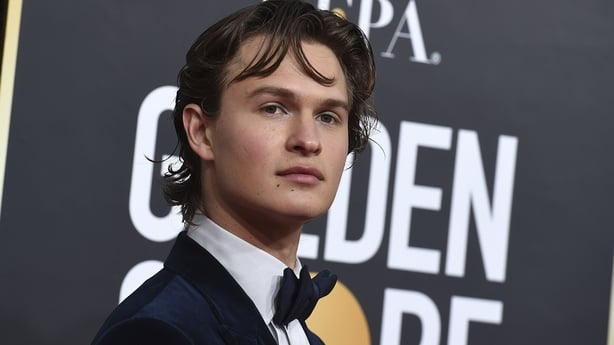 This heralds in a new era for male beauty – traditionally, men wearing make-up have been put into boxes of LGBTQ+ performers or Goth singers.
Now, there's so much more scope for men to explore and match beauty looks to their personality. After all, why should just women have all the fun with make-up?