As the glamorous co-host of one of the most-watched shows on Irish television, Jennifer Zamparelli has one big stage to fill each Sunday night. Every week, the Dancing With the Stars co-host dazzles viewers with her spectacular style, and is intimately aware of the pressure to look your best.
"The thing about this show is, you work so hard, you do a script, the dancers work so hard and you're in rehearsal all day and you come out on stage, and the first 300 tweets are about what you're wearing", she told RTÉ LifeStyle backstage at last week's show.
With that in mind, the 2FM radio presenter decided to make a statement as bold as her glitzy dresses and bright co-ords, by reworking a dress from last year's show into a new statement piece this year.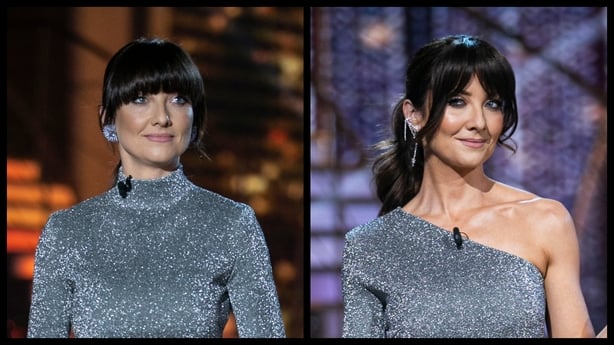 Besting even that, Zamparelli announced last week that she wouldn't be buying "a stitch" in 2020.
Happily, the host says that the move has been as well-received as even her slinkiest designer numbers: "We had such a positive response to last week and being able to rework something. I just thought it'll be fun to do, I don't know how we're going to do it, I don't know what it's going to look like."
Thankfully, assistant stylist Louise Lawlor stepped in and reworked her sparkling mini dress into an asymmetric number with a ruffled sleeve that was every bit as dazzling as the original look.
"We'll do more of it. If we can do it, anybody can. We all have those gúnas in the wardrobe that are a little bit too big or you don't like this bit. Take them down to a seamstress and get them done, or do them yourself!"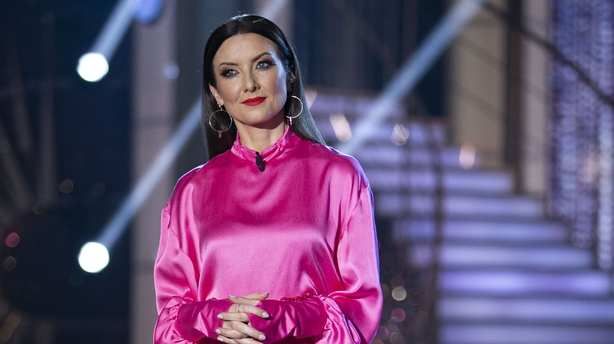 With a big birthday coming up this year – she turns 40 in April – you could imagine that the star could be feeling pressure to look her most spectacular in a new outfit, but Jen says that the new clothes ban has lifted the "pressure" she'd normally feel coming up to big events.
"Normally with a big birthday I'd be like, 'I have to spend this amount of money', I'd be running around trying to find something amazing", she said. "But it's going to be more fun to look at what I have and make that work. I'm quite excited about that."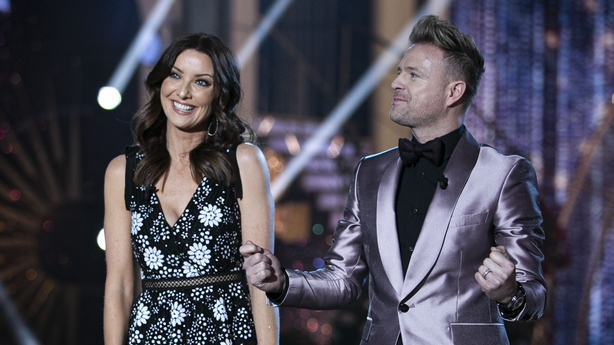 And it's not just on the Dancing With the Stars stage that Jen is making sustainable swaps. As a mum to two children below the age of five, Jen knows how wasteful buying new clothes for quickly growing kids can be:
"It's hard because they grow so fast. Every three months they're out of a pair of shoes or jackets or tops. I find myself constantly buying."
Rather than buy into the rush to add to her tiny tykes' wardrobes with her clothes, she turns to her family and friends to help her out. "It's great having friends and family who will always give you a bag of clothes! It's great to slow that down and stop that and go to friends, borrow and lend. That's been a weight lifted."
We need your consent to load this Instagram contentWe use Instagram to manage extra content that can set cookies on your device and collect data about your activity. Please review their details and accept them to load the content.Manage Preferences
The star's shift to sustainability has also been influenced in a big way by two fierce women, 2FM presenter Tara Stewart who Jen calls "a huge inspiration", and the show's new stylist, Fiona Fagan, who has championed borrowing and reworking in her approach to the show.
"The change of stylists was quite scary because Clem is phenomenal and Fiona is so amazing, as well. They're very different, which is great", Jen says.
"Kudos to Fiona, she went a very different way. The whole sustainability and borrowing really spoke to me and I'm glad we can do it on such a huge platform."
Dancing with the Stars continues on Sunday at 6:30pm on RTÉ One.