It's a proud moment whenever an Irish face walks the red carpet at the Oscars, but we're always particularly proud to see them do so in a range of truly dazzling looks. Tonight's ceremony was no different, with some of Ireland's brightest stars traipsing down the red carpet and turning heads.
Outlander actress Caitriona Balfe was one of the first familiar faces to make an appearance, setting the bar high in a showstopping black and pink gown by Valentino. With a dramatic fish tail gown emphasising her curves, the slinky gown was topped with a sheer pale pink overlay, gathered at the waist and tied at the neck with a large pink bow.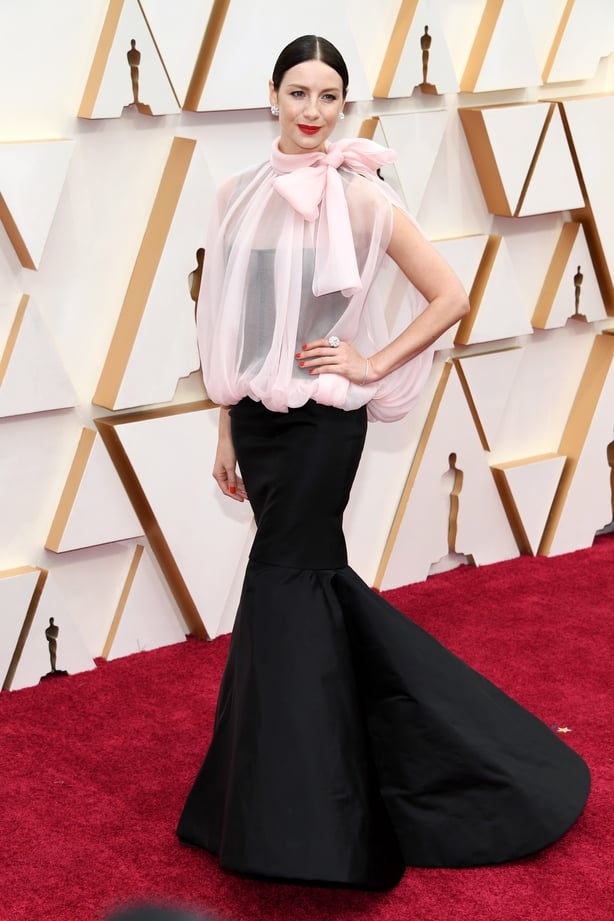 Accenting the Old Hollywood and vaguely Parisian vibes, Balfe finished her look with neat stud earrings and a vibrant red lip. Her hair, slicked back and parted in the centre, perfectly complemented her outfit.
At the opposite end of the dramatic scale was Eimear Noone, the first female conductor to lead the orchestra, stunning in an intricate design by Claire Garvey.
Mixing simple black trousers and knee-high black boots with a dazzling gold jacket, the Irishwoman certainly made an entrance. With structured shoulders, intricate embroidery and a train trailing behind her, Noone looked ready to take charge of the stage.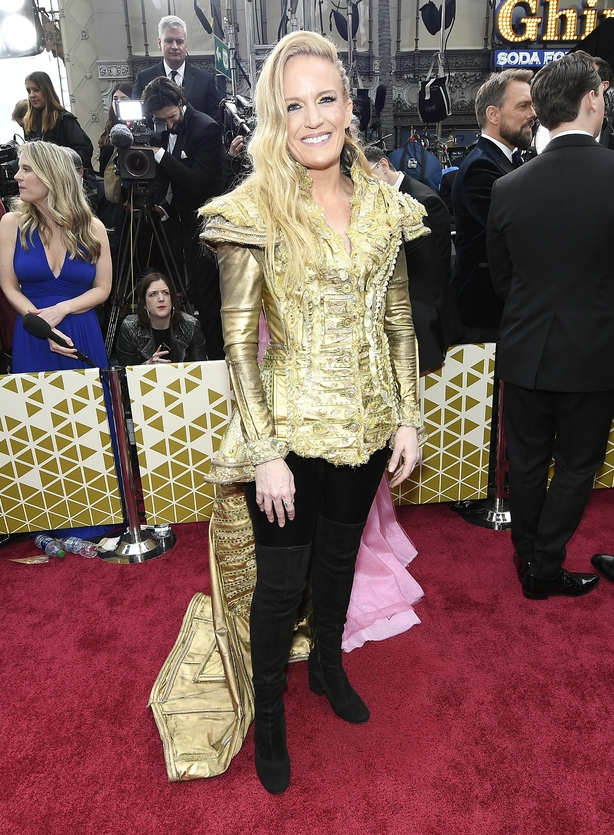 Saoirse Ronan is well versed in red carpet fashion, so it's no wonder that her most dazzling outfit of an already stunning awards season run would be saved for the Oscars.
The Carlow native, who was nominated for Best Actress for her role in Little Women, looked every inch the Hollywood star as she stepped out in a dramatic black, blue and cream gown by Gucci that mixed both classic and modern fashion.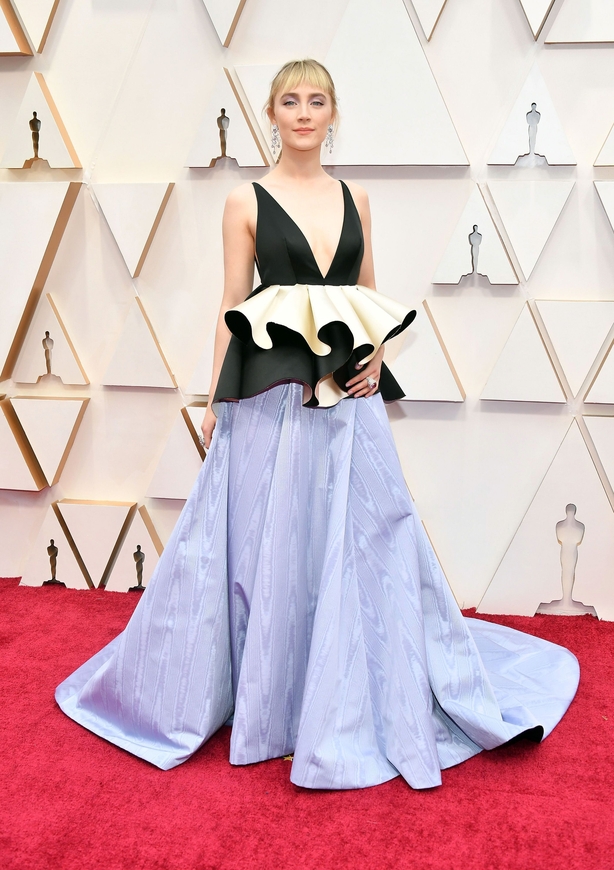 Styled by Elizabeth Saltzman and her team, Ronan continued her love affair with avant garde silhouettes, which was a custom design by Alessandro Michele.
The breathtaking gown featured a dramatic v-neck neckline, a structured satin-finish bustier and a ruffled black and cream peplum detail at the waist. Under that flows a periwinkle blue shimmering full skirt, perfectly complimenting the star's porcelain complexion.
She accessorised with Gucci High Jewelry.
As for her makeup, artist Kara Yoshimoto Bua kept things minimalist and romantic with a nude lip and pastel eyes dusted with dreamy soft lilac eyeshadow — once again using all Chanel products. Keeping Ronan's complexion clear and radiant, Bua ensured the star's natural beauty shone through.
Saoirse mixes up her hair as often as she does her looks, and tonight was another stunning surprise. Stepping out in a chic choppy fringe, she looked fresh and modern. Accented with a bug-shaped diamante hairclip, her look was young and whimsical.
In a nod to sustainability, the black fabric is from the same reel of fabric that her black Baftas gown was made from.
While not at the Oscars ceremony, Cork woman and editor-in-chief of Glamour Samantha Barry wowed in a royal blue Marchesa gown at the Elton John Viewing Party. Her ruffled gown featured intricate floral embroidery and a layered skirt, while her flowing red locks kept it looking relaxed and modern.
Check out the full red carpet gallery of the 2020 Oscars here.