For fashion designer Sorcha O'Raghallaigh, her "pinch me" moment came when famed fashion photographer Tim Walker shot supermodel Kate Moss wearing one of her designs. 
The shoot, which appeared in the fashion-lover's almanac, Love magazine, featured a heavily embellished cape by O'Raghallaigh, with layers of beads interlacing on a midnight-blue velvet background, and was just one surreal moment for the designer from Birr, Offaly who has since created pieces for Lady Gaga, Beyoncé and more. 
Kate Moss Wears cape by me in the new love magazine Styled by Katie Grand and photographed by Tim Walker ♥ ♥ ♥ pic.twitter.com/7rz49oJb

— Sorcha O'Raghallaigh (@sorchaorags) July 27, 2012
"I remember being a teenager and having a fashion shoot with Kate Moss pinned on my bedroom wall. I grew up in a tiny town and for me, she's the meaning of a supermodel. To be photographed by Tim Walker, who's one of my favourite fashion photographers, that meant so so much to me", she said.  
"It came at a time when I was almost questioning my career, you know when you have those moments where you're like, 'Is this the right thing that I'm doing?' Then something like that happens and it just helps you keep going."
Having blazed a trail through the fashion world while still studying fashion in Central Saint Martins in London, going on to intern with John Galliano for five months and with Diane von Furstenberg for four, you could assume that O'Raghallaigh is one of those wunderkinds who know exactly what they want to do and how to do it. 
Of course, the reality for any business owner, especially younger ones in the creative sphere, is much more complicated. Ahead of the AIB Future Sparks Festival, panellist O'Raghallaigh spoke to RTÉ LifeStyle about her brand, the struggles she's encountered and how she keeps herself motivated. 
We need your consent to load this Instagram contentWe use Instagram to manage extra content that can set cookies on your device and collect data about your activity. Please review their details and accept them to load the content.Manage Preferences
O'Raghallaigh has built a brand on the basis of her bespoke, one-of-a-kind statement creations, pulling inspiration from the legacy houses like Yves Saint Laurent and Dior, as well as from the Catholic Church and most recently star signs.
Describing her aesthetic as "quite ethereal, avant-garde and very textile and embellishment-driven", O'Raghallaigh's pieces have been snapped up by everyone from Game of Thrones' Maisie Williams and Angela Scanlon, to Kylie Minogue and Queen Bee herself. 
But such attention and acclaim can't come without its pressures, and in an industry as competitive as the fashion world, ambition can be quickly stamped out. Luckily, O'Raghallaigh has marched smoothly on, thanks to her mentality of "you have to keep going". 
When it comes to keeping her mind at ease, she turns to yoga, meditation and a good diet, saying they're "equally important to showing up every day in the studio and working hard". 
We need your consent to load this Instagram contentWe use Instagram to manage extra content that can set cookies on your device and collect data about your activity. Please review their details and accept them to load the content.Manage Preferences
"You do have moments of questioning yourself and you do have wobbly days but it's about finding ways to talk yourself out of those moments. I really believe the key to any business or any success in life is persistence, determination, getting knocked down and getting back up again."
Having a network of supporters, as O'Raghallaigh does in her mentors and family members, certainly helps, but the designer is especially loving the freedom afforded by social media and its prominence in the industry. 
"I think it's that you don't necessarily have to be based in a big city for people to see your work. I think the power of the internet is a huge thing so it's easier for stylists and people who maybe wouldn't have been aware of such a vast range of people's work."
"It breaks down those barriers of class, location, anyone can put out their thoughts and ideas and creativity for free."
After years in London, O'Raghallaigh has returned to Dublin, where just last July she relaunched her brand after four years working in the industry, an experience she says was "really hard", but that left her with "a quiet confidence". 
However, she says she knew she didn't want to relaunch in London and while there are "pros and cons" to working in Dublin, the timing is right for building a creative business here. "I was away for almost 13 years so I really am still in love with being back here. Tech is huge here now, there are a lot of startups and there is room for creativity", she says.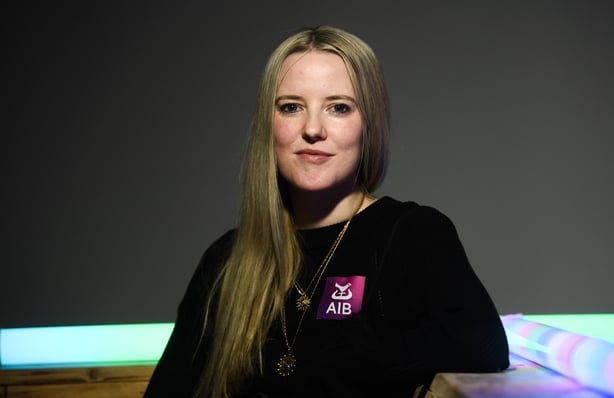 "The only thing that's difficult for people, I think, is the space and the cost of studios is quite expensive. It's down to a lack of space available. But you'll have challenges wherever you are, and I can't think of a better place to set up a business than Dublin."
Still, for a young creative inspiration abounds: "I think the quality of life here is so good, it's so easy to get out into nature. You have that mix where you're in a nice city where there's enough going on but it's not overwhelming, and it's not so far to get out and into nature.
"If you're not at the best you can be, it's hard to be at the best in your business."
Irish design is certainly booming, with designers like Richard Malone, Joanne Hynes and many more breaking through and onto the fashion radar. What is it that separates Irish designers on the world stage? 
"One thing that Irish designers have real appreciation for is craft", O'Raghallaigh says. "I don't know if it comes from our history - Aran sweaters or the tweeds they make in Donegal - but I do think that there's a tactile sensitivity that Irish designers have. There's something about where you're from that's reflected in the work."
Sorcha O'Raghallaigh will be a panelist at the AIB Future Sparks Festival on 26 March 2020.