In the age of social media, making an impact on the red carpet is no mean feat, and beautiful outfits can easily get lost in the noise.
It means celebrities have been working harder than ever to make fashion Moments – with a capital 'M' – and we've had plenty of jaw-dropping couture appearances this year.
It's been a particularly exciting year for fashion, as the rigid lines between genders increasingly blurred, and celebrities seemed less afraid of sartorial experimentation. Here are some of the most memorable red carpet moments from 2019…
Lady Gaga in blue
Cast your mind back to what feels like eons ago: awards season, when Lady Gaga was pulling out all the sartorial stops on the red carpet for A Star Is Born. One of our favourite looks was the powder blue Valentino gown she wore to the Golden Globes. This outfit was peak Gaga – it had all the drama of an extra-long train, and she even dyed her hair light blue to match.
What happens afterwards makes this look even more iconic. A maid from the hotel Gaga was staying in said she 'found' the dress after cleaning the room. Later it was put up for auction – which caused quite the stir – before being returned to the Valentino archives after claims it had allegedly been stolen. Normally, red carpet gowns only shine for a night, but this one has lived a surprisingly full life.
Timothée Chalamet in Haider Ackermann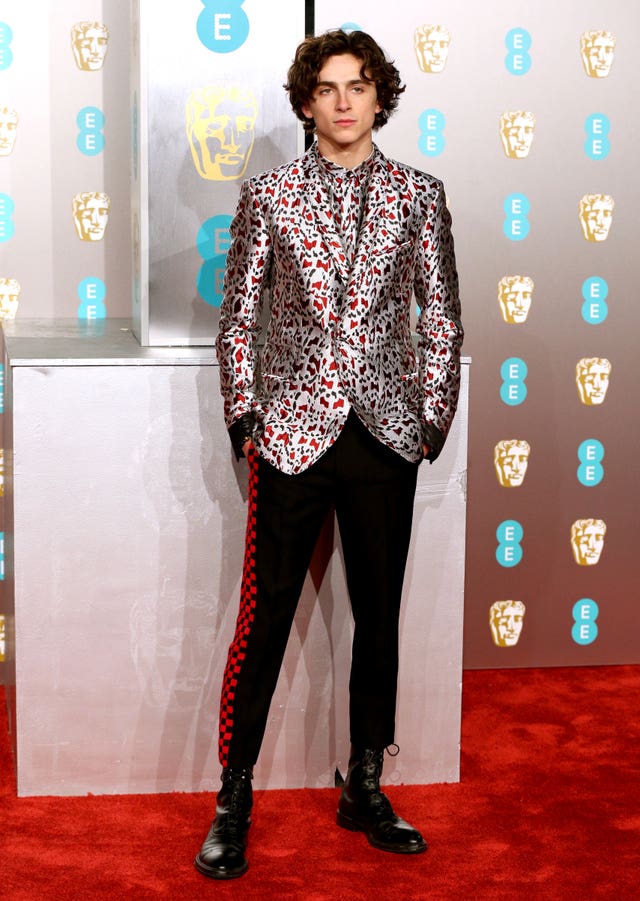 Menswear isn't normally the most exciting of areas, but it's seen a huge shift this year, and a lot of that is down to actor Timothée Chalamet. He's only 23 and doesn't even have a stylist, yet he's been making some seriously impressive red carpet choices.
Take his Baftas outfit by close collaborator Haider Ackermann. Chalamet wore a silver suit jacket with a red and black geometric pattern, a matching shirt and black trousers with a red block print down the side – hardly your average tux.
This was in February and really set the tone for Chalamet's year – he went on to surprise us again and again with androgynous and experimental suits on the red carpet, often in collaboration with Ackermann.
Cardi B emerged from a shell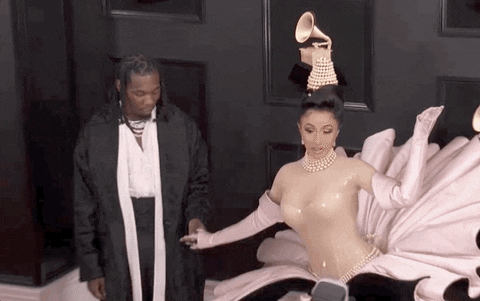 Rapper Cardi B isn't a stranger to pushing the boat out with her outfits, and she certainly didn't phone it in for the Grammys. Cardi wore a vintage Mugler outfit, involving a sheer, pearl-encrusted bodysuit, a black fishtail skirt and a pale pink fan around her, as though she was a pearl in an oyster. The whole vibe was straight out of a Renaissance painting.
Gemma Chan at the Oscars
Crazy Rich Asians actor Gemma Chan wore a showstopping gown to the Oscars, embodying the 2019 fashion trend for 'bigger is better'. The hot pink, high-necked Valentino dress featured a high, ruffled collar and parachute silhouette, trailing on the floor behind her. Oh, and the dress has pockets – the dream.
Billy Porter wore a knock-out gown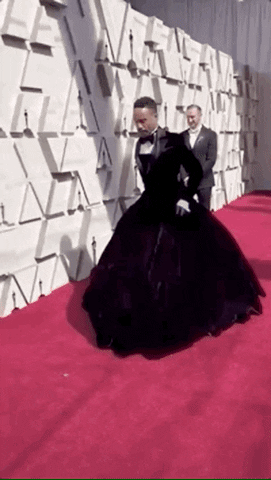 Actor Billy Porter emerged as a breakout-style icon this year, taking huge risks on the red carpet. His Oscars outfit will certainly go down in history: a classic black tux on the top, while the bottom half exploded into a voluminous velvet skirt.
The custom gown was by Christian Siriano – a designer known for his inclusivity – and Porter was well aware of the statement he was making. He told Vogue: "My goal is to be a walking piece of political art every time I show up. To challenge expectations. What is masculinity? What does that mean?"
Lady Gaga wears four outfits in one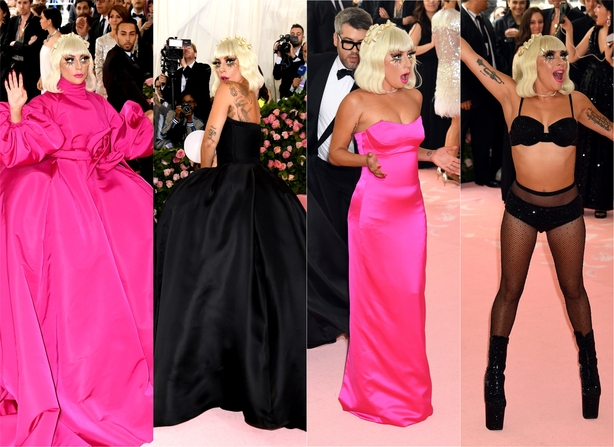 Lady Gaga's had a big year, so it's no surprise she's on our list twice. As one of the hosts of this year's Met Gala, Gaga pulled out all the stops and walked the pink carpet in not one outfit, but four. Her pink long-sleeved gown was ripped off to reveal a black dress, followed by a hot pink strapless number and finally black lingerie – all topped off with exceptionally long eyelashes.
All of the outfits were by her long-time collaborator Brandon Maxwell, who was originally Gaga's stylist before becoming a successful designer in his own right.
Elle Fanning went vintage at Cannes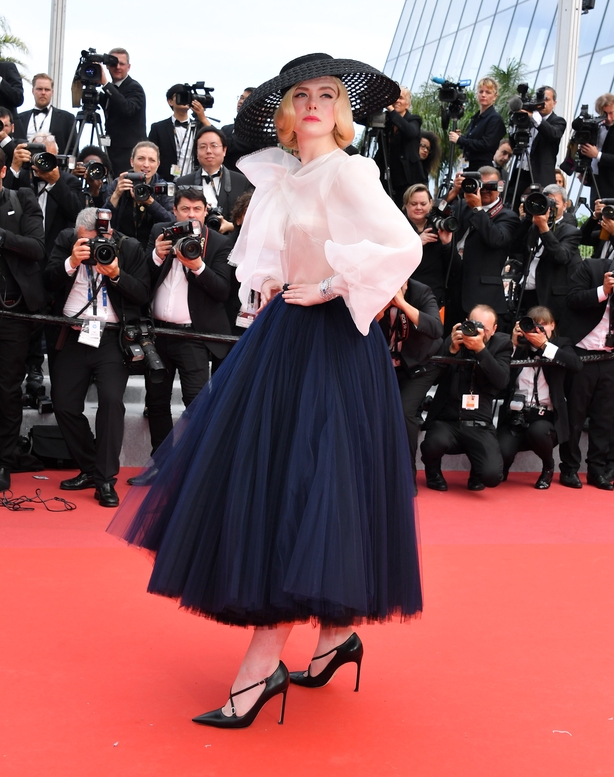 Elle Fanning stole the show at Cannes Film Festival as the youngest jury member in history. Working with stylist Samantha McMillen, the 21-year-old served some serious looks for the premieres.
Walking the red carpet before a screening of Once Upon A Time In Hollywood, she wore a custom Dior outfit which InStyle says took 450 hours to make. It involved a black tulle skirt, a sheer white pussy-bow blouse and dramatic black hat.
The whole vibe channeled 1950s Old Hollywood Glamour. It's a difficult outfit, but one Fanning managed to pull off with ease.
Helen Mirren made an entrance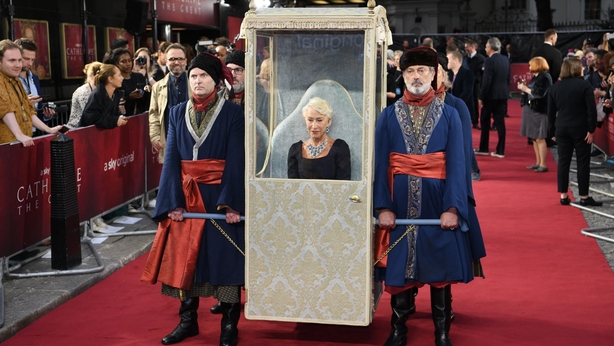 Don't be fooled into thinking Lady Gaga is the only one partial to drama on the red carpet. Helen Mirren gave a masterclass on making an entrance at the Catherine The Great premiere in London, arriving in a litter carried by four lackeys. She kept her outfit sleek and simple with a navy Chalayan top and trousers, making her magnificent jewels the star of the show.
Sinéad Burke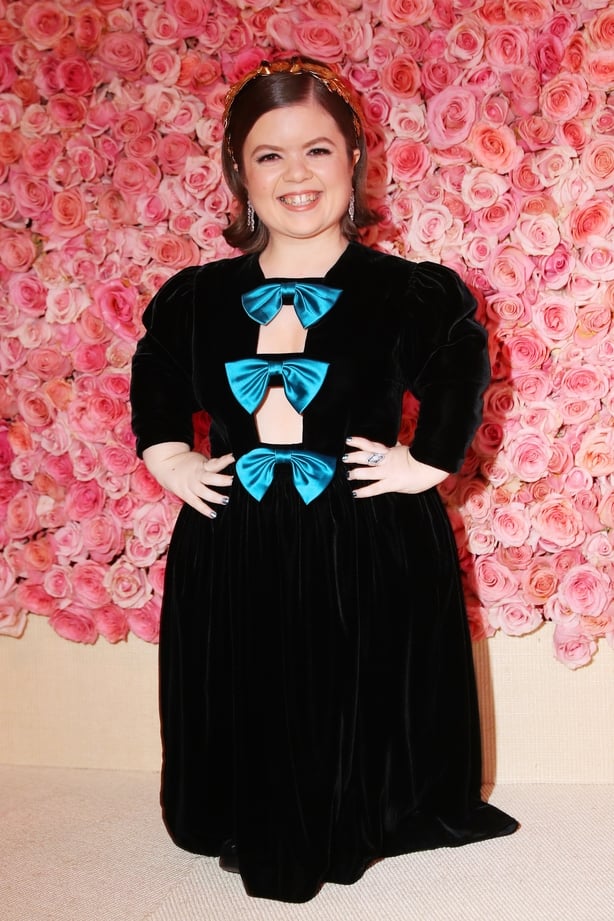 Sinéad Burke has revolutionised fashion, taking the world by storm with her astute commentary on accessibility in the fashion industry. The activist also became the first little person to attend the Met Gala, so we were particularly proud to see her walk the pink carpet.
As always, her outfit was jaw-dropping and just camp enough. Wearing a custom Gucci black velvet gown with bright blue bows and a daring deep v-neck, Burke looked every inch the trailblazer she is.
Janelle Monáe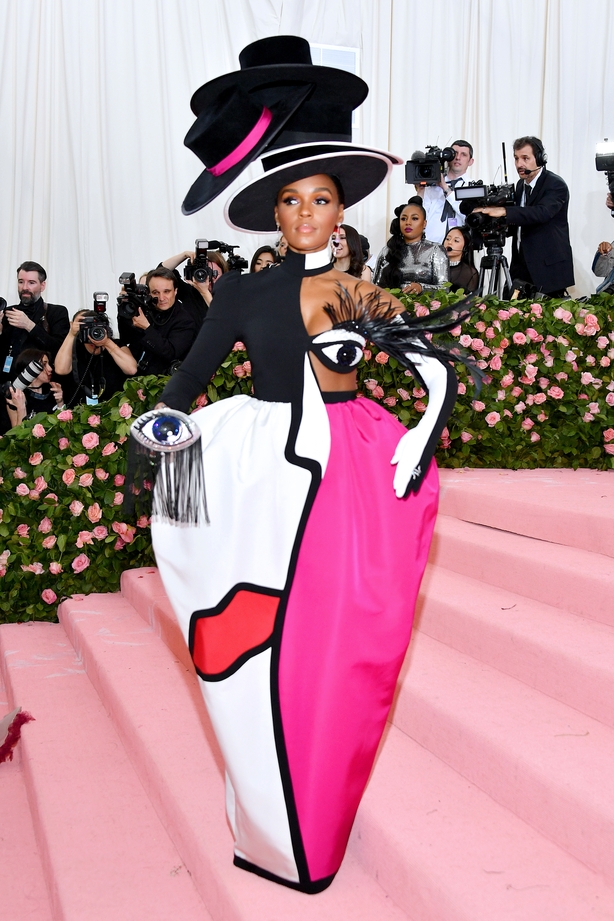 Inspired by Susan Sontag's 1964 essay, Notes on 'Camp', this year's Met Gala inspired some incredible looks. Competing with some of the most eye-catching looks of the year, Janelle Monáe outdid herself in this custom Christian Siriano dress complete with a blinking eye.
Selma Blair

Hollywood stars take red carpet fashion seriously, which is why many A-listers refuse to wear the same outfit twice in one night. From exiting the 91st Academy Awards to entering the Vanity Fair Oscar Party, many celebs made a quick - yet fabulous - wardrobe change.
With so much glam, it can be hard to stand out from the crowd but Selma Blair did just that. The actress, who has multiple sclerosis, looked incredible in a colourful Ralph & Russo gown.