While summer is the season many couples choose to tie the knot, when it comes to popping the question December is the most popular month, according to a survey by Brides magazine.
So prepare for your Instagram feed to be flooded with pictures of grinning couples sharing their happy news.
Brides-to-be will also be showing off their sparkly rings, so what will be popular on the jewellery front in December?
From shapes and sizes to sustainability, diamond expert and CEO of WP Diamonds, Andrew Brown, runs down seven engagement ring trends he predicts will be popular this year…
1. Custom rings
"Custom design rings are much more personal than those bought from a retail chain, which is perfect for someone who wants to own something totally unique to them.
"Take the Duchess of Sussex's stunning engagement ring, for example, in which the Duke of Sussex included a cushion-cut diamond from Botswana (a country close to his and Meghan's hearts) as well as two smaller diamonds from Princess Diana's personal collection.
"We're seeing people become more confident in showing off their own style, which might explain why tailor-made rings are becoming increasingly popular."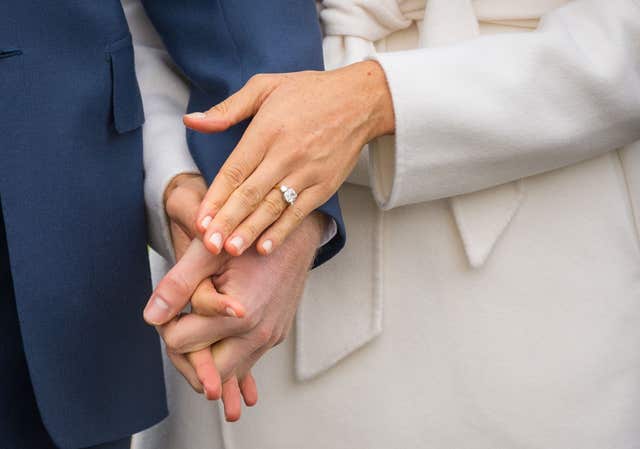 2. Sustainable diamonds
"When it comes to diamonds, we are seeing socially conscious attitudes influencing buying behaviour. With this in mind, we expect to see an increase in consumers purchasing pre-owned diamonds and recycled jewellery.
"Buying pre-owned from a certified jeweller is the most eco-friendly and affordable way to buy an engagement ring. It reduces the demand for new jewellery and mining, which in turn reduces the damage this causes to our planet.
"The Duchess of Cambridge wears possibly the most famous pre-owned engagement ring in the world – an incredible 12-carat sapphire once worn by Princess Diana."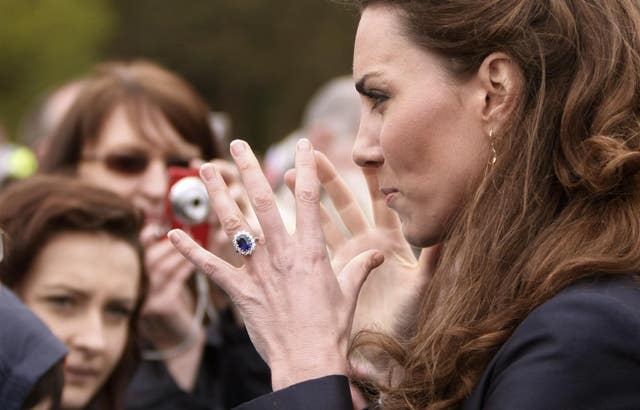 3. Smaller stones
"We're seeing a shift away from large, flashy diamond engagement rings and instead moving towards smaller stones, of a higher quality.
"Customers increasingly want more versatile pieces of jewellery – a ring they can wear to work, on their date night or while exercising, for example, so a radiant, smaller stone fits this brief perfectly."
4. Thin bands
"Following the trend of wearing subtle, simple pieces, I'd propose that dainty engagement rings will see a resurgence in 2020.
"Thin (with a width of 2mm or less) or pave bands (lined with diamonds smaller than .01 carats) are a popular choice as they make the diamond the focal point of the ring.
"This year, we saw stackable rings at the top of jewellery trends. I expect we'll see a lot of stacked thin band engagement rings in the new year."
5. Princess cut diamonds
"Diamond shape means a lot when it comes to picking the ring, and it looks like the princess cut is making a comeback, a unique geometric shape with subtle elegance and royal flair.
"However, the oval cut diamond will remain top of the list, hugely popularised by engagement rings worn by young celebrities, such as Hailey Bieber and Blake Lively. "
6. White gold
"White gold has a beautiful silvery-white colour which complements all gemstones and is perfect for those who prefer a neutral tone over yellow or rose gold.
"As we are seeing subtlety remerge at the moment, I'd suggest the colour of engagement rings will follow this trend and white gold will be a popular, and less expensive, choice for those who are lucky in love."
7. Choosing your own ring
"The styling of an engagement ring is definitely more of a collaborative effort among couples now. The tradition of one partner going into a jeweller and buying the ring without any input from their other half is becoming much less of the norm.
"It's a significant investment and a piece of jewellery that is worn for a significant part of their lives, so it makes sense to make the decision collaboratively.
"If you're planning to pop the question why not surprise your partner with a trip to choose the ring together?"