I've been excited to reveal this project for so long. It's the larger guest bedroom in my house. It's a space my sister and her partner share and I had it on my to-do list for ages.
As we all know, life often gets in the way of our plans. This year, my main distraction from house projects was my wedding in the South of France. This obviously ended up taking priority but I finally got round to finishing it this week and I'm so pleased with the results, and more importantly, my sister and her partner love it!
The before
The walls were the same colour throughout the house when we purchased - a decidedly uninspiring off-white. I was itching to inject some colour.
I also wanted to work with the positive features of the space - the box bay windows that let in plenty of light and create visual interest, and the built-in wardrobes in a lovely neutral grey.
We used the same flooring in all the bedrooms upstairs, engineered wood flooring in an ash grey, so this made for the perfect base for a colourful transformation.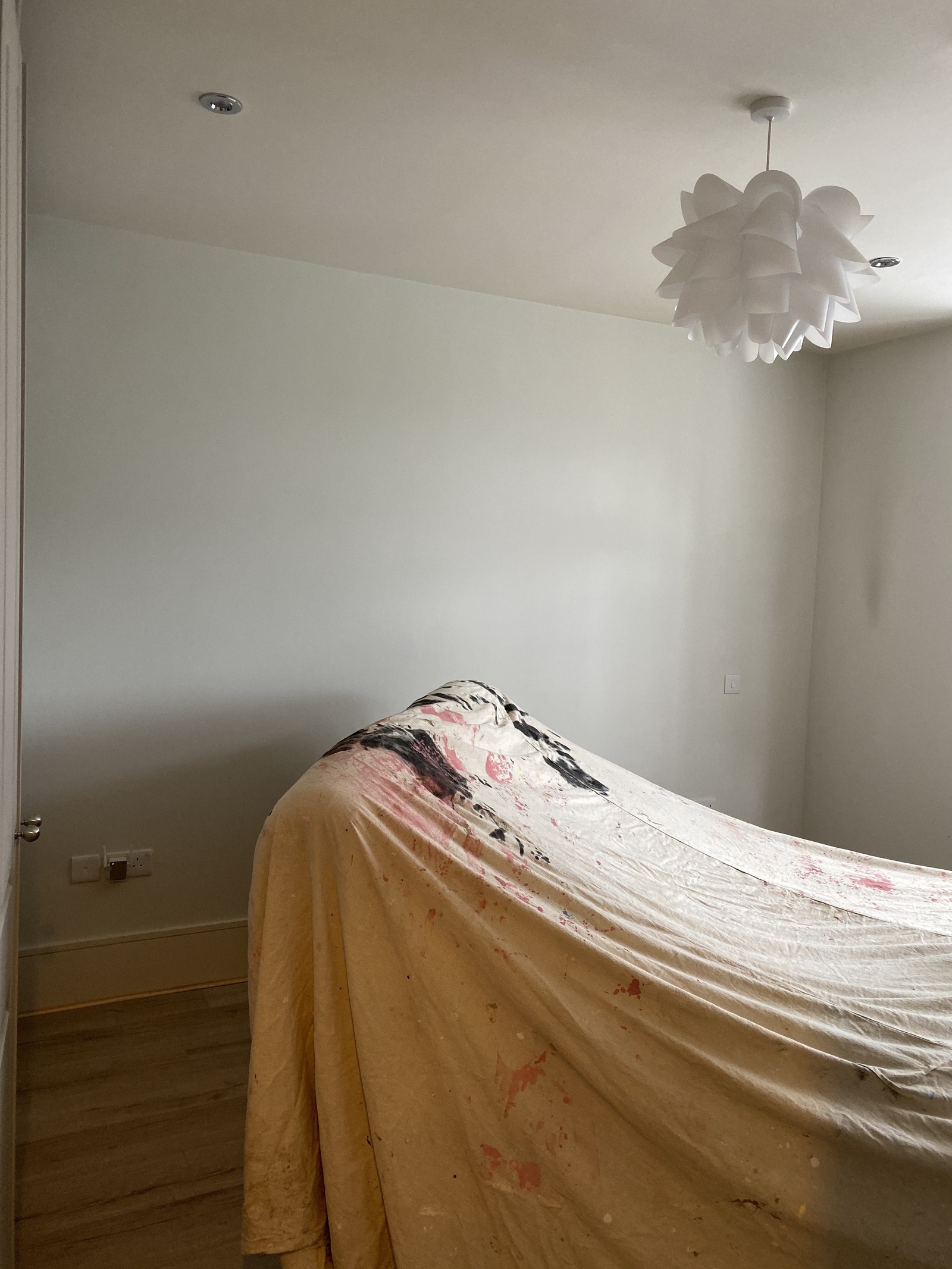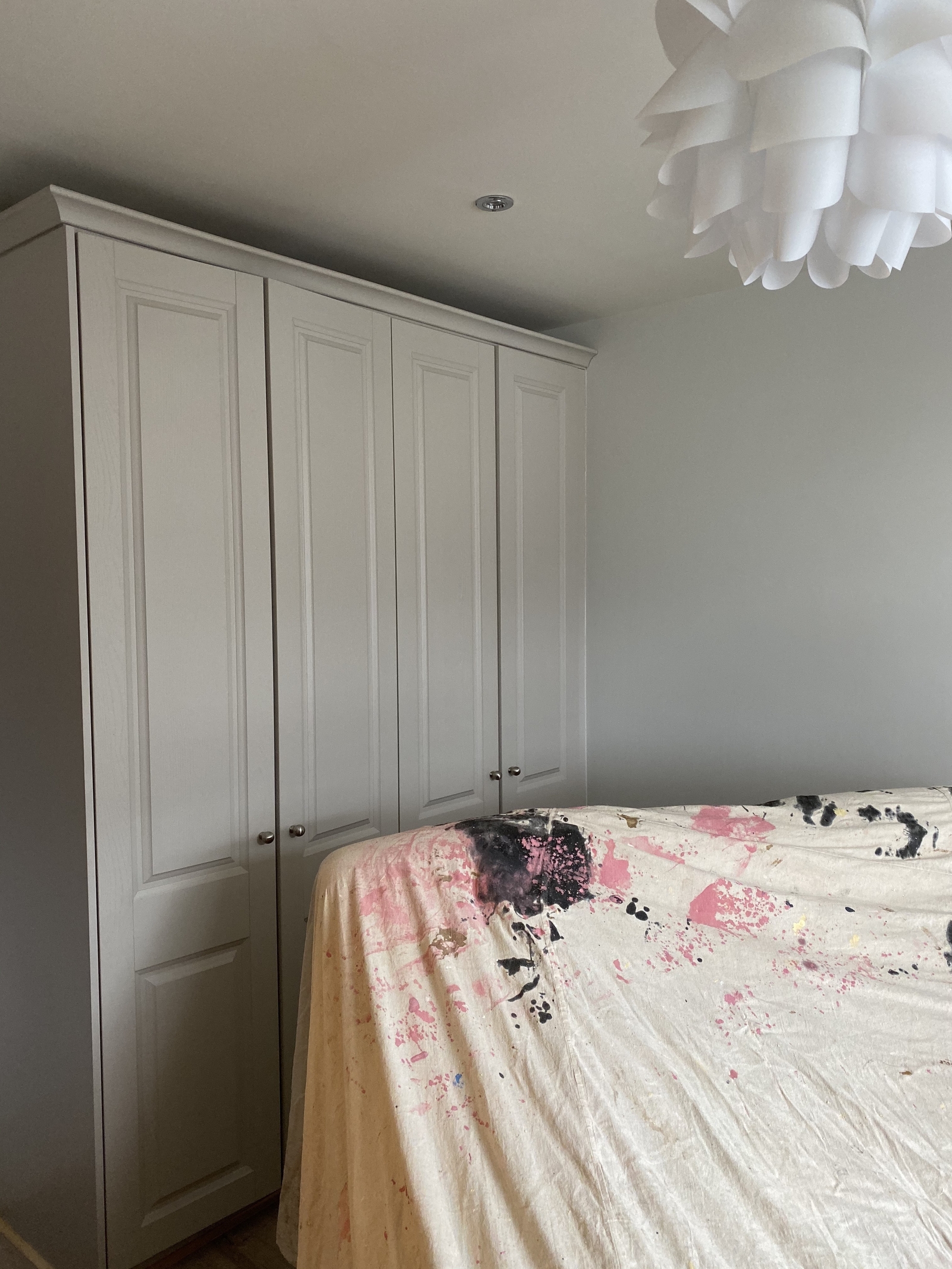 Moodboard
The concept was to create a luxurious blue bedroom with touches of yellow, black and gold. I was inspired by some iconic blue bedrooms from film and television, including Kathryn Meurteil (Sarah Michele Gellar's) boudoir in Cruel Intentions and Carrie Bradshaw's apartment in Sex and the City.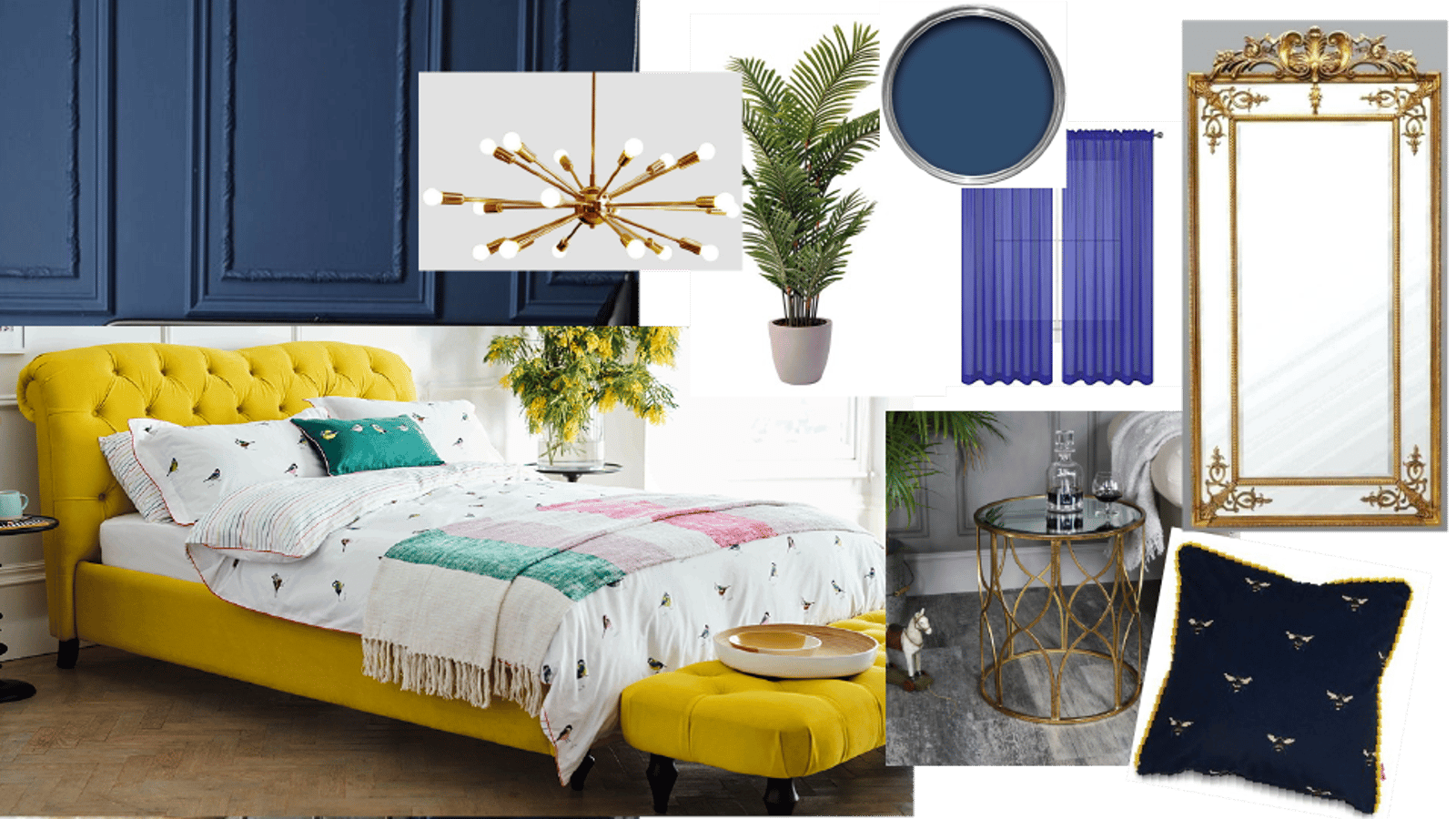 Painting
I found the perfect cobalt blue due to an excellent recommendation from Joanne Condon's (@joannecondon). She recommended a custom mixed Dulux shade.
We painted out the walls, ceiling and woodwork completely to create a cocooning effect. This is a great trick to create the illusion of unlimited space.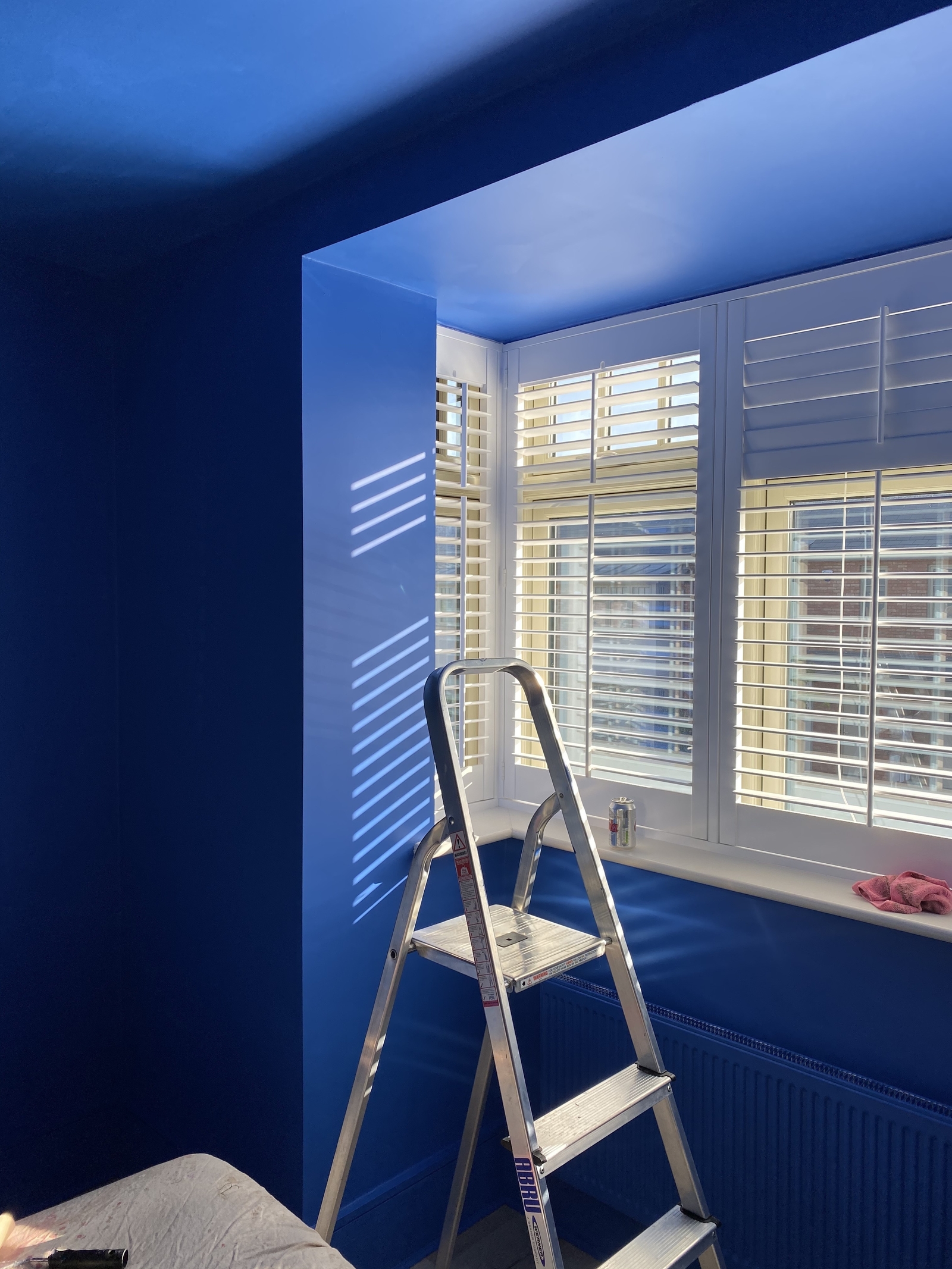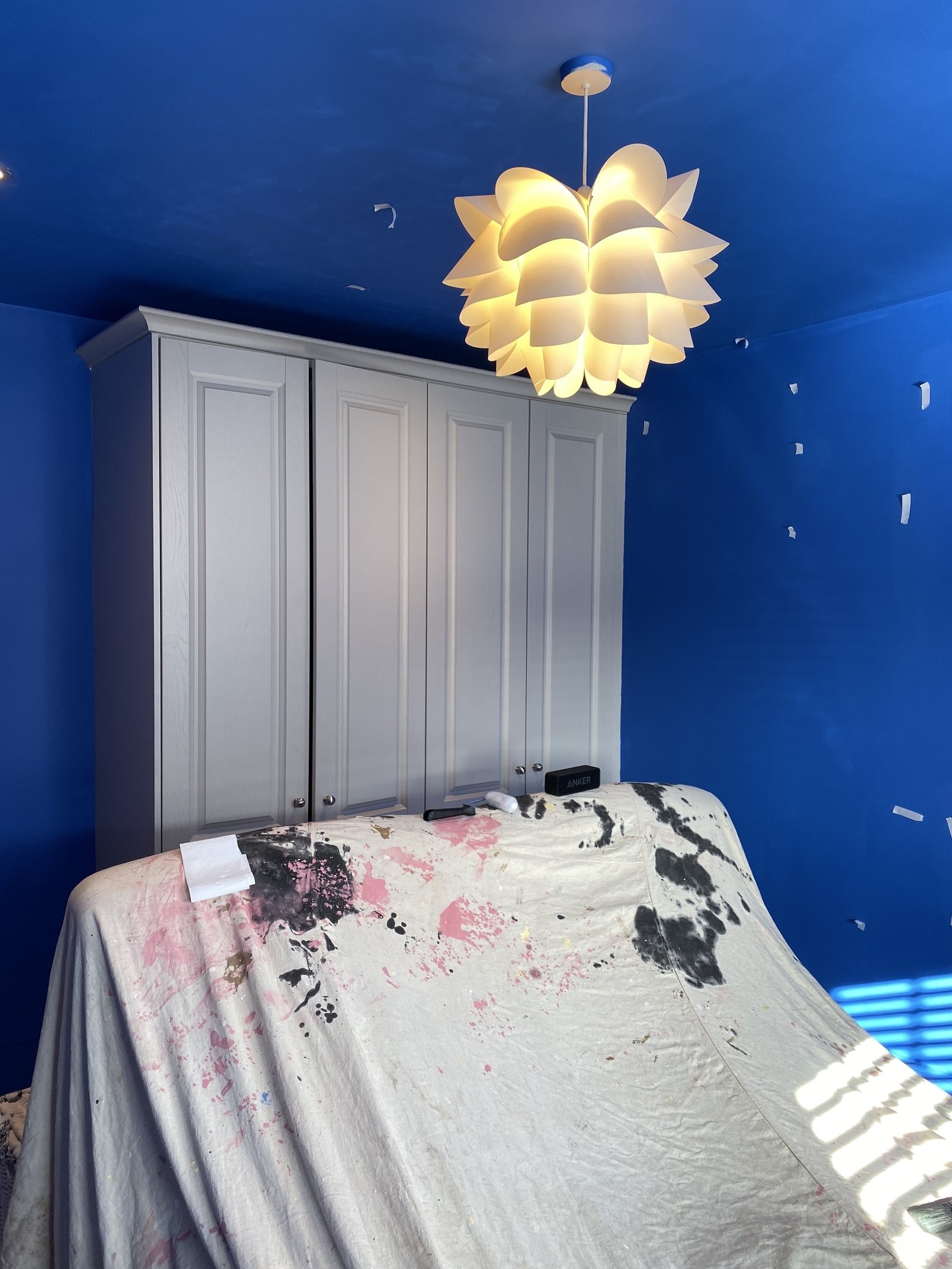 The panelling
It was always part of my vision to incorporate wall panelling into the room. I wanted to create a sense of luxury in the space and panelling is such a simple way to do this! We picked up the wood beading in Woodies and measured the space very carefully. I planned out a simple layout with three long panels. I feel the panelling adds just the right amount of visual interest without opting for a strong pattern wallpaper.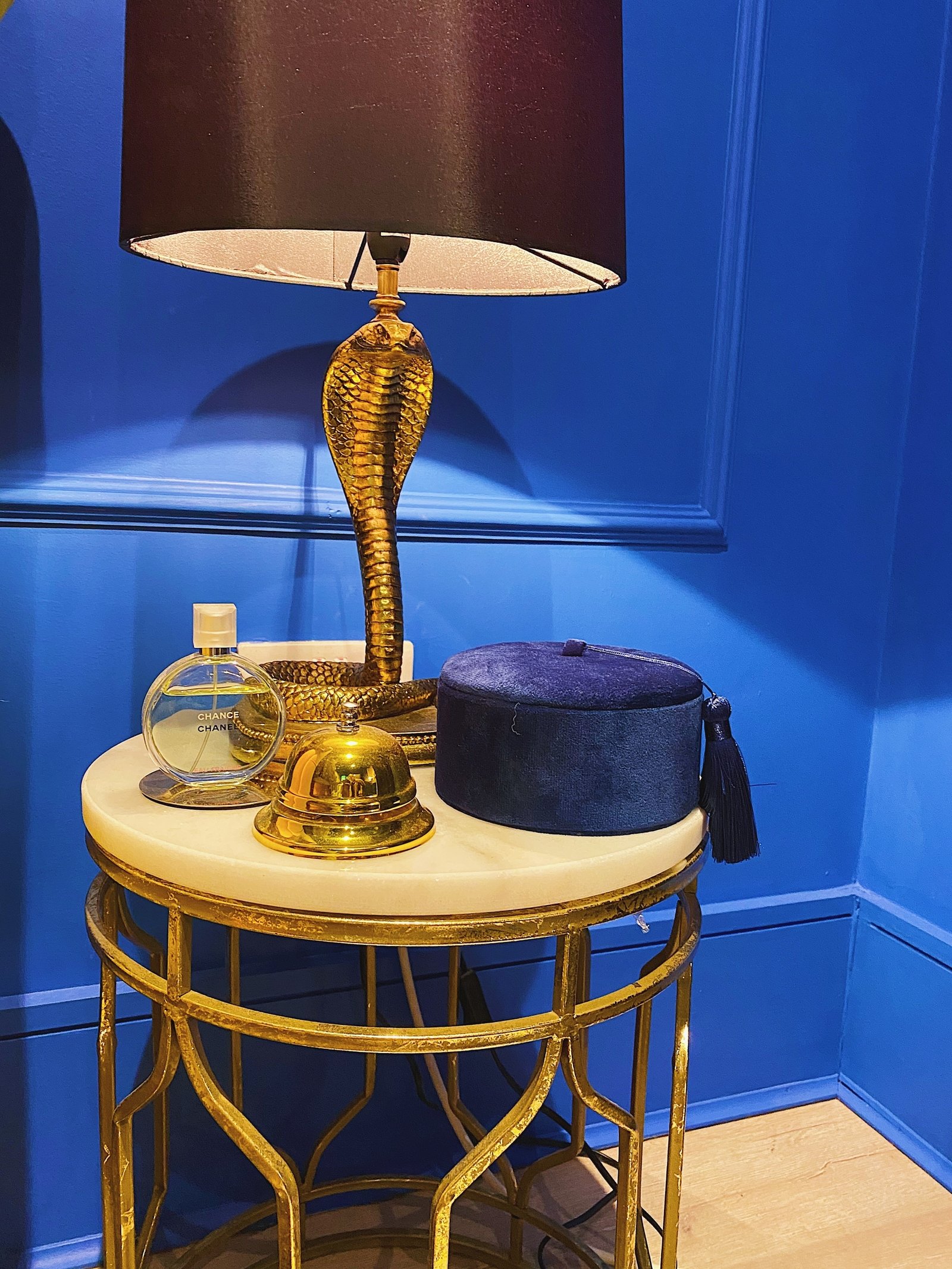 The furniture
It started with choosing a bed, I was fortunate enough to have been gifted the DFS x Joules Windsor bed in yellow velvet. It would create the perfect pop of colour against the cobalt blue paint I had in mind.
I was blown away by the quality of the bed when it arrived, the velvet is beautiful to the touch and the structure is incredibly sturdy and well-constructed. It has the most wonderful details including a rabbit silhouette on one of the legs and patterned fabric on the interior. You can tell a lot of love went into designing it!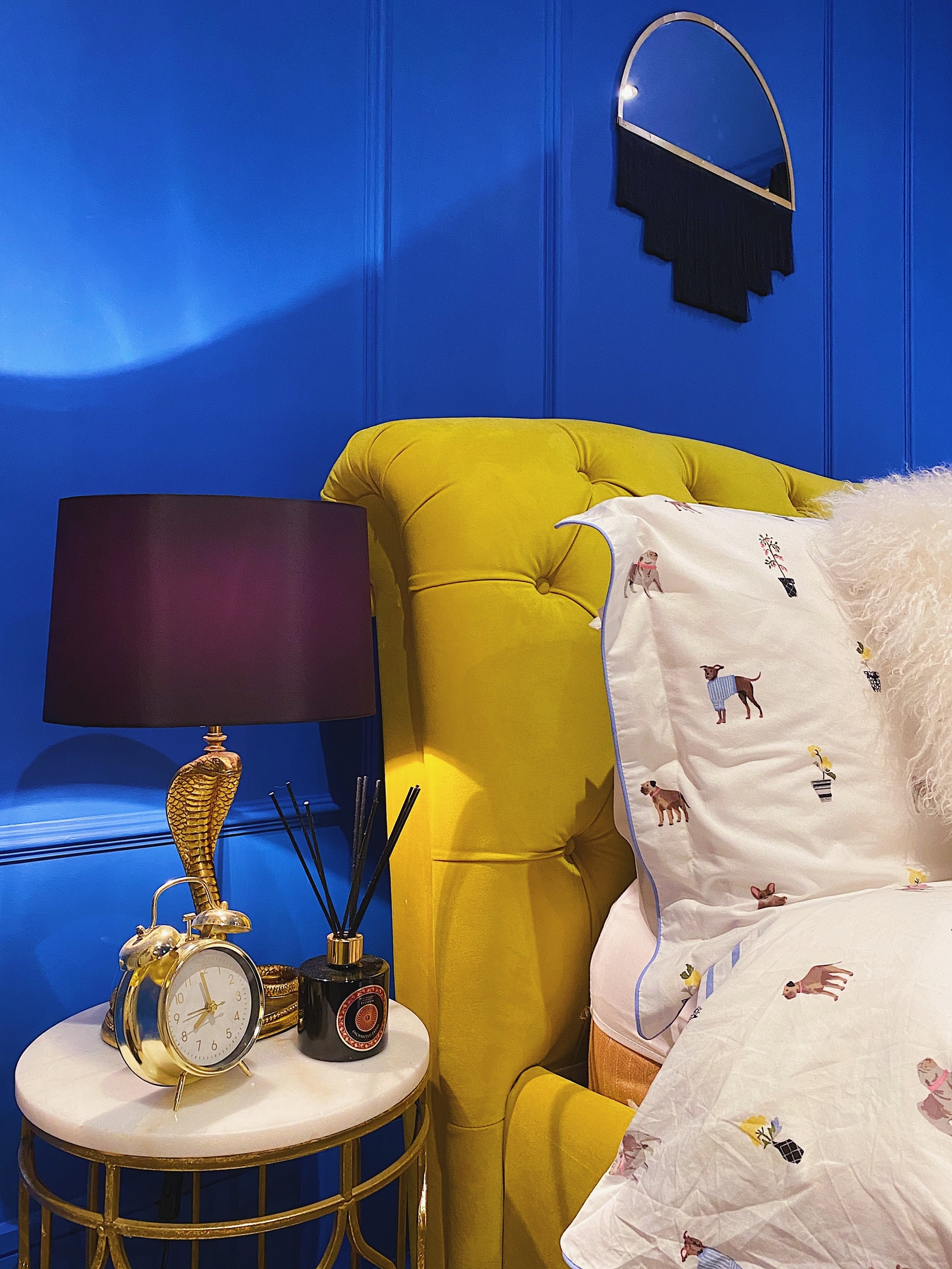 I found a pair of marble topped gold side-tables on Zara Home and snapped them up when they were discounted. I was really pleased with the quality, they are incredibly heavy, which is always a good sign.
My sister had the Ikea dressing table already so we kept that and added the navy velvet Sostrene Grene chair for a touch of glamour.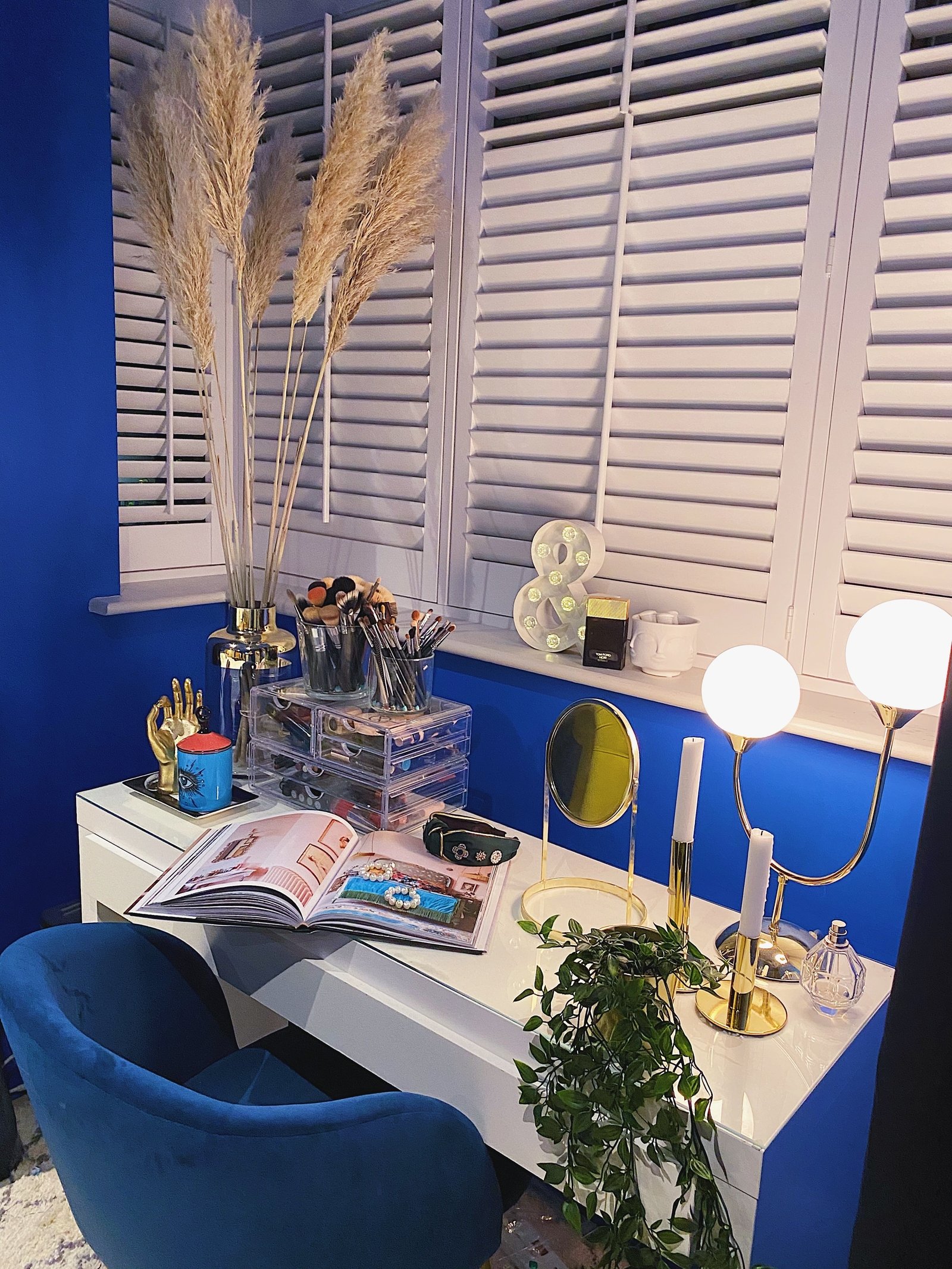 Finishing touches
I had my heart set on plantation shutters for the front of the house, and while expensive, they were a fantastic investment. They offer as much privacy and light as you like and I love the aesthetic.
I decided to add curtains to soften the look of the bay window and add some texture. I opted for a very dark shade of blue to compliment the cobalt blue on the walls. I found oversized gold tasselled tie-backs to add another layer of luxury and colour. These can be styled with the curtains or hung on the wardrobe door knobs.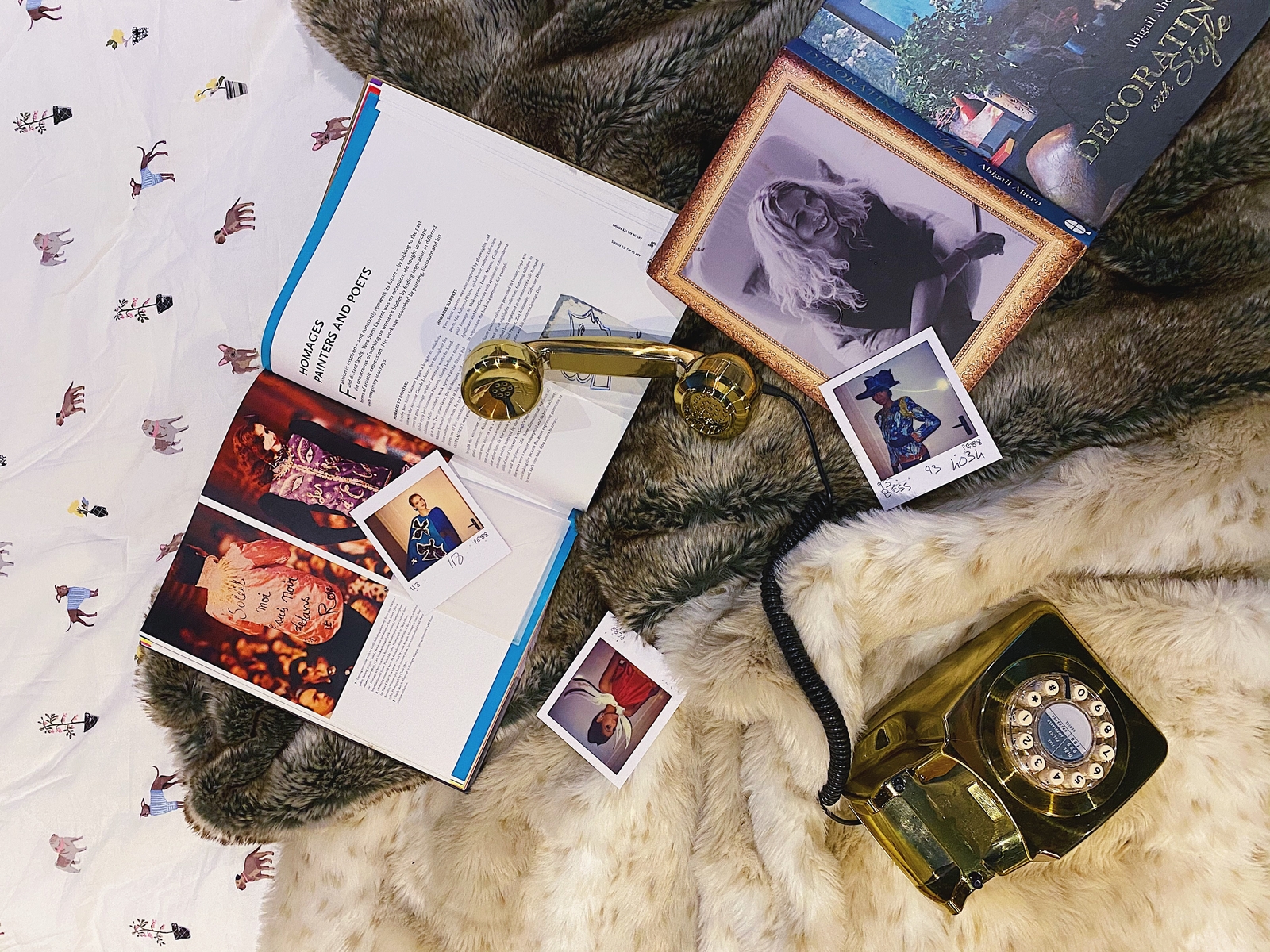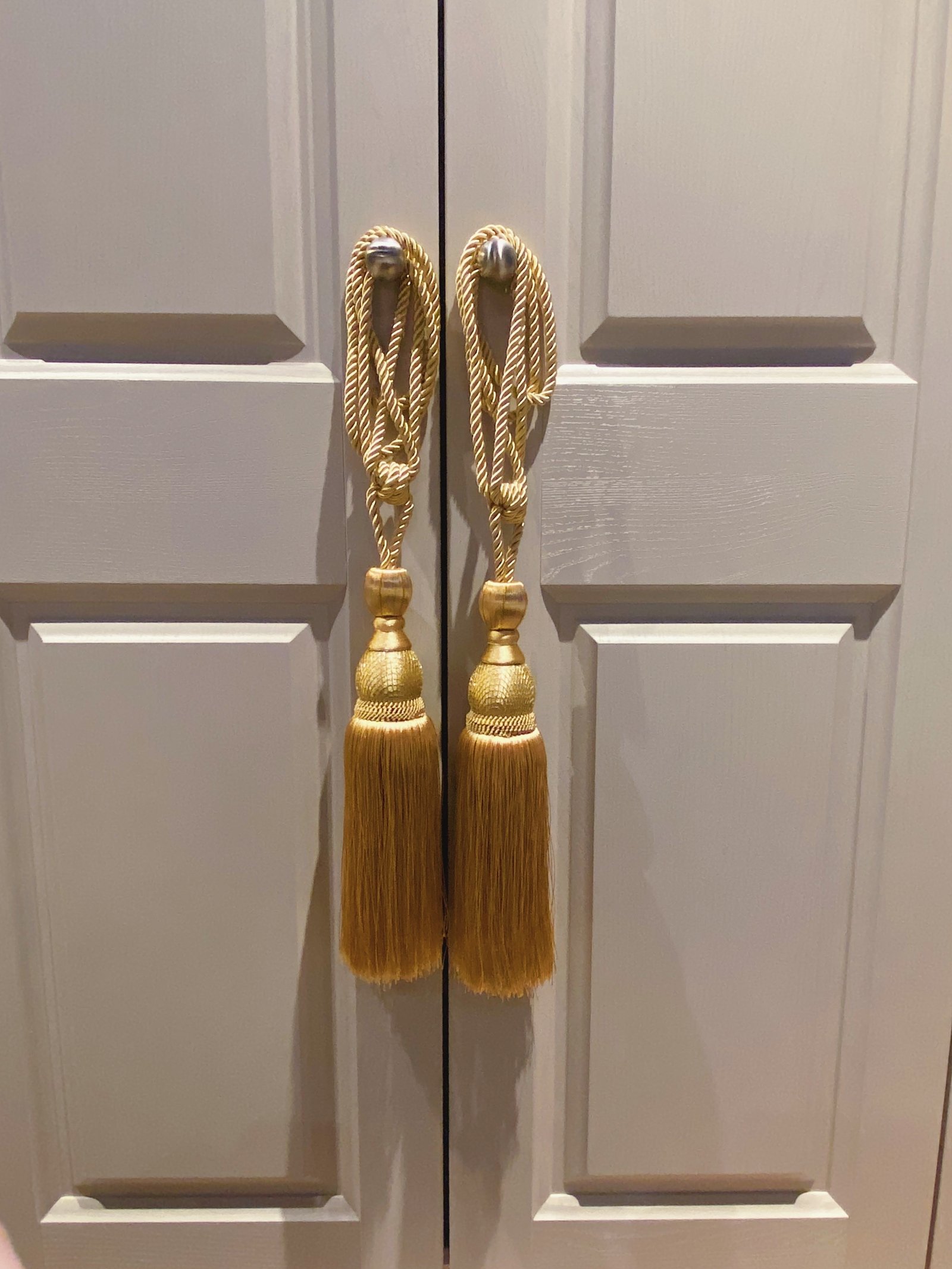 I spotted the ceiling light in an issue of House and Home magazine. I had been looking for a frosted globe glass and brass light fixture, but most were coming in over budget. I purchased this immediately from Littlewoods when I realised it was only €40.
I purchased the Biba snake bedside lamps in House of Fraser last year on a whim, and they work perfectly here. The sheepskin and faux fur throws add texture and warm up the space. They were both bargain buys.
Perhaps the most unusual piece, is a reindeer skin which was a wedding gift from my brother in law. While I'm personally 100% against hunting, these are ethically sourced from seasonal culling in Iceland.
The final result!
I'm so pleased to have completed this project just in time for Christmas! I love the bold colours working together and the luxurious touches of faux fur and the wall paneling. I would love to know what you think - get in touch on Instagram with any questions or feedback.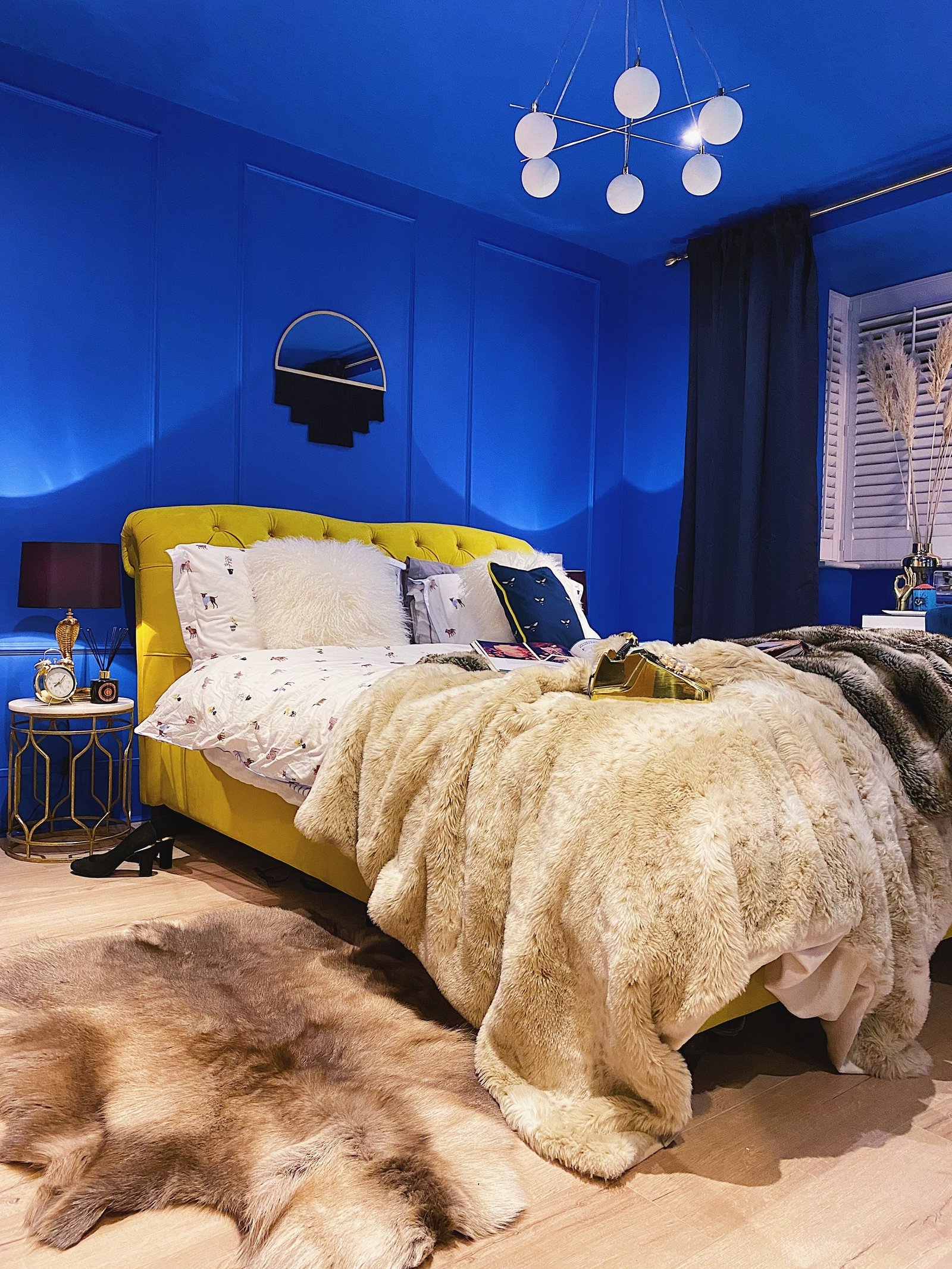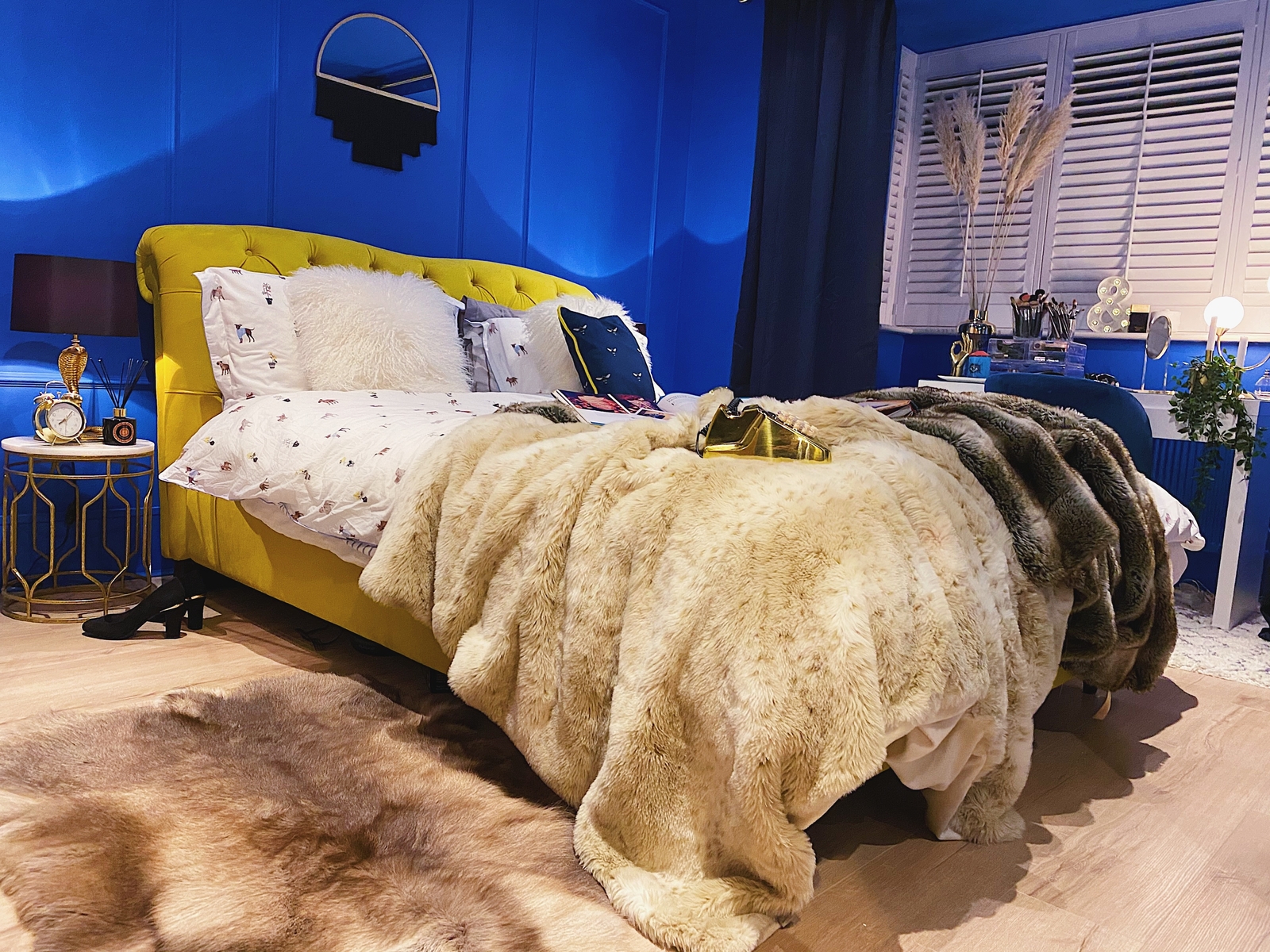 Jen Connell is an Irish designer and interiors columnist. Follow her on Instagram at @jen_connell_ or get in touch at jen.connell@rte.ie
Product list
Bed - DFS x Joules Windsor Yellow Velvet Bed €1429 (Gifted)

Bed linen - DFS Garden Dogs from €64 (Gifted)
Bee cushion - DFS €32 (Gifted)
Paint - Dulux Trade (code: 16697, 52BB15410)
Wood beading - Woodies €10/2m
Curtains - Ikea MAJGULL €35
Curtain pole - Homestore & More €50
Gold curtain tiebacks - Amazon €10
Rug - Homebase €45
Dressing table - Ikea Malm €99
Bedside tables - Zara Home €100 each

Snake table lamps - Biba (out of stock)
Glass and brass lamp - Littlewoods Calm White Ball Lamp €36
Ceiling light - Littlewoods Calm Ceiling Light (out of stock)
Gold Hand ornament - Next €12
Mongolian cushions - Homesense €35 each

Gold telephone - Amazon €30
Sheepskin rug - Ikea €35