Labor Day weekend is a cherished holiday in the United States, a time when the rich and famous often jet off to country houses, lounging by the pool as a barbeque smokes away nearby, or even splashing around on a Caribbean beach somewhere.
Not Tracee Ellis Ross.
Instead, the Blackish star and daughter of Diana Ross took to her laundry room to honour the holiday with some housework, sharing her love of handwashing clothes with her 6.8 million followers.
And as handwashing is one of the more eco-friendly - not to mention gentle - ways of washing clothes, this is the kind of influencer content we like to see!
"It's one of my great joys", the model says, from her makeshift laundry room studio, adding: "I treasure my clothes, I spend money on my clothes and my mother told me early on in my life 'if you're going to spend money on things you need to take care of them.'"
Explaining that dry cleaning isn't her favourite - we gather it's something to do with the smell? - she says that when she gets a moment, she'll lovingly handwash her favourite pieces.
Having just hand-washed one of her older Saint Laurent cardigans, loved all the more for the few holes it's developed, she stressed how easy it is to do, explaining that depending on the kind of washing machine you have, you don't even need to do the vigorous work.
When she's feeling very hands-on, however, she'll bring out her "bucket" - a pretty fancy-looking porcelain bowl (you do you, Tracee) - and soak them in there.
"My favourite little ritual is laying out the piece of clothing that I hand-washed and making sure that it is laying on the seams, that whatever [part] when they were wet, are stretched gently so that they bounce back but they bounce back within a shape."
Laying the piece on a towel, she gently presses it dry and flat leaving it to dry completely.
Why you should handwash?
Far from being a lost art, handwashing is still used across the world, particularly by those stuck for space or without more modern appliances.
For those who favour more expensive, delicate or vintage pieces, this is a more affordable option over dry cleaning, and also allows you to work with your clothes yourself if you are particular about them.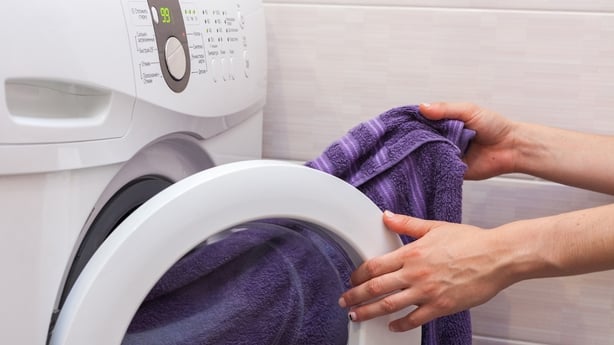 Most relevant for many people, however, will be the fact that it is a far more sustainable way of caring for your clothes. According to the University of Michigan's Sustainability Initiative, an average washing machine will use up as much water in one year as a person drinks in a lifetime, with the average load of laundry taking 151 litres of water.
Karen O'Mahony, of alterations and upcycling business Rag Order, says that she would generally prefer handwashing over tossing anything and everything into a machine wash.
Speaking to RTÉ LifeStyle, she said the main reason would be "the amount of water you use in each cycle".
"A lot of people throw stuff into [newer] washing machines and don't realise that you can actually reduce the amount of time that you put in on a cycle."
"I think it's totally unnecessary to have things in for two hours", she adds, saying that one hour or even 40 minutes is often more than enough time to clean clothes.
Using the delicate setting on your washing machine recreates the gentle wash of a handwash, without you even having to do the dirty work yourself.
As for temperature, O'Mahony suggests washing at 30 degrees, unless clothes are very soiled.
"For really delicate things and really special things, I would actually handwash them myself, physically, in a bowl."
She suggests using lukewarm water with a gentle detergent like Ecover, and instead of soaking clothes, gently clean them with your hands. Finish most clothes off in your washing machine with a rinse and spin, except for silks which O'Mahony says she drip-dries.
For all the practical benefits of handwashing, there's the mindful aspect of carefully and deliberately caring for your clothes. Yes, we're all increasingly trying to find sources of wellness wherever we can, but this one works - just look how joyful Tracee looks!
O'Mahony agrees wholeheartedly. "There's something kind of lovely about handwashing things and getting stains out of things, trying hard to do that", she says.
"We're so used to throwing everything into the washing machine and putting it on and not really thinking about it and then wondering why things have shrunk or when things are discoloured. If we're more conscious of that then our clothes will last much longer."
O'Mahony jokes that her husband is particular - as we all are! - about stains in his t-shirts and that she gets "great joy out of showing him I can get these things out of it for him!"