Opinion: Writer and trans-activist Alexandra Day shares her guide to shopping for clothes as a transgender person in Ireland.
It's summer 2015, the night that the Marriage Equality referendum passed. Town is buzzing with the positive news, as what feels like the entire Irish LGBTQIA+ community make their way to their local strongholds for a night of celebration. I'm wearing a dress in public for the first time as a transgender woman. 
These pubs and nightclubs were so busy that it was pretty much impossible to actually get into one of these places.
What I do remember, though, is how at peace I felt wearing what I wanted, at last. How surreal it felt to be out in the world as myself after years of hiding that person away. 
There were warm smiles of people from my community as we passed each other wandering between pubs and hoping for a bit of luck, and the two women in the queue of the fast-food restaurant we prematurely finished our night in who told me that I looked amazing, adding a "Good on ya!"
Clothes have always been important for our self-expression. In the case of trans and non-binary people, they are a means to show the world how we want to be seen, whether we're at the start of transition or to simply communicate the real version of ourselves to the world.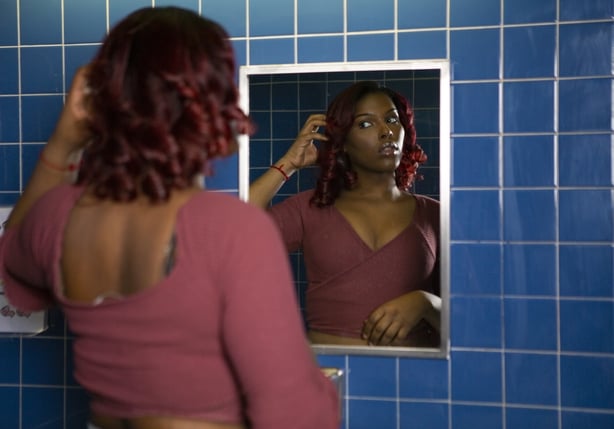 Shopping for the first time
When first coming out, shopping and fashion can be one of the more daunting areas for transgender and non-binary people. When looking for clothes and trying to find your style, your experience can be made more difficult or even ruined by something as simple as a sales assistant trying to hide a smirk as they help you, people whispering and pointing at you or general anxiety about shopping in public in the first place. 
It can be a nerve-wracking experience, so it's no surprise that many of us bring friends or family members for support when trying to search for clothing for the first time.
It's not all negative, of course. Shopping for new clothes can act as a form of validation after navigating the tough road of coming out to our loved ones in the first place, or offer comfort through self-expression if that milestone still awaits us. Public spaces can have both positive and negative connotations for the trans community and nowhere is this more obvious than in clothes stores. 
Many stores are still learning how best to accommodate trans and non-binary people. Inevitably, there will be teething problems as more stores roll out trans-inclusive policies but this also means that not everyone is going to have a positive experience as businesses learn how best to assist us. Either way, your experience should be as stress-free as possible.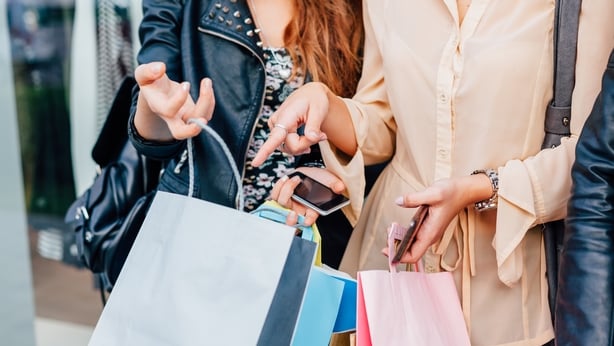 Keeping this in mind, here are some general tips for those in the community who are shopping for the first time as themselves.
1. Go with a friend or family member.
If you feel it would give you more confidence to shop in the section you want. The first time you go shopping should be a positive experience so why not share that experience with the people who matter to you most.
2. Be confident while shopping.
While you may get some looks from other customers or staff members, know that there is nothing wrong with shopping in the section that you want, the same as anyone else.
3. Don't be afraid to ask for help
If you can't find something, reach out to staff for help. Training for helping trans customers is becoming more common in retail roles (High street retailers are rolling out policies that teach staff members to respect and assist those with different gender identities and expressions) so staff should be able to help you or at least point you in the right direction.
4. Online shopping
Shopping online is a great way to buy clothes if you feel too self-conscious to shop in-store and don't want to deal with being out in a public space. In fact, many people in the community shop almost exclusively online due to the greater range in sizes and styles available.
Inclusive brands
Finding clothes in person can be difficult for some members of the community. As a plus-size trans woman, I do most of my clothes shopping online.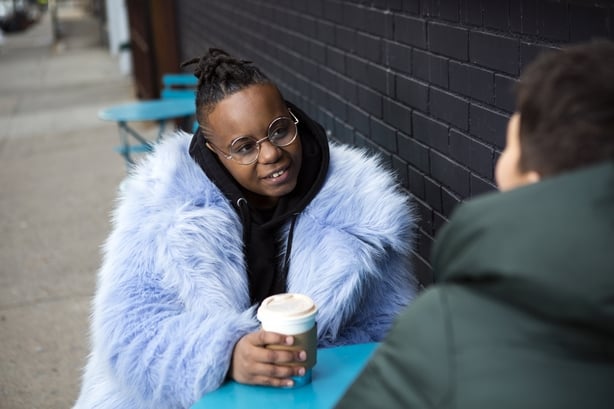 Many of the brands that are most inclusive of trans people tend to be based primarily online and overseas. This means that shopping for essential items like trans inclusive underwear (which are manufactured specifically for pre-op trans women and trans men or non-binary people), socks and shoes (bigger shoes sizes or wider shoes for trans women) can be expensive, but thankfully there are much more affordable options for general clothing items. 
Generally, I've discovered most of these websites from personal recommendations from other trans and non-binary people who have used these websites previously or through trans communities online. More retailers are opening every week, so keep an eye out online and keep asking friends within the community for suggestions. 
There is also the option of buying sustainable clothing through charity and secondhand shops or freely through community clothing swap events if you don't want to feed into buying "fast fashion" brands. 
That being said, this approach can sometimes inadvertently exclude plus size trans or non-binary people or members of the community who may not have the economic support to purchase a sustainable clothing wardrobe. 
To start, I'll highlight some of these inclusive brands for the essentials. I've included the websites below because they are both run by and support the LGBTQIA+ community through their businesses in a meaningful way.
1. Tomboy X

Tomboy X have been based out of Seattle, Washington since 2012. They offer a wide range of underwear, both gender specific and neutral, that cover a range of body types. 
Their sizes go from XS-4X and they are explicit in their support for not only LGBTQIA+ charities but the trans community, who often struggle to find to find underwear that's both comfortable and fashionable. They also offer multipacks, so you can stock up on practical and comfortable underwear.
2. Sockdreams

While Portland-based Sockdreams are not exclusively LGBTQIA+ focused, they offer a gorgeous range of plus size socks including shades that encompass most of the identities within our community. Even better, they donate $1 to Portland's Q Center - a designated community space for LGBTQIA+ people - for every pair sold. 
They also offer a $5 flat fee for international deliveries, so if you're willing to wait for your socks to arrive, you can get several pairs for an affordable price too.
3. GI Collection

Carmen Liu's GI Collection is the first range of underwear designed specifically for pre- or non-op trans women. This is vital as not every trans woman decides to have Gender Confirmation Surgery or don't find this an issue they need to address. 
It is also one of the few clothing brands out there designed and owned by a trans woman. While the range itself may be limited at the moment, Liu is hoping that it can eventually expand to an entire range of clothing and beauty products exclusively for trans women in the future.
4. Long Tall Sally

Long Tall Sally, as the name suggests, caters specifically to women who find that most high street clothing brands have little in the way to offer them in their size or height. They are also one of the few online retailers to offer a larger range of shoe sizes as well as an extensive and varied plus size collection (not just floral print blouses! Yay!) through their website.
Their regular sales also mean that you won't have to pay over the odds to find clothing and footwear that fit.
Those are just some of the many online retailers who offer a wide range of styles for trans and non-binary people and the number of them are growing by the day. High street retailers, as well as smaller boutique stores, are also continuing to become more diverse and inclusive of bodies of all shapes and sizes. 
While this points towards a growing trend of inclusivity, progress is slow.
From what I've seen in my experience, the real developments for fashion representation for our community are happening online for the time being.
All retailers, both in person and online, need to continue making strides to include the needs of trans and non-binary people in their clothing moving forward because we all deserve to feel as comfortable in our own skin as I did on that warm summer evening back in 2015.
The views expressed here are those of the author and do not represent or reflect the views of RTÉ.