The collection has been teased for months now, but leave it to Lady Gaga to announce her makeup line with even more bombast, as the range becomes the first such line to launch exclusively on Amazon.
Haus Laboratories, so named for the Oscar-winning musician's Haus of Gaga creative collective, will launch simultaneously in nine countries - including UK, the US, Japan, France and Germany - in September in what is a significant move for the online retail giant, and for the makeup industry at large.
From the look of early promotional photos, the range evokes all of the high drama and glamour that we associate with Gaga, from glossy vinyl lipsticks to luxurious glitter eyeshadows.
As the shots suggest, diversity and freedom of expression is central to the range, as Gaga told The Business of Fashion: "They say beauty is in the eye of the beholder, but at Haus Laboratories we say beauty is how you see yourself."
If, for some bonkers reason, you'd hoped you'd seen the last of the megastar for a while, think again. Launching her line this way ensures Gaga a global market from the outset, an enviable position to be in and one that speaks to how more cosmetic companies are selling their products.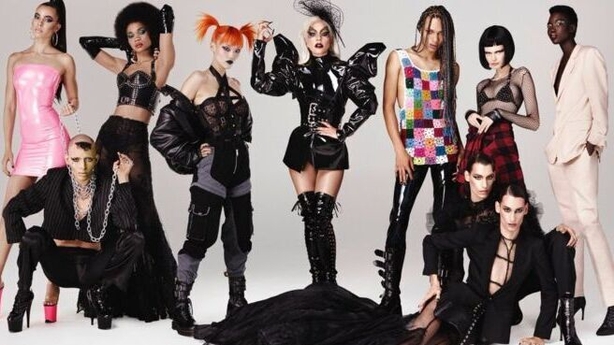 While legacy cosmetic brands such as Estee Lauder continue to market products over the counter, more and more younger companies are focusing on online marketing, such as Kylie Cosmetics, the makeup range owned and run by Kylie Jenner that has helped make her a billionaire.
Similarly, companies such as Jeffree Star Cosmetics, Melt and Sugarpill only sell their products online and have used social media in innovative ways to draw in customers.
Working this way certainly allows for greater freedom of control over the products, something that Lady Gaga highlighted in the interview about her collection.
"If it's not perfectly in line with what they do... they'll be like, 'Can you just change half of the equation?'" she said. "The answer is no. No deal. No message of self-acceptance, no deal. [The deal with Amazon] was so wonderful because this was like, 'Let's make a deal, let's make a deal to change the world with their beauty'."
Writing on Instagram, Gaga explained the personal nature of the collection. "When I was young, I never felt beautiful. And as I struggled to find a sense of both inner and outer beauty, I discovered the power of makeup."
"I remember watching my mother put her makeup on every morning, basking in the glow of her power to put on her bravest face as the hard working woman she was."
"Sometimes beauty doesn't come naturally from within. But I'm so grateful that makeup inspired a bravery in me I didn't know I had."
Haus Laboratories is also backed by Lightspeed Ventures Partners, whose other investments include Goop, actress Gwyneth Paltrow's lifestyle brand.
"The last thing the world needs is another beauty brand", the star said. "But that's too bad."