Whether it's the elegant glamour of Princess Margaret in the 50s, Lady Diana's athleisure chic in the 90s or Meghan Markle's American spin on royal dressing, it is undeniable that royals set as many trends as movie stars - if not more.
We've witnessed the "Kate effect" and the "Meghan Markle effect", but we might be in the age of the "Máxima effect" as a somewhat less familiar royal face comes to our shores tomorrow.
The Netherlands' Queen Máxima and King Willem-Alexander are preparing for a visit this week, with the royal pair arriving tomorrow after President Michael D Higgins invited them in an effort to buoy relations between the two countries.
It will be their first time in Ireland, and the first time Irish fashion fans will get a glimpse at Queen Máxima's impeccable style, which is already celebrated across Europe.
But if she's skilled at making a lasting impression, it owes something to her background as an extraordinarily accomplished finance director, having worked as the vice president of institutional sales for HSBC's Latin American branch in New York.
Indeed, Queen Máxima's CV is eye-wateringly impressive: originally from Argentina, she holds an economics degree from Universidad Católica Argentina in Buenos Aires, worked as vice president of emerging markets at Dresdner Kleinwort Benson and - once she realised her relationship with King Willem-Alexander, whom she met at a party in Seville in 1999, was becoming serious - Deutsche Bank in Brussels.
As for her royal credentials, the tone was set with her exquisite 2002 wedding, when she wore an ivory mikado silk gown by Valentino, the cowl neckline of which established her style as classically glamorous.
Since then, she has pushed as many boundaries in the fashion stakes as Meghan Markle, mixing Dutch designers like Claes Iversen and Jan Taminiau with luxury fashion labels like Dior and Valentino.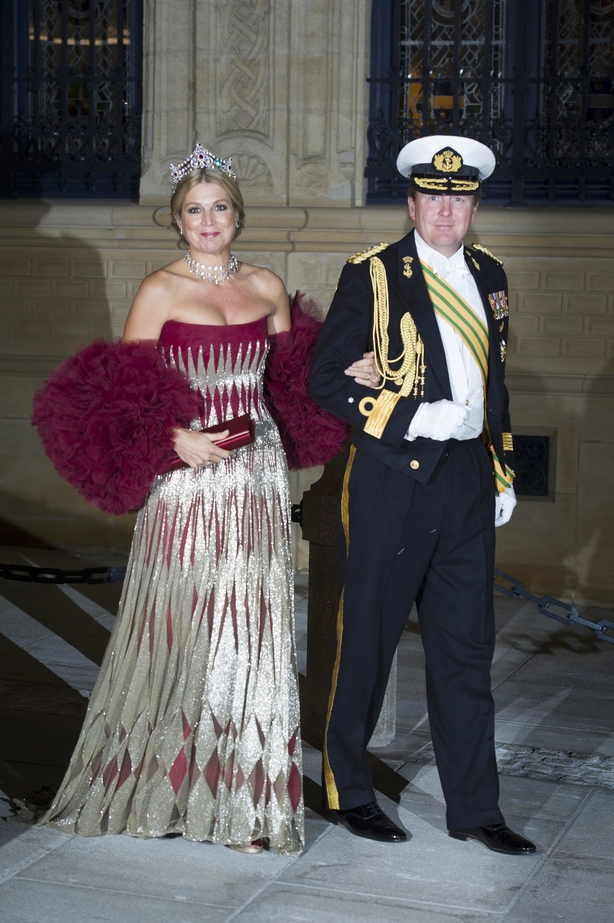 She also pays close attention to the dress codes of the countries she visits, as well as the style preferences of other royal families: on a visit to the UK, she chose a custom fascinator by Irish designer Philip Treacy, the favoured milliner for the British royal family.
Her attention to detail is just as precise when it comes to her own close, as she favours interesting textures - such as a full length sequined gown paired with a wide belt - and vivid colours - such as a nude gown with an overlay of poppy red embroidery, complete with matching hat and shoes.
A fan of mixing prints and textures, as well as the artful use of a great pair of earrings, Queen Máxima makes sophisticated dressing look fresh and modern. On a recent trip to the annual gala dinner for the Diplomatic Corps in April, she paired a stunning asymmetric Stella McCartney gown with a large and dramatic brooch, which perfectly complimented her antique pearl tiara without dominating the outfit.
For her 40th birthday portrait, taken in 2011, the Dutch queen paired another minimalist white one-shoulder gown with statement accessories if ever we saw them: the same pearl and diamond tiara and large pearl drop earrings.
With this in mind, Queen Máxima looks set to become a new favourite when it comes to royal fashion.