As the world's eyes turn to the Oscars tonight and Hollywood's brightest stars prepare to shimmer on the red carpet, fashion watchers have just question that needs answering: Who's wearing what?
The Academy Awards have forever been about gorgeous, unforgettable, sometimes outrageous – and occasionally ill-advised – ensembles.
In honour of the Awards' 91st year, we look back at some of the most iconic dresses and the roles they have played in the Hollywood hall of fashion fame.
Gwyneth Paltrow is pretty in pink, 1999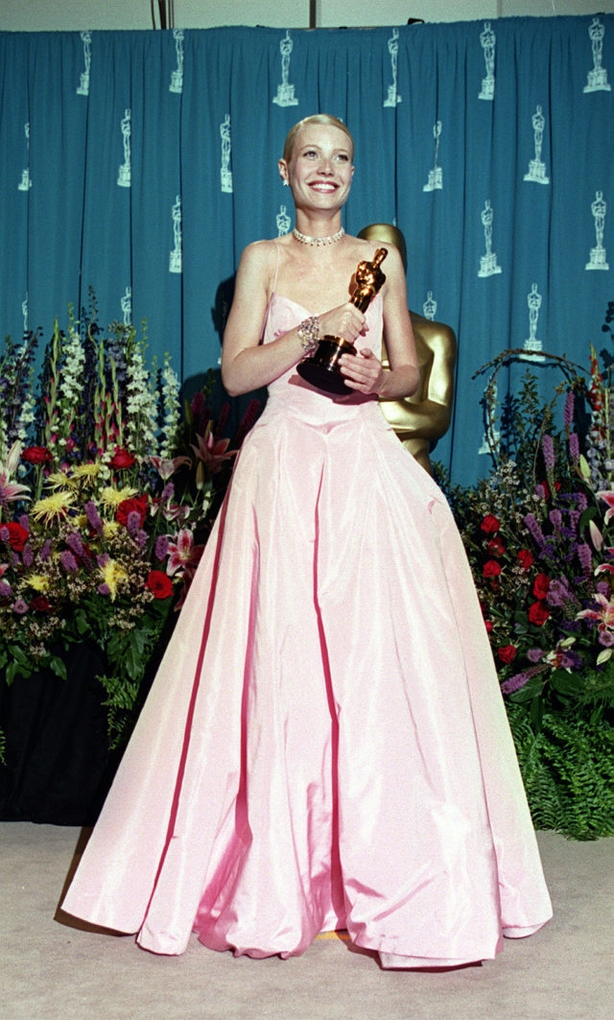 Who could forget this ethereal pink Ralph Lauren number, accessorised with a diamond Harry Winston choker, that Gwyneth Paltrow chose in the year she scooped the Best Actress Oscar for Shakespeare in Love?
Paltrow, who said she 'just wanted to look sweet', is credited for reviving pale pink in fashion, making the colour cool again. The dress also goes down in history for being the one she wore while making her infamous tearful acceptance speech.
Julia Roberts' vintage Valentino, 2001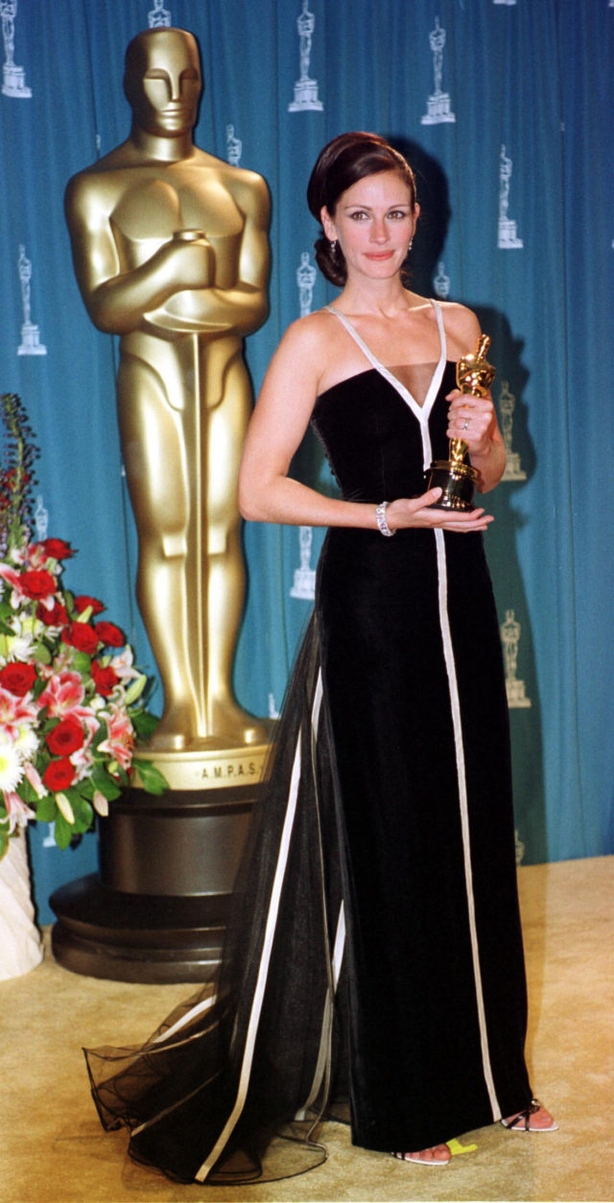 Talk about a pretty woman. Julia Roberts wore vintage Valentino when she collected her Oscar for Best Actress for her starring role in Erin Brockovich.
The floor-length dress was part of a 1992 collection inspired by classic Hollywood and is credited for inspiring the trend of vintage dresses on the red carpet. Valentino himself described seeing her receive the Oscar in his creation as being the high point of his 45-year career in fashion.
*That* Bjork dress, 2001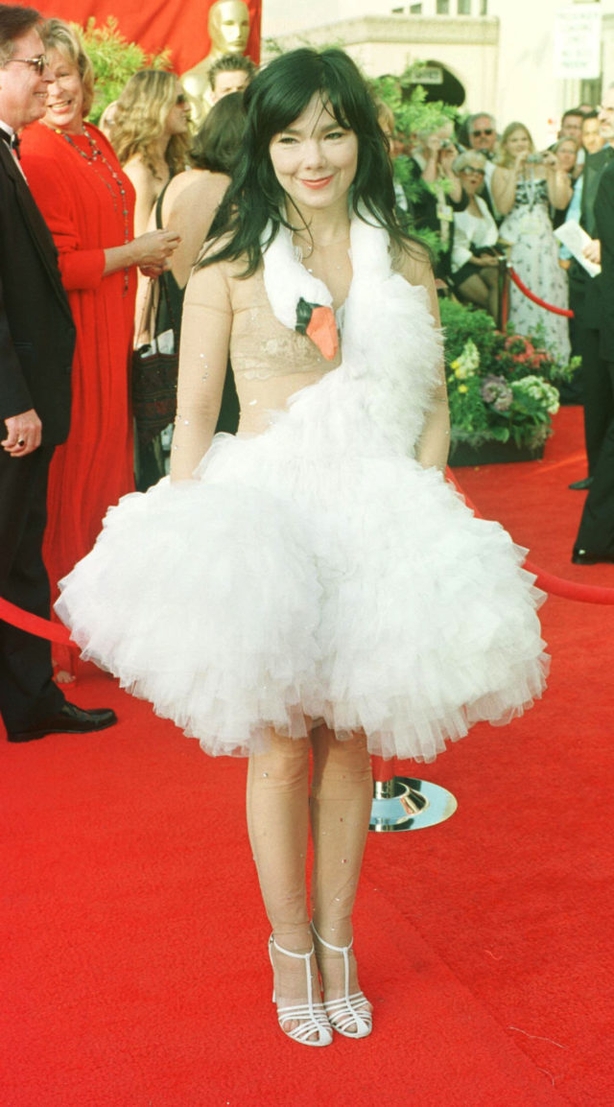 Love it or loathe it, Icelandic pop star Bjork's creation by Marjan Pejoski was the talk of Tinseltown when she wore it for the 73rd Academy Awards. But the swan wraparound has cemented her place in Oscars dress lore, as did the moment she pretended to lay an egg on the red carpet.
Valentino later paid homage to the dress, with the Italian house featuring a heavily inspired version in its 2014 spring couture collection.
Halle Berry makes history in 2002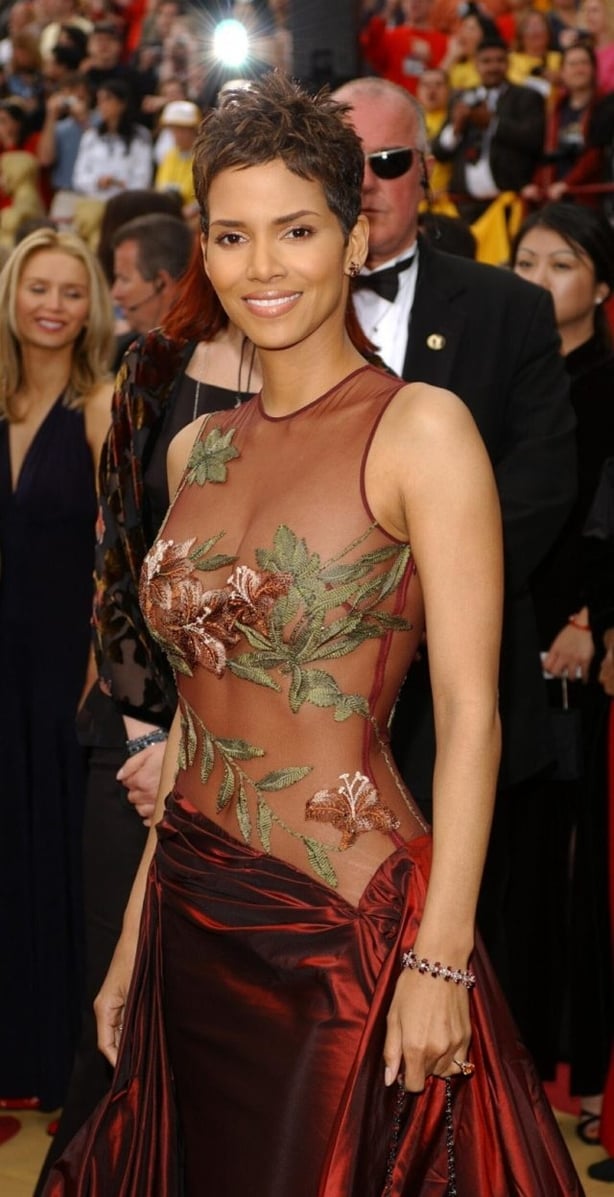 Halle Berry managed the perfect balance of class and allure in this gorgeous embroidered Elie Saab dress with a sheer bodice.
Her performance in Monster's Ball earned her the Academy Award for Best Actress in 2002, making her the first black woman to ever win an Oscar. And the performance of her dress, from the Lebanese designer, earns her a place on our list of the awards' most iconic looks.
Hilary Swank is a knockout, 2005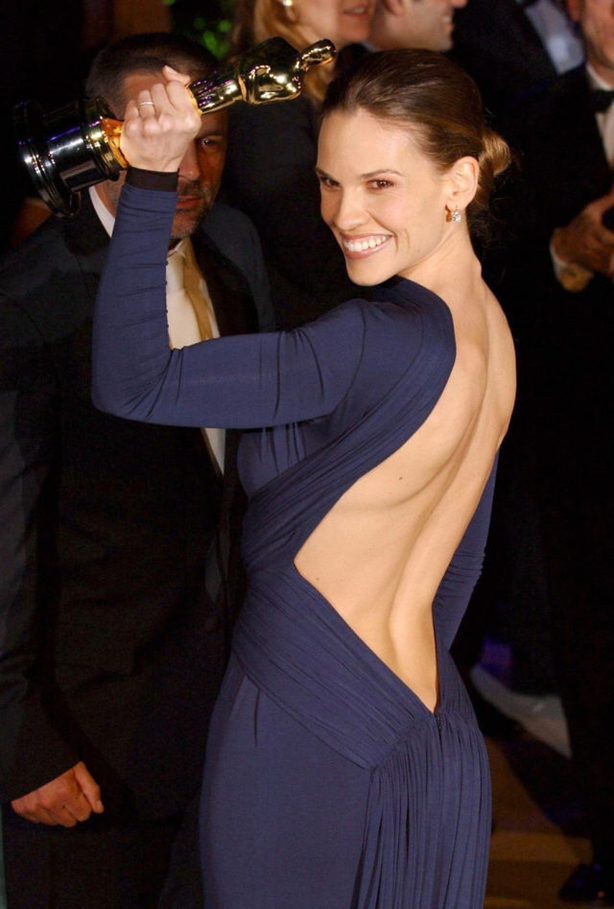 With 27 yards of jersey silk needed to make it, we couldn't forget Hilary Swank's beautiful backless sapphire gown, designed by Guy Laroche. Quite simple on the front, her dress was all about the party at the back.
This elegant look is a long way from her boxing character in Million Dollar Baby, for which she won the Best Actress Oscar – but she still manages to pack quite the punch with this outfit.
Michelle Williams walks on sunshine, 2006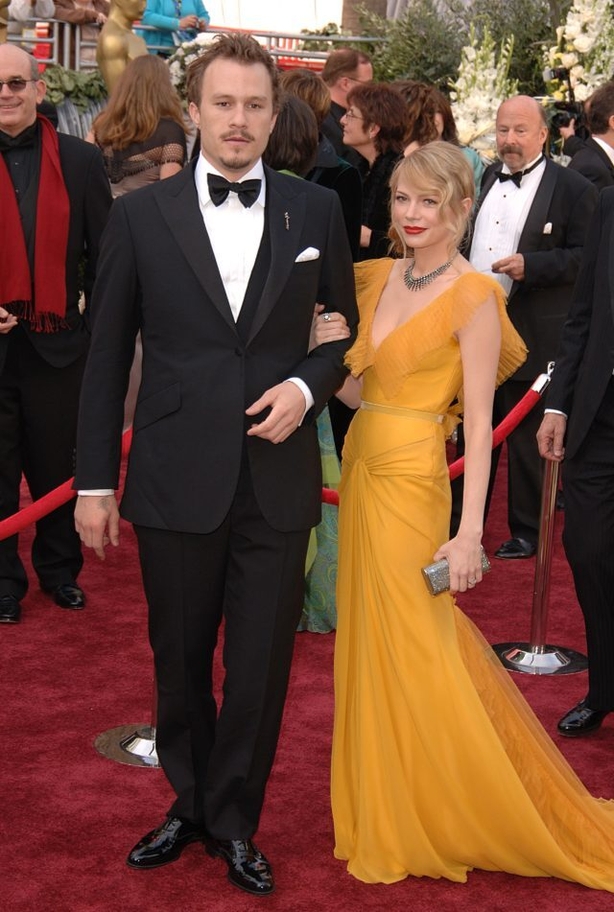 Michelle Williams delivered a masterclass in colour when she wore this saffron Vera Wang dress. She was nominated in the Best Performance by an Actress in a Supporting Role category for Brokeback Mountain and lit up the red carpet next to her then-partner, the late, great Heath Ledger.
While Rachel Weisz may have won the Oscar, Williams won our hearts with this plunging neckline, romantic hairstyle and bright red lip.
Angelina Jolie's right leg, 2012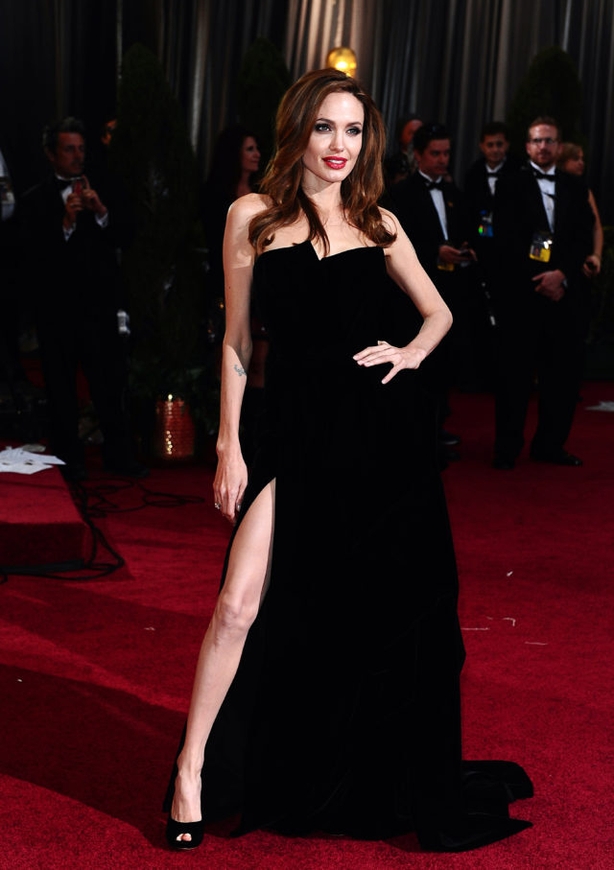 When Angelina Jolie stepped out in this Atelier Versace dress for the 2012 Oscars, little did she know that her right leg would soon take over the internet. This daring thigh-high slit was all anyone ever could talk about, with a parody Twitter account gathering 15,000 followers within days of the ceremony.
Nevertheless, her custom-made, strapless gown and Salvatore Ferragamo black velvet, peep-toe pumps make her more than worthy of a place on this list. Ms Jolie, take a bow.
Jennifer Lawrence's effortless Dior, 2013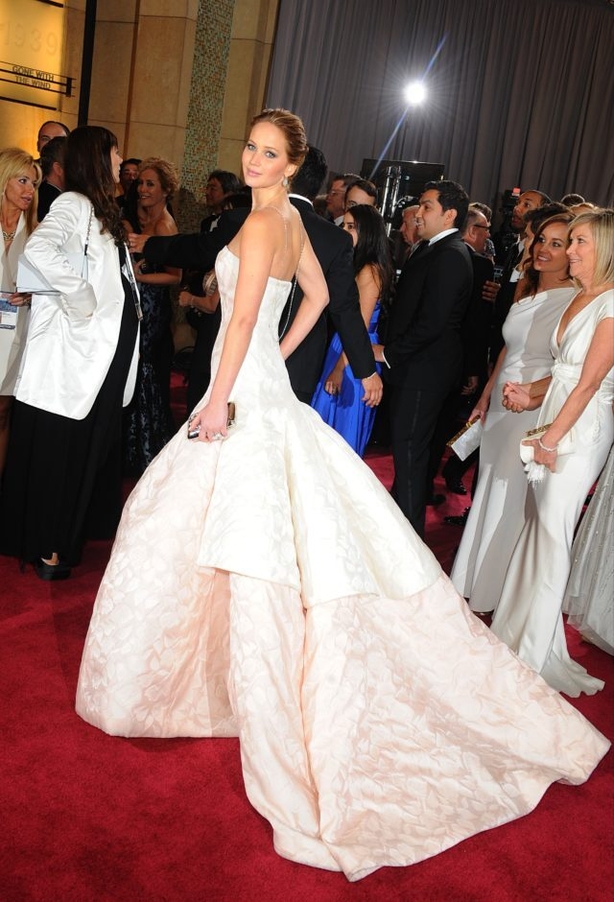 Anyone who can trip up in front of millions of people – as Jennifer Lawrence did when climbing the stairs to accept her Oscar in 2013 – and still look graceful, deserves our utmost respect.
What's more, the laid-back star only tried on this stunning couture Dior dress for the first time on the morning of the ceremony. Luckily, it fitted. Her fall, the last-minute dress, and her Best Actress award for Silver Linings Playbook only made people fall in love with her even more.
Lupita Nyong'o's Cinderella moment, 2014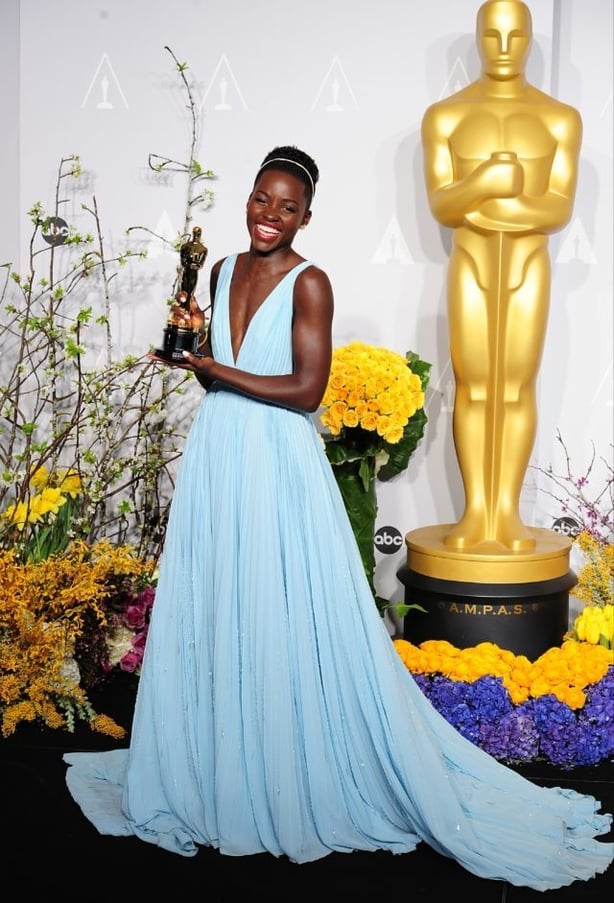 In her pale-blue custom-made Prada dress with Fred Leighton headband and jewellery, Lupita Nyong'o looked like a Disney princess when she won Best Supporting Actress for her role in 12 Years a Slave.
The actress said of her gown's shade: "It's a blue that reminds me of Nairobi." She showed it off to perfection, while dancing with Pharrell Williams during his performance of his Academy-Award winning song, Happy.
Emma Stone is La La Lovely, 2017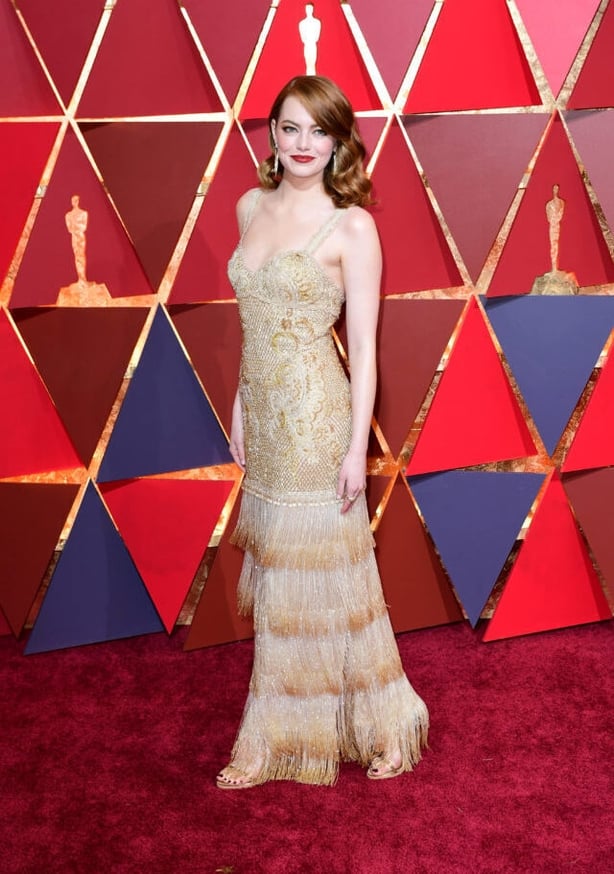 At the 2017 Oscars, also known as the 'Year of La La Land', Emma Stone looked every bit the leading lady of the silver screen when she arrived in this custom Givenchy Haute Couture gown.
The dress took a team of 11 people a whopping 1,700 hours to create, and was the last couture dress designed for Givenchy by Riccardo Tisci before he left the house.
Keep an eye on RTÉ.ie/LifeStyle for all the red carpet fashion from the 2019 Academy Awards.