RTÉ One's Dancing with the Stars has returned to our screens, this year presented by RTÉ 2FM's Jennifer Zamparelli and Nicky Byrne, and we've forgotten what life was like without so many sequins.
Every Monday, we'll show you all the fab costumes from Sunday's show in this DWTS gallery. We'll have everyone from Jen Zamperelli and Nicky Byrne to Holly Carpenter and Darren Kennedy! Click through the gallery above.
Week 12
After an incredible season of rumbas, salsas, foxtrots, and quicksteps, and from the highs of a perfect score to the lows of the dreaded dance-off, the three finalists - Johnny, Mairead, and Cliona - strutted their stuff for the last time on Dancing with the Stars.
In the end, it was Mairead Ronan and her pro-dance partner John Nolan's stunning dance routine that proved to be worthy of a Glitterball trophy.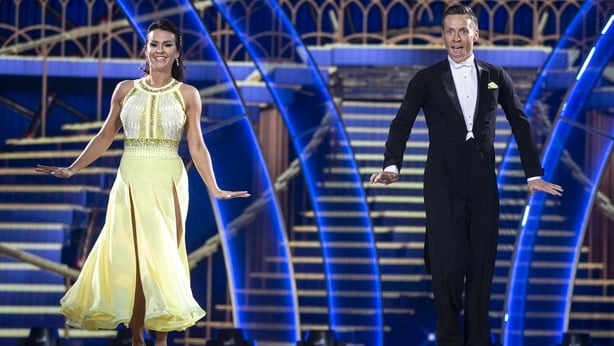 Week 11
We experienced a #Frexit last Sunday night as Fred Cooke left the dancefloor alongside his pro-dance partner Giulia Dotta.
The three remaining celebrities Cliona Hagan, Mairéad Ronan, and Johnny Ward will now go forward to the finals of Dancing with the Stars this Sunday to battle it out for the coveted Glitter Ball Trophy.
Our co-hosts celebrated St Patrick's Day in green with Jennifer wearing a jersey pencil skirt from MANÉ London and Nicky looking dapper in a jacket from Moss brothers.
Week 10
Last Sunday night, stand-up comedian Fred Cooke survived yet another dance-off, inspiring the comedic community to spread the hashtag #NoFrexit in hopes of saving him from a dance-off in this week's semi-final.
Dear 🇮🇪! Vote Fred 53125 Sunday night! Get him to the final!!! #nofrexit #keepfredin @CookeFred pic.twitter.com/kXFeXPcJnA

— Seann Walsh (@seannwalsh) 15 March 2019
Of course, Fred remaining in the competition meant that we had to say our goodbyes to the lovely Clelia Murphy who was as charming and graceful as ever. You can even see her give Fred a congratulatory hug in the video below.
Week 9
On Sunday night, Denis Bastick became the sixth celebrity to be eliminated from the competition after going head to head with Clelia Murphy in the dance-off.
Speaking about the elimination Denis said: "Thanks for all the support I've got to get me this far... I didn't know what to expect at the start and as the weeks went on it's been more and more enjoyable."
The stand out performance of the night came from Johnny Ward. The actor and his pro-dance partner Emily Barker, performed a samba to Ed Sheeran's 'Shape of You'. The couple dedicated the performance to Johnny's father who passed away earlier in the week.
Johnny said: "It's been a very difficult week... I'd like to thank all the staff in Tallaght Hospital and Harold's Cross hospice... as much as I enjoy competing in this competition, it comes second and family comes first."
Week 8
The celebs and their pro-dance partners were in for a treat on last night's show as they performed to the heavenly notes of the RTÉ Concert Orchestra.
Sadly, it was rugby star Peter Stringer's turn to leave the dancefloor after his American Smooth with partner Ksenia Zsikhotska failed to impress.
Jen Z wore a (now sold out) Debenhams dress while Nicky B rocked a River Island jacket.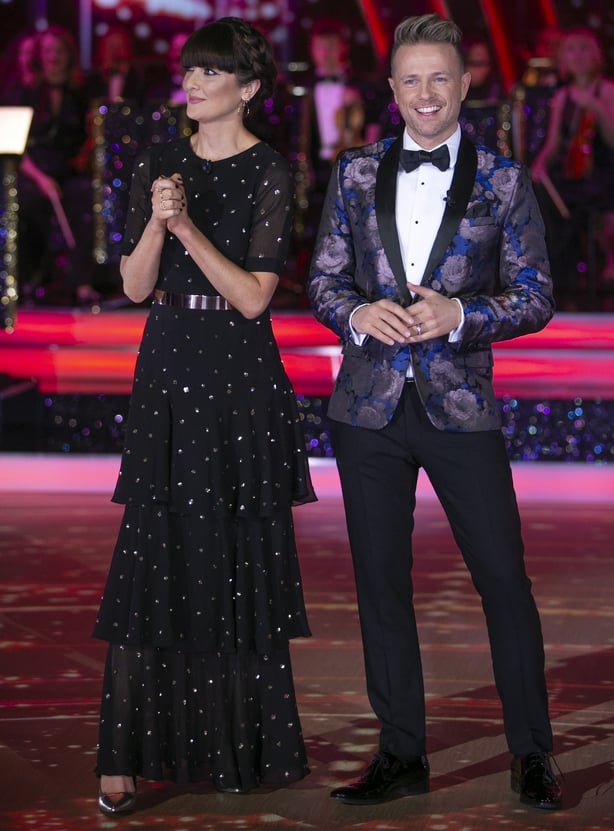 Week 7
The competition is well and truly on. Last night on DWTS, a dramatic dance-off took place between comedian Fred Cooke and Young Offenders star Demi Isaac Oviawe that left viewers on the edge of their seats.
Despite a striking Viennese Waltz to the tune of Alicia Keys' Fallin', Demi and her pro-dancer Kai Widdrington were unanimously voted out of the competition by the three judges in favour of Fred's quickstep to Barry Manilow's Dancing Fool with his pro-dance partner Giulia Dotta.
Elsewhere on the dancefloor, hosts Jennifer Zamparelli and Nicky Byrne stunned the crowd with some fabulous fashion and some unusual dialogue... get the full story here.
Week 6
This week on DWTS, the stars were mixing up their styles - in both fashion and dance - for Switch Up Week! The celebs paired up with new pro-dancers which lead to varying results.
While Peter Stringer was advised to skip the gym in favour of a Zumba class, Cliona Hagan was hailed as a "super sexy man-eating samba girl". Shakira, eat your heart out.
The dancing duos wore an incredible assortment of costumes during their routines, you can check out their looks in the gallery above.
Elsewhere, the lovely Jennifer Zamparelli wore a soft pink jumpsuit from coco boutique while Nicky Byrne wore a dashing tux from Kooples.
Week 5
While Movie Night is the favourite episode of many DWTS die-hards for very good reasons, we feel there's something especially lovely about the theme of this week, with dancers performing to songs that held special memories for them.
The choices were moving and kitschy in equal measure, with Luther Vandross's 'Dance With My Father' the basis of a touching routine by Demi Isaac Oviawe, while Darren Kennedy strutted his stuff to Ricky Martin's 'María', transporting viewers right back to the thumping discos of 1996. Take That, Snap! and Shania Twain were also featured on the dynamic show, which you can watch back on RTÉ Player.
Unfortunately, Darren and dance partner Karen Byrne's hot salsa wasn't enough to keep them in the competition, and they were eliminated.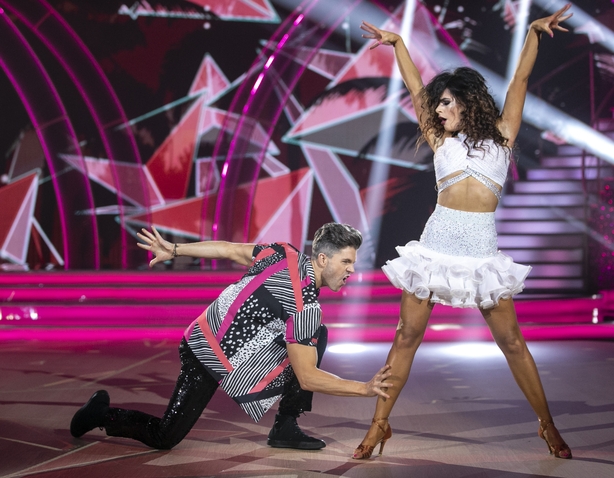 Week 4
Movie Night is by far our favourite night on Dancing with the Stars. The costumes are always spectacular and this year the celebs had some interesting ensembles to perform in.
Saturday Night Fever, Coco, Pretty Woman, Batman, Legally Blonde, Beauty and the Beast, Top Gun, Dreamgirls, The Pink Panther, and The Jungle Book all featured in last night's show, which you can watch back on RTÉ Player.
Last night also saw the competition heat up as Holly Carpenter and Trent Whiddon were voted off the dance floor.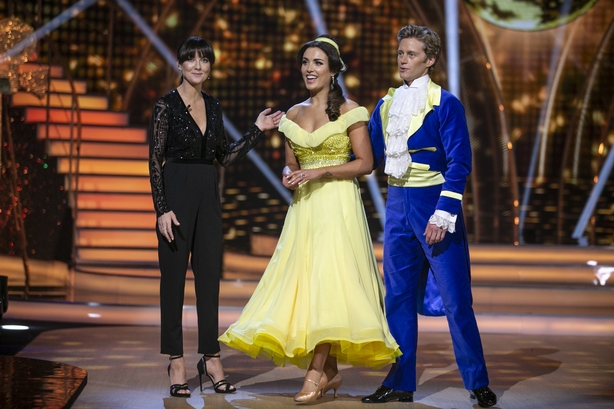 Week 3
The first elimination is always tough to watch. Last night on DWTS, we waved farewell to the beautiful Eilish O'Carroll after her colourful samba with Ryan McShane failed to pull her through to the next round of the competition.
Although her dance only earned her 12 points, her dress was an entirely different story. The Mrs Brown's Boys star looked incredible wearing all the sequins that the wardrobe department had to offer.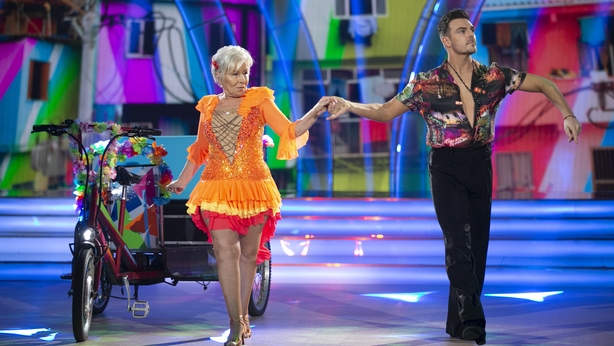 Week 2
Last night on Dancing with the Stars, Holly Carpenter sizzled with a salsa, Eilish O'Carroll tangoed to her heart's content, Demi Isaac Oviawe performed the Cha-Cha, Cliona Hagan swapped her line dance for a quickstep, Mairead Ronan glided through a waltz and Clelia Murphy closed the night with a jive.
Styled by Clementine MacNeice, Jennifer Z wore a dress from ASOS (get the details here) while Nicky wore a beautiful blue jacket from Marks and Spencers.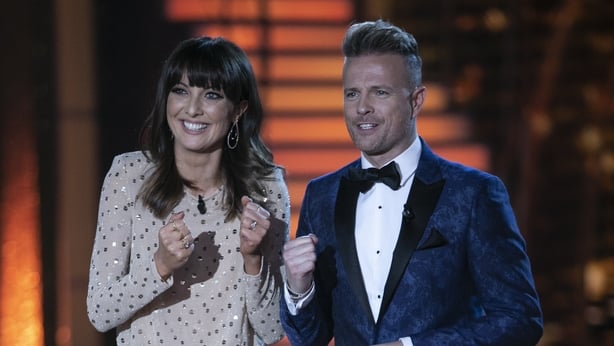 Week 1
Dancing with the Stars is back! This year's celeb line up is as follows: Broadcaster and entrepreneur Mairéad Ronan, actor and comedian Eilish O'Carroll, model and former Miss Ireland Holly Carpenter, comedian Fred Cooke, award-winning actor Clelia Murphy, former Dublin footballer and five-time-All-Ireland winner Denis Bastick, actor Johnny Ward, former Munster and Ireland scrum-half Peter Stringer, country music sensation Cliona Hagan, Young Offender star Demi Isaac Oviawe, and TV broadcaster Darren Kennedy.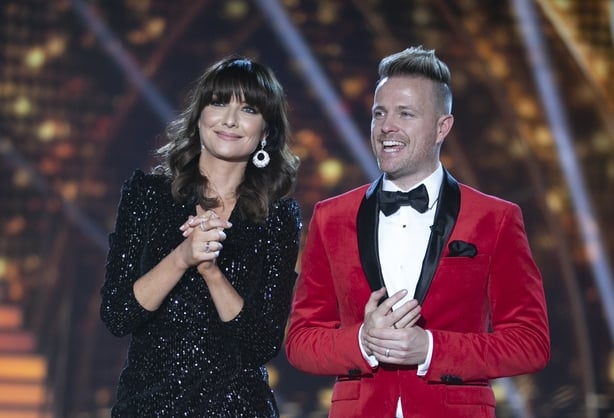 Styled by Clementine MacNeice, Jennifer Z wore a dress from Maje, shoes from ASOS and earrings from Folkster while Nicky B wore a Zara jacket, Tom Ford bow tie, TM Lewin shirt, and Kooples trousers.
Also returning this year is our expert panel of judges Brian Redmond, Loraine Barry, and Julian Benson. Once again the celebrities and their dancers will be scored by the judges and the viewing public at home.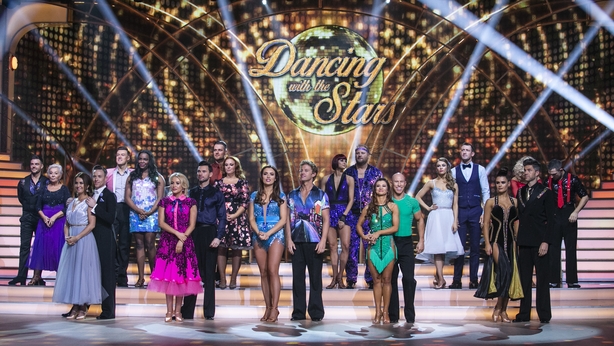 Tune into Dancing with the Stars every Sunday on RTÉ One at 6:30pm. Click through the gallery above to see all the looks.