'Something old, something new, something borrowed, something blue, and a sixpence in her shoe'. This old English rhyme is often remembered by brides when preparing for their wedding day and it seems that Meghan Markle was no different.
What does it mean?
Largely a British custom, but often appropriated by others, a bride will wear something old, blue, borrowed and blue on her wedding day for good luck.
Something old represents continuity; something new shows optimism for the future; something borrowed brings good luck and something blue represents purity, love and fidelity.
Those fully committed to the tradition will also wear a sixpence on their shoe for prosperity.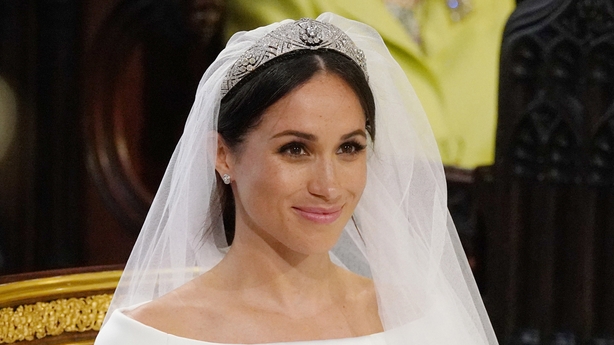 Meghan's 'something blue'
In Queen of the World, a new two-part ITV programme that looks at the Queen's role on the global stage, we see Meghan view her wedding dress for the first time since she walked down the aisle.
Designed by Clare Waight Keller, the Givenchy gown will soon join an exhibition called A Royal Wedding: The Duke And Duchess Of Sussex from Friday, 26 Oct 2018 - Sunday, 6 Jan 2019.
In the clip below, Meghan brings us through some details of the dress, including her 'something blue'. "It's fabric from the dress that I wore on our first date," she explains.
We need your consent to load this Vimeo contentWe use Vimeo to manage extra content that can set cookies on your device and collect data about your activity. Please review their details and accept them to load the content.Manage Preferences
The Veil
In a second clip from the programme, we discover that Meghan put a lot of trust in her bridal designer. So much so that she only saw the incredible veil on the day of her wedding.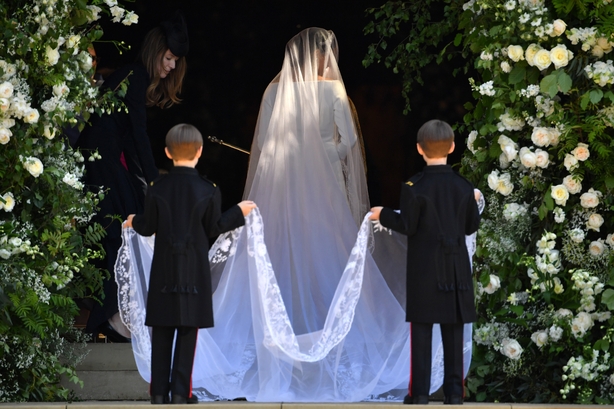 The elaborate piece of material was embroidered with flowers from each of the 53 Commonwealth nations.
The LA-born activist also selected two personal favourites: a California poppy and Wintersweet, which grows in the grounds of Kensington Palace and outside her and Harry's home, Nottingham Cottage.
"It was important for me, especially now being a part of the Royal Family, to have all 53 of the Commonwealth countries incorporated, and I knew that it would be a fun surprise as well for my now-husband, who didn't know, and he was really over the moon to find out that I would make this choice for our day together.
"And I think the other members of the family had a similar reaction and just appreciation for the fact that we understand how important this is for us and the role that we play, and the work that we're gonna continue to do within the Commonwealth countries.
"So, yeah, it was good news all around, I think, so I hope people liked it as much as I liked helping to create it."
Queen of the World broadcasts Tuesday 25 September at 9.15pm on ITV