Long gone are the days when we thought suits were only meant to be worn by men, and seeing a woman on the red carpet wearing a tailored two or three-piece isn't quite as shocking as it used to be.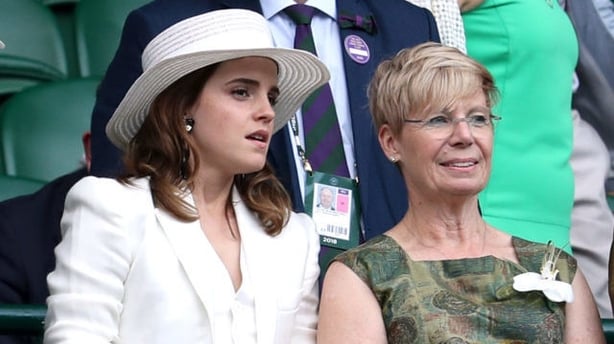 Emma Watson gave us a masterclass in how to pull off tricky three-piece tailoring when she rocked up to the Wimbledon men's singles final in a vintage Ralph Lauren ivory trouser suit and hat. The colour, cut and the addition of a hat meant that the actor looked perfectly summery.
Suits can often seem quite heavy and inappropriate for the heatwave. However, you shouldn't write them off during the summer months. Stars like Watson show us how they can be perfect in warm weather, and here are seven other celebs that agree with her.
1. Cate Blanchett
Blanchett will forever be our power dressing idol, so it's no surprise that she really knows how to work a suit.
At Cannes earlier this year, Blanchett showed us how an outfit can be transformed from wintery to summery purely with a colour change. She brightened up a photocall with this blush-toned custom Stella McCartney suit. Bonus points for not wearing a shirt underneath, keeping the whole look light and breezy.
2. Victoria Beckham
Brighter colours aren't the only way to make a suit more season-appropriate. Beckham consistently favours darker tones, so no surprises here that she wears them throughout the year.
She manages to make a suit summery by fit – instead of tight and tailored, a slouchy and loose cut lends a more relaxed vibe to the ensemble.
3. Tracee Ellis Ross
If you don't already follow Ross on Instagram you should fix that immediately – not only is the Black-ish actor a whole lot of fun, but her style is eclectic and enviable.
Suiting doesn't have to be uptight – here Ross turns the concept of tailoring on its head, transforming a starched suit into a stripey situation that's half ready for the workplace and half ready for bed.
4. Caroline de Maigret
Model de Maigret proves that French girls really know how to make anything look about 20% cooler. She manages to make a slouchy linen cream suit feel polished and relaxed, rather than looking like she's going on an archaeological dig.
It's the perfect summer suit – although with that kind of material we hope de Maigret is prepared for a lot of ironing.
5. Alexa Chung
You can't go far wrong with a well-tailored black suit. However, during the summer this can seem just a bit severe.
That's why Chung's take on evening tailoring is perfect – instead of fading into the background in black, she's transformed the look with sparkles and silvery tones. It's a simple change that turns heads.
6. Emily Ratajkowski
Ratajkowski caused quite the stir earlier this year when she shunned a traditional white wedding dress and got married in a mustard suit from Zara.
The slouchy fit makes it feel more appropriate for warmer weather. We particularly like how the jacket is belted, which gives the loose outfit more shape and definition.
7. Bella Hadid
Whilst Ratajkowski's mustard suit is a pop of colour perfect for the weather, Hadid took things one step further and donned a double-breasted two-piece in highlighter yellow.
Nothing could be further from the grey skies of winter than Hadid's Dior number, and we give her bonus points for matching her nails to the outfit.